GETTING THERE FROM HERE-Shut the front door!  I realize that there are a slew of issues out there that fly below my radar screen, but how did the Rail to River proposal by Supervisors Mark Ridley-Thomas and Gloria Molina escape me for so long? 

So with apologies to the two supervisors for not weighing in until now (but with the understanding that other transit advocates really didn't have this too high on their priority lists either), it should be noted that the LA Curbed article describing the conversion of this unused Harbor Subdivision rail right of way to a parkway and a bike path was responded to with an army of responses decrying this land use ... 
.. because this portion of the rail right of way should be studied for, and converted into...a rail line! 
The Harbor Subdivision Rail Right of Way, like the Exposition Rail Right of Way, is a publicly-owned (Metro-owned) stretch of land surrounding an old and unused rail line that was once a busy freight line.  With the creation of the Alameda Freight Corridor between the ports of L.A./Long Beach and Downtown, it's virtually unused and is an ugly eye-sore. 
Of course, so was the Exposition Rail Right of Way, which paralleled the horrifically-congested I-10 freeway.  There were lots of plans to convert it to a bikeway, a greenway, a busway, etc., but the grassroots Friends4Expo Transit held out for what it always should have been--a Light Rail Transit (LRT) line that is now on its way to becoming a reality despite the many who presumed it would neeeeeeever happen a decade ago. 
Friends4Expo Transit knew that the bikeway, greenway, busway or whatever would pretty much be a one-way trip to a loss of that potential rail line, because the political, legal, economic and emotional spike strips that would prevent it from being torn out and converted to a rail line would be impossible to avoid. 
And what happened to the Expo Bikeway that was supposed to pave the way towards the Expo Light Rail Line?  Well, it was pretty much shunted, reduced and often minimized when the footprint of the rail line and its stations was fully evaluated--which is pretty darned annoying, and among my greatest points of contention and unhappiness with the Exposition Rail Authority, but... 
...but it goes straight to the point that a bikeway, as much as I would love to have a bikeway for South and southeastern L.A., probably would not so easily share space with a true-blue rail line that has to date not been sufficiently studied, evaluated and pursued by Metro planners. 
What is the Harbor Subdivision Rail Right of Way?  Well, it is an amazing gem of a line (to paraphrase my Transit Coalition colleague, Bart Reed, and a host of planners) that connects Union Station with the Mid-City, LAX Region, South Bay and the ports: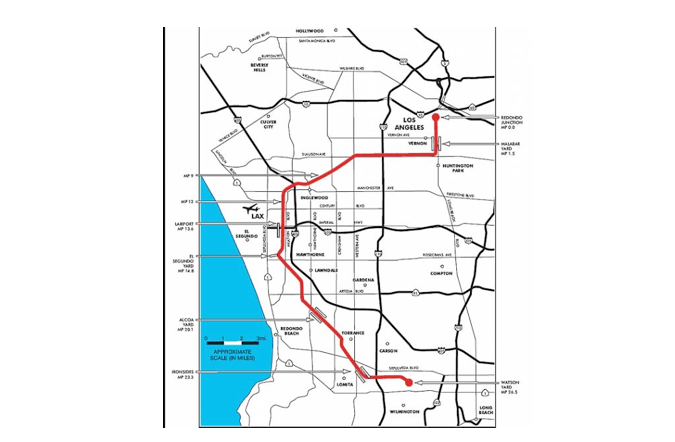 It was extensively studied by Metro by the same team, led by Roderick Diaz (now with Metrolink, which is not the same as Metro and employs diesel passenger trains, not light rail lines or subways), and who had the unenviable task of combining several potential rail lines into one immediate compromise:  the $2 billion Crenshaw/LAX Line, which might be even more expensive if we create a link to LAX. 
Yet the unresolved, and uncertain, future rail lines using the Harbor Subdivision Rail Right of Way include the Measure R-funded (but only remotely-scheduled) South Bay Green Line Extension to Torrance and the remaining portion of the Harbor Subdivision Rail Right of Way between the Crenshaw/LAX Line at Inglewood to Union Station. 
East of the Inglewood station of the Crenshaw/LAX Line (just broken ground) is an ugly, blighted rail gathering rust and dust that is the old Harbor Subdivision Rail Right of Way...and it needs better land use.  Yet Metro Policy states, as per this link. 
"Construction of a bikeway and/or pedestrian path is prohibited unless the bikeway or pedestrian path is designed so that the sponsor can demonstrate that it will not have to be relocated or removed to allow for construction or operation of a future transportation project.  The additional width of the right-of-way that is not being used for the bikeway/pedestrian facility may not be converted to a landscaped linear park." 
So the venerable idea of a bikeway/parkway, filled with native trees and a pedestrian/bicycle-friendly plan, may NOT be possible.  Furthermore, the year that the Crenshaw/LAX and Downtown Connector Light Rail Lines are completed is approximately 2020-2022...which is NOT so very far away. 
When that 2020-2022 date arrives, we'll realize two things (actually, a few of us realize it NOW): 
1) The Expo Line, and the Crenshaw/LAX Line, and the lines to which they directly and indirectly connect, really have great potential to be very busy east-west and north-south conduits for commuter travel. 
2) The Expo Line, and the Crenshaw/LAX Line, and the lines to which they directly and indirectly connect, do NOT do the job of directly connecting LAX with Union Station...or include the undeveloped regions of South LA and southeast portion of Downtown LA that cry out for residential and commercial development. 
This Harbor Subdivision Rail Right of Way was seriously pursued and studied by the California High Speed Rail Authority as a direct link between Union Station/High-Speed Rail, Metrolink, Metro Rail and LAX.  High-speed trains, and Metrolink trains were considered to use this line to connect to LAX, but it was dropped because of financial limitations. 
So the precedent DOES exist to utilize this rail right of way to link LAX, the Mid-City, and Union Station via the southeast corner of Downtown that is--as of now--without any future links to our growing rail transportation network and which does suffer from neglect and gridlock. 
And as the rest of the country includes more and more cities that connect their Downtown regions with rail, Los Angeles needs to think of both short- and long-term ways to provide its own connectivity. 
The LAX Connect, Crenshaw/LAX Line and Downtown Light Rail Connector Lines are first-rate projects that should be completed in the next 10 years, yet the time is NOW to visualize other, next-generation rail lines such as the Harbor Subdivision Line between LAX and Union Station...which will certainly be one of the most glaring and obvious projects to pursue in ten years. 
So we have to achieve consensus and study that Rail Right of Way right NOW...perhaps as part of the Rail to River project that addresses--and should highlight--this tragically-unexplored and often-forgotten gem of a potential rail line. 
Let's pursue the Rail to River Project...but ONLY if it includes a Major Investment Study to explore this unused rail corridor as the next great Mid-City/Downtown rail line and transit corridor to achieve its complete and fullest potential. 
Because, as we did with the Expo Line and the other rail projects that changed from science fiction to reality with the passage of Measure R, the time is TODAY to plan for what will be the betterments of TOMORROW.
(Ken Alpern is a Westside Village Zone Director and Boardmember of the Mar Vista Community Council (MVCC), previously co-chaired its Planning and Outreach Committees, and currently is Co-Chair of its MVCC Transportation/Infrastructure Committee.  He is co-chair of the CD11 Transportation Advisory Committee and chairs the nonprofit Transit Coalition, and can be reached at [email protected] This email address is being protected from spambots. You need JavaScript enabled to view it. .  He also does regular commentary on the Mark Isler Radio Show on AM 870, and co-chairs the grassroots Friends of the Green Line at www.fogl.us .  The views expressed in this article are solely those of Mr. Alpern.)
CityWatch
Vol 12 Issue 13
Pub: Feb 14, 2014