GUEST WORDS--Let's face it. Los Angelenos love marijuana. In 2009, there were reportedly more unlicensed dispensaries in the city than Starbucks (over 1,000). By some estimates, medical marijuana is currently a $1 billion market in the city, surpassing Colorado's entire market. And New Year's Day 2017 will perhaps be most remembered for the infamous "Hollyweed" sign stunt that garnered international attention. Clearly, Los Angeles is a 420-friendly city. Now, with the passage of Measure M, the City Council will be able get a handle on this popular local industry. 
The City of Los Angeles has had a checkered past with marijuana businesses. In 2003, when the state enacted the Medical Marijuana Program Act it created a legal basis for nonprofit medical marijuana "collectives" to buy and sell marijuana from retail locations. As a result, hundreds of unpermitted shops began popping up around the city. 
Supported by local marijuana consumers, these businesses quickly became very large enterprises. By the time the City began clamping down on this unregulated activity, Los Angelenos were already accustomed to buying cannabis from these shops and supported the dispensaries' efforts to remain open at the ballot box. 
In 2013, citizens passed Proposition D that essentially immunized 135 of these businesses from prosecution by the City for what would otherwise be criminal activity. Although those dispensaries that were grandfathered in were pleased with this success, this reactive citizen initiative did not foster a productive relationship between City officials and the local cannabis industry. 
In 2016, Proposition D created a direct regulatory conflict between the state and the city when state legislators passed the Medical Cannabis Regulation and Safety Act. Under MCRSA, the state will begin licensing cannabis businesses in 2018 and will ultimately regulate the entire industry throughout California. In order to obtain a state license, marijuana businesses must possess a license from their local jurisdiction. Since Proposition D only immunized Los Angeles dispensaries from prosecution rather than issue local permits for the activity, those businesses would not have been eligible for state licensure. As a result, Prop. D dispensaries would have been precluded from participating in the state regulatory framework and ultimately would have been deemed illegal despite local protection. 
Facing this harsh reality, a group of Los Angeles dispensaries organized to place a licensing ordinance on the March election. The City Council then drafted Measure M which was similar to the industry initiative but granted authority to City officials to regulate the industry with input from the public. Perhaps as a sign of a new working relationship between the City and the local cannabis industry, the dispensary group ultimately backed the City's proposal which then easily passed with an overwhelming 79% of the vote. 
Measure M repeals Proposition D thereby allowing the new locally licensed cannabis businesses to be regulated by the state and to participate in the new regulated medical marijuana system. The initiative also enacted local excise taxes for both medical and recreational cannabis businesses creating additional tax revenue to the City. Lastly, the ordinance provides additional law enforcement authority to the City to allow for the speedy prosecution of unlicensed marijuana businesses operating in the City. For example, in addition to civil and criminal penalties, city officials are now authorized to disconnect water and power utilities for those businesses conducting unauthorized cannabis activities.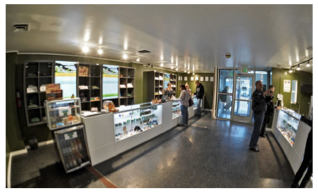 Many wonder how these new state and local regulations will affect the local cannabis industry and impact communities. Will the local regulated cannabis market flourish or will the unregulated cannabis market continue to be a major presence in Los Angeles? Although it is impossible to predict the success of the new regulated cannabis industry it will be influenced by several factors. 
First, the federal, state, and local government agencies will continue to influence the black and regulated markets. Despite state and local legalization laws, marijuana remains a Schedule I illegal substance under federal law. If the federal government continues to prosecute individuals engaged in marijuana activity outside of the regulated state system and leaves alone those businesses that comply with state and local laws, then we may see a decrease in the number of unpermitted marijuana businesses operating in the City. Illegal marijuana operators may decide that the risk of federal prosecution does not outweigh any short-term financial benefit. 
Second, the quality and price of products in the legal marijuana industry will likely impact the success of the new regulated industry in Los Angeles. If dispensaries offer unique, safe products and services to cannabis consumers at a competitive price then these businesses should be able to compete with the unregulated, black market. Recent media reports and litigation surrounding the health risks caused by mold and pesticide in cannabis have highlighted some of the dangers of purchasing cannabis from the unregulated market. 
And lastly, consumers will have to support the legal industry over the black market with their pocketbooks. Some compare the purchasing of unregulated cannabis to buying pirated music or DVDs. In order to support those businesses that pay taxes on cannabis, pay their employees a decent living wage, and pay farmers a fair price for their products, consumers should only buy cannabis from properly licensed and regulated businesses. For comparison, the City of San Diego recently supported efforts of a local marijuana trade association with PSA-type magazine advertisements encouraging medical marijuana consumers to only purchase products from licensed dispensaries. 
Assuming all of these factors fall into place and the Los Angeles cannabis industry becomes a fully regulated system, the economic opportunities are endless. Within the same statewide regulatory system, consumers in the city will have access to the world-renowned strains of the famous Emerald Triangle growers. The production regions of Humboldt, Trinity, and Mendocino Counties are already well on their way to create region-specific or "appellation" zones of high quality cannabis products. 
Capital investment is already pouring into the cannabis industry from institutional investors and private equity funds alike. As the center of the international entertainment industry, Los Angeles is poised to become the "Silicon Valley" of cannabis with the creation of new world class cannabis brands and potential celebrity endorsements of those brands. 
As the new state laws begin to allow for advertising for the cannabis industry, it is not too difficult to imagine a magazine ad in the future featuring Brad Pitt but rather than sipping a martini he is puffing a branded cannabis joint or vape pen. If art imitates life, Hollywood may very well become "Hollyweed" someday.
(Lance Rogers manages Greenspoon Marder's Cannabis Law practice in California and handles a wide array of matters related to cannabis including criminal defense, civil rights, asset forfeiture, land use, business disputes, unlawful detainer, and municipal zoning challenges.)
-cw