RECALL VOTE – When united, California Latinos and African Americans represent 39% of the state's registered voters.  This is a potentially powerful block in the upcoming Recall Election of Governor Gavin Newsom. 

Two iconic Los Angeles radio stations, Power 106 and Cali 93.9 with the support of ACCE Institute, whose mission is to improve the lives of California's underserved residents, will dedicate a total of 12 hours providing important information to their communities about what is at stake in this election during a Live Special Recall Event.  

Two well-known commentators and independent political analysts from both communities, Mo' Kelly and Hernan Molina, will helm this promotion from the respective stations.  The "Go Out and Vote" Recall Reports will run on POWER 106 FM in English (7am – 1pm) and on CALI 93.9 FM in Spanish & English (1pm to 7pm). 
Mo' Kelly is a radio and television commentator for KFI 640AM and the BBC specializing in politics and current affairs. Also, Mo is featured often on CNN, HLN, Fox 11 LA, MSNBC and Spectrum. He will host his portion of the Live Special Recall Event on POWER 106. 
"Voting rights are both precious and historically precarious," says Mo' Kelly.  "Voting gives voice to who we are and what we aspire to be.  It's the first step, not the last in creating a more perfect union.  A union which for much of its existence did not see value in all of its citizens' voices.  That is why it's been an honor to help explain the importance of civic participation in the election process with Hernan Molina,  Luis Medina of Uno Productions and ACCE Institute." 
Hernan Molina is an LA based political analyst, commentator and podcast host.  He has been featured on Estrella TV, Noticias Univision 34, CNN en Español, CNN Latino, to name a few. He will host his portion of the Live Special Recall Event on Cali 93.9. 
"As an immigrant who grew up in two different military dictatorships in my home country of Argentina, I always felt a strong desire to participate in the democratic process, and vote" said political analyst Hernan Molina. "Working with my colleague Mo'Kelly, Luis Medina of Uno Productions and ACCE Institute to encourage participation in the upcoming special recall election on September 14 is just a great professional satisfaction" added Molina. 
The Live Special Recall Event is produced by Luis Medina of UNO Productions who has worked with the biggest names in entertainment, media, non-profit and Fortune 500 corporations. 
"I am thrilled to be involved in producing the bilingual Live Special Recall Event to hopefully motivate Latino and African American youth to Go Out and Vote," says Luis Medina of UNO Productions. "Because this is such an important election, we felt we needed to have this special push on September 13, one day before.   I want to thank Mo' Kelly, Hernan Molina, Power 106 and Cali 93.9 for supporting us.  Also, thank you to Christina Livingston of the ACCE Institute along with CHIRLA Action Fund for making such a huge effort to educate and motivate our communities." 
CityWatchLA.com interviewed Christina Livingston of ACCE Institute regarding the importance of the upcoming Recall election and why registered Latino and African American voters should exercise their rights to 'Get Out and Vote'.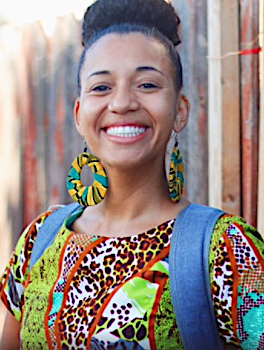 Q:  As the Executive Director of ACCE Institute, you have spearheaded many causes.  How did you become such an activist for change? 
Growing up I thought of the challenges my family faced as personal. I assumed our poverty was a family issue and something that could only be solved by our individual actions. Then I went to college and studied Sociology and began to understand the roles racism, classism, sexism, and other systems of oppression played in my life and the lives of millions of others in communities just like mine. I knew I wanted to be a part of changing that dynamic and after I graduated I found community organizing which was my chance to work with real people who face these interlocking systems of oppression and who collectively decide to do something about it. Its people power! 
Q:  Why is voting in the California Recall so important? 
The governor of California is a powerful and important role. Governors propose budgets, they can veto bills, they can issue executive orders, they appoint positions. Those actions have real impacts on all our lives. One thing I have learned as an organizer is that we cannot let other people make decisions for us and expect the outcome to represent our hopes or respect our dignity. That is why voting is so important. and it doesnt work if just some of us participate. It has to be all of us who are eligible because la union hace la fuerza (we are strong together). 
Q:  Can you talk about some of the issues at stake? 
As I mentioned, Governors propose budgets, veto bills, issue orders, appoint bureaucrats and sometimes appoint representatives during a vacancy. That touches nearly every aspect of our lives. How our tax dollars are spent for instance. I believe that a budget is a value statement. More money flows in areas that are valued and less money is allocated to areas that aren't valued highly. So, even if you don't think any of the candidates will truly match your values, choosing a governor that aligns most closely with your values, and organizing to make those values heard, gives us the best chance of creating a government and budget that works for you. That's just one example of what's at stake. 
Q:  Can change be realized in LA's diverse communities? 
I wouldn't be an organizer if I didn't believe that change was possible. And I know from U.S. and world history that real change only ever comes from collective action. That is not to say that it is easy, but there is proof that it's possible. And to get there we have to decide to commit to change making in small ways every day, and we have to do it together. 
Q:  Are you worried about apathy in these communities? 
Worried isn't the word I would use. People are living through tough times and the political atmosphere in the country has been really overwhelming. I understand why some people just want to turn away from it all and focus on their day to day lives. But I dont think that means people dont care. They do. They care about their opportunities, their family and friends, their communities. They just need to be reminded about the reality of what sitting out an election means. That it means letting others make huge decisions for you, decisions that will impact you. And that by voting, we are empowering ourselves and our communities to stay in the business of creating a California we deserve. 
Q:  Any final thoughts? 
This election is important but working together to tackle issues of structural oppression and building a brighter future is just as important. So go out and vote, and then join an organizing group like ACCE! you can find us at acceinstitute.org.
(Content for this story was supplied by ACCE Institute, CHIRLA Action Fund, UNO Productions and researched and written by Jim Hampton.)
 Twitter: @CalOrganize - FB: Facebook.com/CalOrganize - Instagram: @acce_action