RESISTANCE WATCH--They welcomed their first customers just over five weeks ago, quietly offering what has become the store's bestsellers: a cold brew and iced mocha.
But the owners of Weird Wave Coffee said Saturday proved to be their busiest day so far at the tiny shop on Cesar Chavez Avenue in Boyle Heights. More than 150 customers streamed in and out to grab a cup of java or a croissant.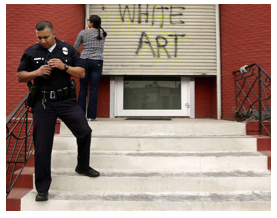 Then it happened again.
Overnight, someone broke one of the store's front windows. It was the second time in less than a week that the shop had been vandalized.
Co-owner Jackson Defa credited the recent surge in business in part to the shop's thrust into the media spotlight, after becoming the latest target of protesters fearful of gentrification. Police have not determined who is responsible for the incidents of vandalism.
"The resistance has certainly propelled us into the limelight," Defa added. "But to be honest, this isn't about Weird Wave. This is about two parts of a community trying to decide their future — the part that wants to grow and the part that prefers no progress."
Customers and neighboring business owners said Sunday that they support the owners of Weird Wave and decry the vandalism that occurred. (Read the rest.) 
-cw