REAL ESTATE PREDATORS-Malcolm X famously said, "You show me a capitalist, I'll show you a bloodsucker." But Steven Taylor is truly something special. 
In February of 2016, an LLC run by Taylor bought the 42-unit rent-controlled building at 6565 Fountain Ave. in Hollywood for $7.2 million. In September of 2017, the building was sold for $10.75 million -- a profit of over $3.5 million in just a year-and-a-half. A news article covering the sale states that 26 units were vacant, and none had yet been renovated.  
The struggle of the Waverly Tenants in Silverlake suggests that the families of these 26 units may not have happily left on their own accord. At Waverly, 30 of the 36 tenants have now vacated after what many describe as a prolonged and dirty campaign by Taylor to get them out. 
Taylor himself has made it clear his profits come from removing tenants protected by LA's Rent Stabilization Ordinance (RSO). Speaking of an RSO building in Los Feliz he flipped within a year for a profit of $1.8 million, he explains that "our underlying strategy for this property was pretty straight forward," which involved "attract[ing] the demographic this area commands."  
He buys buildings with the explicit intention of bringing in new people, with no care for those whose lives are very intentionally uprooted in the process -- rent-controlled tenants have pretty good protections against arbitrary evictions, so it's just not a simple matter of asking them to leave. And we must keep in mind the severe health impacts  of being forced out of a home, especially for mothers and children. 
5535 Carlton Way, a 36-unit building in East Hollywood, was flipped by an LLC associated with Taylor for a $3.3 million profit. 1420 N Mansfield, 30 units in Hollywood, was flipped for a $4.6 million profit. 730 S. Serrano Ave. and 3900 W. 1st St., both buildings in Koreatown, were flipped for respective profits of $2.4 million and $1.1 million. All these units are rent-controlled. 
The evidence suggests that Taylor rakes in massive profits by taking advantage of the fact that rent-controlled buildings are more valuable the fewer long-term tenants live there. Once tenants leave RSO units, owners are free to raise rents to market-rate, thanks to "vacancy decontrol," mandated by the state law Costa-Hawkins.  
According to research done by me, the Waverly Tenants, and other organizers from the LA Tenants Union, Taylor and his business partner (and brother-in-law) Daniel Mense have bought and then quickly sold buildings comprising 383 units total, and currently own/operate at least another 341 units -- the vast majority of these being rent-controlled. 
People get forced out of their homes, neighborhoods gentrify, and Steven Taylor gets rich.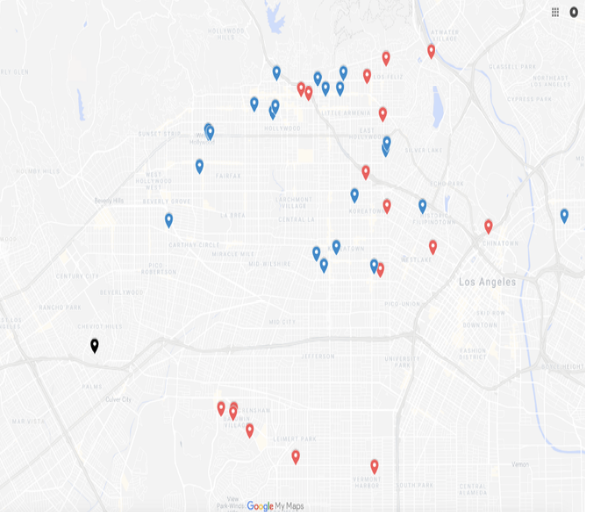 "Almost every night I have to explain to my 7-year old daughter why we're leaving all her friends and her elementary school right across the street," said Melinda Peffer of Waverly, holding back tears at a recent protest outside of Taylor's home. Potentially hundreds of families across LA have been subjected to similar experiences due to Steven Taylor's greed. 
(Left:  Properties owned by LLCs run by Steven Taylor and/or Daniel Mense. Blue ones have already been flipped, often for big profits. Red ones they still own/operate. The wealth extracted from tenants goes to Taylor's $3.5 million mansion in Cheviot Hills (black marker). Link to the map (with addresses) here.    
The tenants of 2401 Commonwealth Ave. in gentrifying Los Feliz, can attest to Taylor's business model. There, at another 42-unit building covered by LA's Rent Stabilization Ordinance (RSO), Taylor was forced to use a range of strategies to get families to leave. According to this news article, he threatened to use the Ellis Act to force all of them out if they didn't take "cash for keys" buyout offers. One tenant told a reporter that Taylor intentionally delayed maintenance to persuade them to accept.  
Taylor's actions here even prompted a letter from City Councilmember David Ryu, explaining how "attempts to persuade tenants to accept a voluntary move-out order because of an alleged pending illegal condo conversion amounts to tenant intimidation." After just seven months of Taylor's ownership, 16 tenants had left. 
Vincent H., writing in January of 2017, explains how Taylor's firm "is in the business of buying occupied apartments and then trying to get all the tenants to leave so they can jack up the rents for the next tenants. ... To this end they'll try to scare you into entering into a low-figure cash for keys agreement."  
Emma M., in 2016, wrote that "I've had workers threaten to rape me" during construction ordered by Taylor's company. The safety of women in particular has also been a major concern for the Waverly tenants. 
I believe that Steven Taylor has harmed more people than any of the thousands of "criminals," disproportionately Black and Latinx, confined to cages within LA's sprawling jail system. But he's rich and white and carries out his crimes through the capitalist real estate market, so he gets financially rewarded for ruining lives. He even poses as an affirmatively good person, with his own philanthropic foundation that outrageously claims to focus on homelessness, and donates to the murderous Israeli Defense Force, as if his money doesn't already have enough blood running through it.  
Hopefully more of the tenants in his buildings will organize and fight back, like the Waverly Tenants did.
(Jacob Woocher is pursuing a joint degree in urban planning and law at UCLA. He organizes for housing justice with the Los Angeles Tenants Union and the Democratic Socialists of America, Los Angeles. Views expressed in this article are those of Mr Woocher and do not necessarily reflect those of CityWatch or it's staff.) Prepped for CityWatch by Linda Abrams.