BCK FILE--As I write this column, the Woolsey and Hill Fires continue to rage in Southern California, cutting a destructive path through Los Angeles and Ventura counties.
Over 83,000 acres have burned in the Woolsey Fire, moving a destructive path through canyons to Malibu. More than 175 homes have been lost, from Bell Canyon and Hidden Hills to Calabasas and Ventura County's Lake Sherwood. 
Over 250,000 residents throughout Los Angeles and Ventura Counties have been evacuated over the past days. Currently, the Woolsey Fire is about 10 percent contained. According to Cal Fire, "The National Weather Service issues Red Flag Warnings & Fire Weather Watches to alert fire departments of the onset, or possible onset, of critical weather and dry conditions that could lead to rapid or dramatic increases in wildfire activity." The bodies of two people who appear to have been in midst of evacuating a Malibu area home were found in a car. 
For Thousand Oaks residents, the fires came as a one-two punch, following the shooting rampage at the Borderline Bar & Grill late Wednesday night. Alleged gunman Ian Michael Long, a military veteran, killed 12 people who were attending a college night at the popular country western dance club before turning the gun on himself. 
Thursday evening, as the Hill Fire blazed through nearby neighborhoods, prompting early morning evacuations, hundreds gathered at the Thousand Oaks Kavli Theater - City Hall to pay tribute to the victims of the Borderline shootings. Vigils were held at places of worship and campuses throughout the area, as well as a blood drive for injured survivors. 
The trials of the past days remind us of the fragility of life but equally important, the power of humanity and community when faced with tragedy. Southern California is far too often the site of natural disasters, from blazing infernos to earthquakes and mudslides that leave many without homes or temporarily displaced. And each time, people open their homes, their wallets, and their hearts to support those who are impacted. 
In the three decades I've lived in Southern California, I've been through the 1992 riots, the Northridge earthquake, and numerous fires. Each time, I've witnessed a remarkable sense of community, people pulling together to help friends and family, and even those we don't know. 
Tragedies and challenges open our eyes to the value of relationships and connections. When we are unsettled, facing evacuation and not sure what the next days will bring, it's deeply comforting to hear from friends and family. 
Politically, we live in divisive times. In the past, many were able to cordon off political lives from personal relationships. The current climate is less open to conciliatory discourse. It's trying times that pull us back together, at least temporarily. And in that, there's hope we can once again be less divided as both communities and a nation.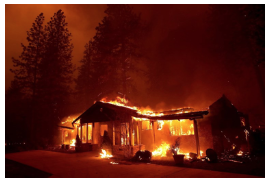 As we heal from the shootings and the fires, of the angst of not knowing what will come, let us support those in need. We are two weeks from gathering with family and friends to celebrate Thanksgiving. The events of the past days remind us to be grateful for the people who have played a role in our lives and for our communities. 
To Help Borderline Shooting Victims and Families:
The Rotary Club of Westlake Village has set up a Borderline Shootings Victims Fund to raise money to provide relief and support for victims and their families. So far, over $59,000 has been raised. Contribute to the Borderline Shootings Victims Fund here. 
A fund has also been set up for the family of Sgt. Ron Helus, a 29-year veteran of the Ventura County Sheriff's Office who was killed in the shooting. Over $22,000 has been raised so far. Contribute to this fund here.   
To Help Those Victims of the Woolsey and Hill Fires:
Donate or Volunteer with the Red Cross: To make cash donations to support Red Cross relief efforts, visit the Red Cross website or call 1-800-RED-CROSS. You can also make a $10 donation by texting 
CAWILDFIRES to 90999.
The Red Cross also needs volunteers to do data entry, client registration, shelter support, and supply replenishment, as well as to make phone calls. Applications are available on the website. 
The Ventura County Community Foundation has established the Hill Fire/Woolsey Fire Sudden and Urgent Needs Effort and  a Conejo Valley Victims Fund to support victims of both fires and the Borderline shooting. Donations can be made here. 
For Updated information on Evacuations, Evacuation Shelters, Fires, and Road Closures:
(Beth Cone Kramer is a professional writer living in the Los Angeles area. She covers Resistance Watch and other major issues for CityWatch.)
-cw