RANTZ & RAVEZ-In my last CityWatch article on August 30, I wrote about a Rave (a good deed) and how I assisted a man in search of his wife's purse and cell phone after she forgot them in a shopping cart and drove off.
The man, who had a tracker on the phone, believed the purse and phone had been thrown into a local storm drain. Using my resources and connections as the Honorary Mayor of Woodland Hills and Ambassador to the community for Councilman Bob Blumenfield, I made a couple of calls and was able to get a city crew (it was already in the area) to respond to the location and search for the items. I thought I had done a good deed for a friend, local taxpayer and business man. 
My RaveZ moment of celebration turned sour when two ladies, Judy and Brigitte, sent letters criticizing me for my actions. They accused me of wasting taxpayer dollars and using my connections to show off. I was also informed that I should have had my friend call the police on the matter. I have always believed that you should assist people in times of need. And that is just what I did in this case. I would do it again and have done it many times in the past. 
Remember, I have 50 years of service with the LAPD and was a city councilman for 12 years. I know how to get things done in the city. As far as Judy and Brigitte are concerned, they can bury their heads in the sand and sit on the sidelines criticizing good deeds by people who care. The main point of my RaveZ was to show that the city can and will respond to incidents when you know how to utilize the system that is established to assist you. City Council offices are all connected to the various municipal departments and are there to serve you, the taxpayers. If you need a city service and don't know where to turn, try calling 311. A City of LA operator will connect you with the appropriate department to assist with your matter. Remember, that is what you are paying city taxes for. 
LAPD Compstat Citywide Profile 
The LAPD Crime Profile has not been updated since July 14, 2018. At that time, there were 10,000 officers and most crime categories were down. There are no significant new numbers to report.   
What is our State Legislature up to? 
Some people like to use a straw when drinking from a glass or can, but our State Legislators are hard at work in Sacramento banning plastic straws. What is next on their agenda to make California a better place to live, work and play? Banning balloons, moving the start time of local schools to no earlier than 8:30 a.m. and continuing to increase all sorts of taxes.  
California can brag about being the environmental leaders in the world. While plastic straws are banned, and balloons are in the process of being banned, our legislators are hard at work spending tax dollars on many projects that have nothing to do with our quality of life. Straws and balloons!  Really. 
I recently had a lunch meeting at an upscale downtown LA restaurant. I ordered iced tea and asked for a straw. The waiter informed me that they no longer have straws. The table had forks and knives but no spoons. I asked, how should I stir the sweetener and lemon in the glass? He brought me a spoon and that matter was settled. 
At another restaurant a few days later, I was given a paper straw with my iced tea. After a few sips, the paper straw came apart at the seam and broke. I am sure that this is not the end of the straw stories. 
Update on the Homeless situation in Los Angeles 
Take a moment and look at the homeless situation in your community. Are things getting better or worse? I know that in my community I see more and more homeless people camping in local business areas and leaving their trash for others to clean up. They are sleeping in doorways and other gathering places. While the city has millions and millions of dollars to address this situation, I'm asking where is the money is being spent and is it doing any good? More to come on this matter if future RantZ and RaveZ.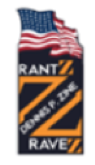 (Dennis P. Zine is a former and retired LAPD Supervisor, former and retired 12-year Los Angeles City Councilman and current General Manager at Bell Canyon in Ventura County.) Edited for CityWatch by Linda Abrams.