REVEALED—(Editor's Note: The Los Angeles Times reported this weekend that Democratic Donor Ed Buck's home was found littered with drug paraphernalia when the sheriffs answered a call to check on a dead body found there the night of July 27. Here's what the Times reported on Saturday. Here's what CityWatch and Jasmyne Cannick exposed way back on August 28.)The silence from LA's Democratic community on the recent death of a 26-year-old Black gay male escort in the West Hollywood apartment of 63-year-old prominent Democratic political donor Ed Buck has been astounding. 
Gemmel Moore's July 27 death was immediately classified as an accidental methamphetamine overdose by the coroner but now the Sheriff's Department is taking a closer look after his personal journal was published. Numerous young Black gay men have stepped forward making allegations against Buck recounting similar stories about a man who they say has a Tuskegee Experiment like fetish which includes shooting drugs into young Black men that he picks up off the street or via dating hookup websites.   
In his journal, Gemmel Moore wrote, "I honestly don't know what to do. I've become addicted to drugs and the worst one at that," a December entry reads. "Ed Buck is the one to thank. He gave me my first injection of crystal meth it was very painful, but after all the troubles, I became addicted to the pain and fetish/fantasy." 
"My life is at an alltime [sic] high right now & I mean that from all ways.  I ended up back at Buck [sic] house again and got munipulated [sic] into slamming again.  I even went to the point where I was forced to doing 4 within a 2day [sic] period.  This man is crazy and its [sic] sad.  Will I ever get help?" 
His last entry, dated Dec. 3, 2016 reads: "If it didn't hurt so bad, I'd kill myself but I'll let Ed Buck do it for now." 
Buck has given hundreds of thousands of dollars of Democratic causes and candidates over the years. His Facebook page boasts dozens photos of him with everyone from presidential candidate Hillary Clinton to Governor Jerry Brown, Los Angeles County Democratic Party and California Democratic Party chairman Eric Bauman and even Los Angeles Mayor Eric Garcetti.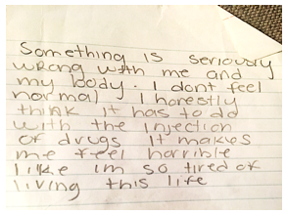 In online ads soliciting young Black gay men, Buck has referred to them as being a "6 foot" n-word. On his Facebook page he joked with friends using the n-word. 
Normally in politics we try to distance ourselves from white people who call Black people the n-word or use the n-word–not protect them with our silence. 
It's troubling to see that so many Los Angeles area Democrats have taken donations from a man who has allegedly stalked and preyed on the most vulnerable of society.  Just the fact that the allegations have been made and reported on in news that these politicians are most influenced by should–and normally would–be enough for them to return their donations and issue statements distancing themselves from the accused. 
But for the most part nothing. Is it because Ed Buck is white?  Is it because he is white and gay?  Is it because he often maxes out on contributing to their campaigns?  Is it because the accusers are Black gay men?  Is it because the accusers are Black?   
These are the questions that Democrats in Los Angeles should be asking themselves about all of this. 
Most of Los Angeles' Democratic and LGBT community–which are often one in same–has had nothing to say publicly about Moore's death. Politicians who have received thousands of dollars from Buck over the years have been curiously silent.  I can count on one hand the number of people from the political party of allies, coalition building and we're stronger together who have made a public call for a thorough investigation into Gemmel Moore's death in light of the numerous allegations that have been made.  As Democrats we are often the first to call on Republicans to return money at the slightest hint of impropriety–there seems to be a double standard when a Democratic donor is involved in the wrongdoing. 
And while there was no shortage of politicians in Los Angeles falling over themselves to issue statements and be seen in the media condemning the events of Charlottesville and President Trump's response to them–locally they have seemingly looked the other way and conveniently ignored that one of their top donors might be a serial predator who gets his kicks by drugging vulnerable young Black gay men. 
Buck has given money to the campaigns of Los Angeles Mayor Eric Garcetti, Governor Jerry Brown, a Superior Court Judge and even Los Angeles County District Attorney Jackie Lacey. To date, only two elected officials have returned the money they received–Congressmember Karen Bass who returned the entire $250 she received from Buck and put it towards Gemmel Moore's funeral expenses and West Hollywood Councilmember John D'Amico who made a $25 contribution. 
I will say that even though Ed Buck is said to have a penchant for young Black gay men–that liking didn't extend to Black politicians who along with women were given the least amount of money. 
All that talk from Democrats about being allies and at the edge of each other's battles goes out the door and loses all credibility when in 2017 a Black gay man can die under more than suspicious circumstances and rather than acknowledge his death–everyone looks the other way because they don't want to alienate a consistent and top-giving political donor. 
The Ed Bucks of the world win if their money can literally mute an entire political party. 
This is why Democrats lose … and will continue to lose … in 2018. We don't practice what we preach.
 (Jasmyne Cannick is a registered Democrat and is a nationally known writer and commentator on political, race and social issues. She is a CityWatch contributor. Her views are her own.)
-cw