@THE GUSS REPORT-Race and racism come with an asterisk at LA City Council, where last week it discussed whether to locally change Columbus Day to Indigenous Peoples' Day. 
While some believe it was another distraction from the city officials' failure to fix our streets, fight crime, kill fewer homeless animals, develop quality public transportation, solve homelessness and balance its budget, there is obvious merit in addressing whether to continue publicly honoring the life of 15th century explorer (and brutal hater, to say the least) Christopher Columbus, who embraced what became known as encomienda, or systemic slavery. This debate follows recent public protests around the U.S. about whether to continue publicly honoring General Robert E. Lee, and others of the Civil War era, who defended slavery. 
But like so many issues at LA City Council, the outcome was pre-ordained, with the sides being led by Councilmember Mitch O'Farrell, who is of Native American descent and in favor of the change (but whose threadbare qualifications for the job were mocked earlier in the day by KFI AM 640's Bill Handel) versus former LAPD officer and current Councilmember Joe Buscaino, who is Italian-American, and against the change. It's just what the LAPD needs right now: a former officer defending systemic racism. 
In the end, after much grandstanding, Columbus lost and Native Americans won.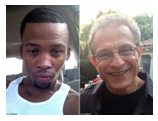 Then there's that asterisk I mentioned. 
It pertains to significant campaign cash that many of these same LA officials, and their peers and political friends in county, state and federal government, took from white, gay, N-word dropping Democrat operative Ed Buck who, as writer Jasmyne Cannick thoroughly and most recently documented better than all others, may have had a hand in (or disturbingly close proximity to) the overdose death of Gemmel Moore, a young, black, male prostitute in Buck's West Hollywood home a few weeks ago. 
So which officials in LA City Hall had in their bank accounts campaign cash donated from Buck while addressing Columbus, Lee and racism in general? 
Thousands of those dollars went to none other than O'Farrell, who received $4,200 from Buck from 2013 through the present, the biggest donation of which ($1,400) went to O'Farrell's Legal Defense Fund. 
Other Councilmembers who hypocritically took in Buck's bucks while "rising to support" the elimination of Columbus Day in LA, include: 
Councilmember Gil Cedillo: $1,400 (Cedillo supports Indigenous Peoples' Day being held on August 9th, but not erasing Columbus Day from the calendar.   But ultimately, he voted in favor of the change when the August 9th idea failed)
Councilmember Bob Blumenfield: $2,100 
Councilmember Paul Koretz: $2,200 
Councilmember Paul Krekorian: $2,200
Note: Cedillo, Blumenfield, Koretz and Krekorian often speak about racism and the Jewish and Armenian genocides. Blumenfield's wife, Kafi, is African-American. 
In other words, they take and keep the money regardless of its source. 
And so do Los Angeles Mayor Eric Garcetti, who took $1,400 from Buck, and City Controller Ron Galperin who got $3,600. That makes Los Angeles City Attorney Mike Feuer the local grand prize winner of money received from the N-word-friendly operative, to the tune of $8,000. 
How can any of these officials embrace Buck's money, while rejecting Columbus for what amounts to the same modern-day sentiment? 
It is equally important to note that Buck (who has also donated to Hillary Clinton and LA-area Congressmen like Tony Cardenas, Ted Lieu and Adam Schiff, who are Latino, Asian and Jewish, respectively, among others) made no donations to the City Council campaigns of any of its three African-American members Curren Price, Marqueece Harris-Dawson or Council President Herb Wesson, or its Latina officeholders Nury Martinez and Monica Rodriguez. 
Buck, whose documented California political donations total at least $220,107, has neither been charged nor convicted of any crime. But even if he never is, why would any politician continue to embrace racially tainted money? As Cannick, who delved into Buck's predilections, asks, "Is it because Ed Buck is white? Is it because he is white and gay? Is it because he often maxes out on contributing to their campaigns? Is it because the accusers are Black gay men? Is it because the accusers are Black? These are the questions that Democrats in Los Angeles should be asking themselves." 
Did any of them influence Jackie Lacey, who received just a $100 donation from Buck, to not (at least yet) pursue a criminal charge against Buck? 
And will City Hall staffers and aspiring politicians like Koretz's long-time aides Joan Pelico and Jeff Ebenstein (both of whom are Caucasian) immediately return, or donate to charity, the hundreds and thousands of dollars they received, respectively, for their campaigns from Buck? Is there a future for them if they do not? 
And do any of them feel there is any difference between Columbus's 15th century hatred and Buck's in the 21st?
(Daniel Guss, MBA, is a member of the Los Angeles Press Club, and has contributed to CityWatch, KFI AM-640, Huffington Post, Los Angeles Times, Los Angeles Daily News, Los Angeles Magazine, Movieline Magazine, Emmy Magazine, Los Angeles Business Journal and elsewhere. Follow him on Twitter @TheGussReport. Verifiable tips and story ideas can be sent to him at TheGussReport@gmail.com. His opinions are his own and do not necessarily reflect the views of CityWatch.) Edited for CityWatch by Linda Abrams.