Westside Winter Shelter Opens This Weekend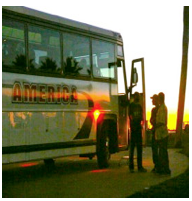 VENICE PATCH - The Westside Winter Shelter program opens this weekend and, for the first time, will offer supportive services for those who want to live life off the streets of Los Angeles, according to Councilman Bill Rosendahl.
The shelter opens Dec. 1 and will utilize a pick up and drop off location at the Los Angeles Police Department Substation in Venice Beach (1530 W. Ocean Front Walk).
The bus will pick up between 4:30 and 6 p.m. and will return the next morning at 7:30 a.m. The shelter is located at the West L.A. Armory  (1300 Federal Ave.) and will have 160 beds.
The program ends on March 1.
First to Serve outreach ministries will manage the shelter program for the city and, this year, offers two on-site case managers who will assist those who are homeless in the transition to permanent supportive housing, offer medical services and healthcare resources and help with job placement.
-cw
CityWatch
Vol 10 Issue 96
Pub: Nov 27, 2012