Candidates for LA Mayor Take on Pension Reform at Koreatown Debate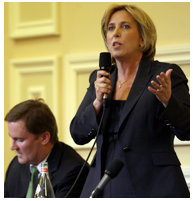 KPCC RADIO - Just when you thought you'd had enough of politics, here comes the race to succeed Los Angeles Mayor Antonio Villaraigosa.  Four candidates faced off Wednesday in a forum sponsored by the Korean American Coalition. 
Among the topics:  Former Mayor Richard Riordan's proposed ballot initiative to dramatically overhaul city pensions and move new city workers into 401 (k) style plans.  The plan would likely reduce benefits for city workers.
"I oppose the proposed ballot initiative," said Councilman Eric Garcetti.  He argued Riordan's plan initially would cost more, and that the city would not realize any savings for 15 years.
City Controller Wendy Greuel warned the proposal  - staunchly opposed by powerful labor unions – might send police officers to surrounding cities with more generous benefits.
-cw
CityWatch
Vol 10 Issue 92
Pub: Nov 16, 2012