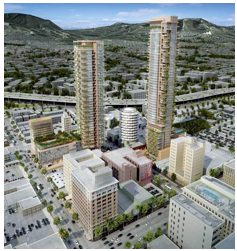 HOLLYWOOD AHEAD … IN THEORY-Woo-ee, here we go: Millenium Partners and Argent Ventures have released a website and the first big report (the draft environmental impact report) on Millenium Hollywood, their plan to put two big towers on either side of Vine Street by the Capitol Records Tower in Hollywood.

The project was first announced a year and a half ago and the DEIR still presents only a conceptual plan, analyzing a theoretical project "as tall as 585 feet on the east side of Vine and 485 feet on the west side of Vine." (The idea is that the city can approve the theoretical guidelines and the developers will be able to build up to those limits.)
That caginess might have something to do with the opposition this project has faced--neighbors, specifically those in the Hills, are terrified of new towers and their potential impacts on traffic and views. Preservationists are worried that the much-beloved Capitol Records building will be eclipsed by its new, tall neighbors.

Millenium, meanwhile, has secured support from Capitol Records and from Louis Naidorf, the staff architect at Welton Becket who designed the building--"Naidorf says he always expected Capitol Records to be surrounded by taller structures and that he is confident it will be able to hold its own."
(The rest of the LACurbed report … including a Naidorf video and answers to the question "What will be inside the Millenium Hollywood?" … here) 
-cw



CityWatch
Vol 10 Issue 86
Pub: Oct 26, 2012