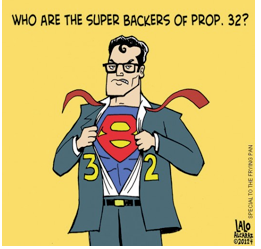 OUT OF THE FRYING PAN - Brothers David and Charles Koch, and other libertarian billionaire backers of Proposition 32, including Charles Munger Jr., like to wrap themselves in the toga of individual freedom. However, despite their supposed ideological fervor for personal liberties, they have allied themselves with some of the nation's most vociferously anti-gay religious activists – all for a campaign to outlaw the use of automatic payroll deductions from union members and corporations for political purposes. Although it is not widely seen as a "gay issue," Prop. 32's passage could have far-reaching consequences for California's gays and lesbians.
"If we lose organized labor as a funded political ally in California, the LGBT movement is in big trouble," says Courage Campaign founder and LGBT activist Rick Jacobs.  "Would you rather have Howard Ahmanson thinking about your rights in the workplace, or organized labor? That's what this is about. Mark my words, people like the Kochs and Ahmanson are not thinking about how LGBT people are welcome in the workplace and not discriminated against."

Howard Ahmanson, the Prop. 32 supporter to whom Jacobs refers, is a wealthy heir who once told the Orange County Register his political aspirations for the country embraced "the total integration of biblical law into our lives."

In 2008 Ahmanson was one of the leading backers of the successful Proposition 8, which banned gay marriage in California where, briefly, it had been legal. He donated nearly $1.4 million to fight against marriage equality. That sum is even greater than the $1 million he donated to the American Anglican Council, a religious advocacy organization, in the early aughts—ostensibly to help undermine the tide of tolerance growing in the church towards LGBT participation. The Episcopal Church, which falls under the Anglican umbrella and to which Ahmanson belongs, was the first major Protestant denomination to allow the ordination of openly gay bishops.

It's telling that for a bill advertised as a campaign finance reform measure, Prop. 32 wouldn't have put the slightest dent in Prop. 8's funding, had Prop. 32 been law in 2008. It would have, though, prevented more than $2 million in union donations from flowing to the marriage equality side.
Ahmanson isn't the only Prop. 32 backer looking to stifle LGBT rights in California. Despite his fundamentalist politics, he may not even be the most anti-gay. That honor likely belongs to real estate investment magnate Larry T. Smith, who thus far has given $255,000 to Prop. 32.

A strong supporter of Prop. 8, Smith was recently among the fiercest critics of SB 1172—the California legislative effort to ban gay-to-straight conversion therapy for minors — which passed in September.

Smith fundamentally rejects the notion that parents forcing their underage children to endure conversion therapy could be psychologically harmful. On the contrary, he feels it's a "parental right."

"It in fact appears most of the evidence supports the thesis or the concept that that lifestyle is the result of early childhood experiences," Smith told the Christian news site Onenewsnow.com. "If early childhood experiences tend to motivate a person in that particular direction, then it would seem reasonable … that proper therapy would help them get out of that particular lifestyle, which I don't care where you stand — there's no question that it's unhealthy."

In other words, there's no question that being LGBT is "unhealthy" and a lifestyle choice, and that all you need is some behavior modification at a young age and everything will be good—like curing bedwetting.

Smith isn't merely opining. He's the billionaire founder of the religious-right political action committee Family Action —which, with the help of fellow Prop. 32 backer and Family Action board member Mark W. Bucher, helped qualify and pass Proposition 22, a 2000 law amending California's Family Code to effectively ban same-sex marriage.

For more than a decade, the Family Action PAC has routinely funneled money to anti-gay conservative politicians across the state of California, including Orange County State Assemblyman Allan Mansoor, whom Smith recently praised as "an effective voice for conservative values."

Mansoor caught the attention of LGBT activists when he ran for a Costa Mesa city council seat in 2002 by posting homophobic comments and articles on the message boards of the website Concerned Costa Mesa Citizens. He also supports the claim that homosexual men commit acts of sexual child molestation at a disproportionately high rate.

Recently, Smith came out as an opponent of this year's Assembly Joint Resolution 43 – otherwise known as the LGBTQ Bill of Rights. Proposed by Bell Gardens Assemblyman Ricardo Lara, the resolution urged Congress and President Obama to extend California's robust LBGT civil rights protections against bullying, harassment in the workplace, and discrimination in pay, loan opportunities, housing, hiring and family leave, to gay and lesbians across the country.

"The California Legislature spends their time on trivia instead of dealing with the major problems that the state has," Smith complained of AJR 43 to Onenewsnow.com. [[ hotlink]] "And it also tells you how the special interests control the California Legislature."

Smith's definition of gay rights as a "special interest" should tell LGBT-rights supporters all they need to know about Prop. 32–whose website explicitly advocates "taking back California by reducing the influence of Special Interests across the board."

LGBT activist Robin Tyler, an original plaintiff in the California Marriage Equality case and a member of the first lesbian couple to be legally married in California, sees Prop. 32 in the same vein as Prop. 8, and thinks its passage would have disastrous effects on the marriage equality movement in California.

"Prop. 32 is another glaring example of why Californians are being fooled into thinking that if they voted for stopping 'special interests,' they will be voting in their own favor," she says. "Like Prop. 8, which misled the public who voted 'Yes' into thinking they were protecting their children, Prop. 32 once again misleads the public into thinking they are protecting themselves."

Reached by phone, Larry T. Smith had "no comment at this time" on Tyler's remarks or anything having to do with Prop. 32.

Should Prop. 32 pass, Smith, Ahmanson and their compatriots will undoubtedly continue pushing their religious, anti-gay agenda on the state of California and beyond.

"This is not just about California," says the Courage Campaign's Jacobs. "Labor communities have been very supportive of LGBT rights in the workplace and in the political space. They are reliable allies. If 32 passes, California's 2.5 million unionized workers won't be able to contribute their money for political purposes out of state either. The next time there's a fight in Washington over the Defense of Marriage Act, for instance, labor has less capacity to join us. California is a donor state. The whole chain is interrupted."

(Matthew Fleischer is an award-winning investigative journalist, a former LA Weekly staff writer, and an editor at FishbowlLA. This column was posted first at fryingpannews.org) Graphic credit: Lalo Alcaraz
-cw    




CityWatch
Vol 10 Issue 82
Pub: Oct 12, 2012