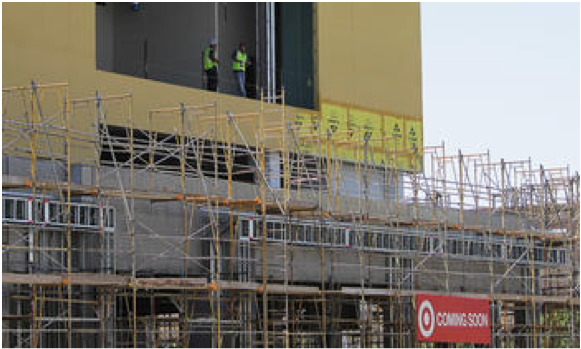 NEIGHBORHOOD POLITICS--The city's plan to put the unfinished Target project in Hollywood back on track moved ahead on Wednesday after the city council approved a plan in which Target will pay a $1.2 million in-lieu fee for employee child care.
The issue regarding how Target would satisfy the city's requirement to provide childcare was one of the final steps for the project to receive approval to resume construction. However, the project still must clear a remaining hurdle in court before construction can begin again on the partially completed store at Sunset Boulevard and Western Avenue.
The Los Angeles Superior Court must rule on a lawsuit filed by the La Mirada Avenue Neighborhood Association, which contends the city violated zoning laws in approving the project because it exceeded allowable height limits. A court hearing on the matter is expected to occur soon.
The Los Angeles Superior Court previously ruled in favor of the neighborhood association and construction was stopped in 2014. Target appealed the ruling to an appellate court, and the city altered zoning regulations at the site to allow for a taller building. The La Mirada Avenue Neighborhood Association filed a second lawsuit against the revised zoning plan last year, and the appellate court sent the matter back to the superior court for consideration. (Read the rest.) 
-cw