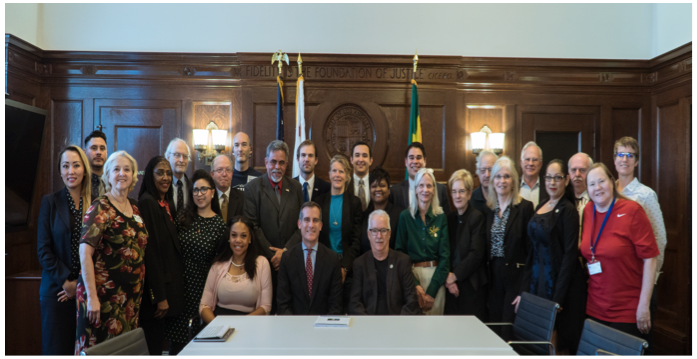 NEIGHBORHOOD COUNCIL BUDGET ADVOCATES--The City of Los Angeles Neighborhood Council Budget Advocates met with Mayor Eric Garcetti on March 8th to present and discuss their White Paper for the coming city budget fiscal year 2017 – 2018. 
The White Paper will contain priorities, recommendations to improve revenue generation, collection and operations and the efficient use of our tax dollars. 
The Budget Advocates take on the arduous task and spend hundreds of hours in meetings with city department and agency General Managers, and senior staff to learn, study and analyze their departments' strategic plans, operations, budget proposals and then develop recommendations. 
The Budget Advocates will next meet with and present our findings to the City Council Budget & Finance Committee followed by a presentation to the full City Council in the coming months. 
Please contact me if you wish to receive a copy of the Budget Advocates White Paper.or more information on the white paper please visit NCBALA.com, track our progress while we wait to see how our Los Angeles City Mayor responds.
(Adrienne Nicole Edwards is a Neighborhood Council Budget Advocate. She can be reached at: A.Edwards@NCBALA.com.) 
-cw