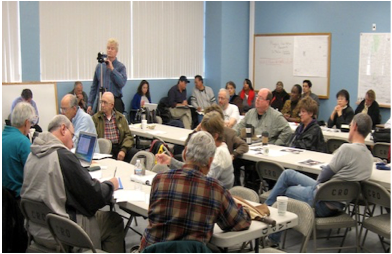 15 CANDLES—(Editor's Note: It has been 15 years since Los Angeles certified its first neighborhood council … Wilmington. Former and present neighborhood council leaders have been invited to provide their perspective on LA's NCs, what difference they've made if any and what their future holds.) It was 1999, City Hall was perceived as becoming alien, insular, exclusionary, and non-responsive to regional issues, only to serve their own interests and lacking real tangible outreach or civic engagement.
At the dawn of the Succession Movement, voters approved a City Charter that established the Neighborhood Council System and the Department of Neighborhood Empowerment (the Dept) "to promote more citizen participation in government and make government more responsive to local needs" and in May 2001, the City adopted the "Plan for a Citywide System of Neighborhood Councils (The Plan). This effort would finally empower NC's to have Advisory Capacity decision-making influence while connecting residents to their local, regional, and city depts. on community-based issues – a real voice in the democratic process.
In the beginning, emotions ran high, participants scurried to become involved, outreach to local residents was at a fever-pitch, angry citizens arguing over historical boundary, grasping NC mandates, and the definition of advisory capacity leadership.
Now 15 years later with 97 NC's and counting, they have taken their position as Neighborhood City Halls that have become alien, insular, exclusionary, not representative of their regions or communities only to serve their own individual interests lacking real tangible outreach or civic engagement. And to think it only took 15 years, 100's of thousands of tax-payer dollars, and a further erosion of engagement and empowerment only to create another level of bureaucracy mandated by City Charter.
There is only one difference – there is no city agency that can enforce, mandate or hold NC's or their boards from actions, decisions, or exclusionary practices accountable. When was the last time you received a local NC newsletter, announcement or notice in your mailbox or at your front door?
Are you being engaged or empowered to participate? Do you see change? Do you feel connected to City Hall?
(Bradley is a citizen advocate and was the founder of the Glassell Park Neighborhood Council.)
-cw