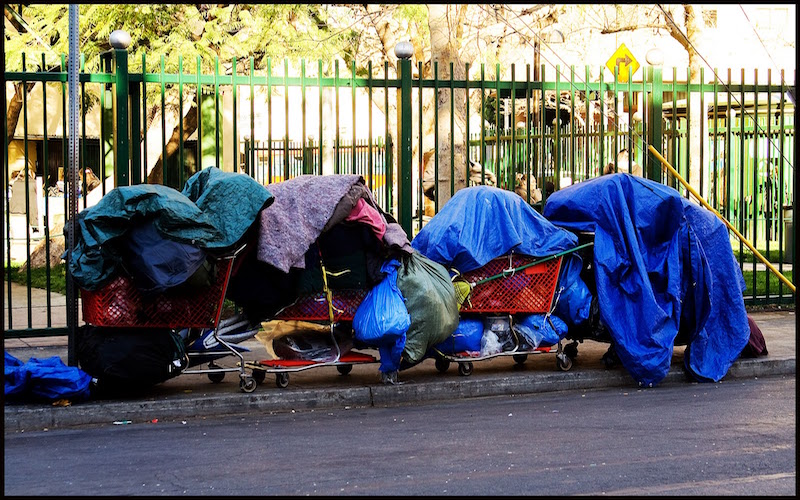 LA NOT READY FOR A SERIOUS SKID ROW CONVERSATION--While families across America come together this holiday season to spend quality time with one other, there are many who also choose to "give back" to the less fortunate. 
Every year since 2007, I have been in Skid Row on Sundays, but holidays are the worst time for the accumulation trash, debris and whatever remains from all the food that is handed out. It all ends up on Skid Row's streets, especially near the missions. 
With many City workers off for the holidays, all of that trash builds up. One cannot help but wonder, where are all the trash cans? And, why doesn't the City distribute additional trash cans before employees go home for the holidays? 
While these questions are valid, I couldn't help but ponder a bit longer than normal about all the connected topics associated with trash in Skid Row. 
This has ultimately led to my realizing what the number one least-asked question in Skid Row is. 
My thought pattern goes something like this: trash and debris…leads to germs and bacteria…which leads to urine and feces…  Wait, I forgot to ask the question: 
Drumroll please… The number one least-asked question related to homelessness in Skid Row is: "Where do homeless folks wash their hands?" Boom! 
Years ago, the LAPD insisted on removing all the port-a-potties from Skid Row due to all the drug-related crime and prostitution occurring constantly in them. 
Instead, super-expensive Automatic Public Toilets (APT's) were installed – FIVE for the entire 50-block Skid Row community. But there are so many moving parts in these self-cleaning restrooms that, combined with the 24-hour constant usage, the APT's often are out-of-service -- even though they are serviced by contracted maintenance crews 3-5 times per day. 
Only one of the missions remains open for 24-hours. This means there are extremely limited restroom options in an area with a reported 10,000 to 15,000 residents, and of those, 2,000 to 3,000 are homeless folks sleeping on Skid Row streets.  
All of this means that homeless folks and residents living in missions or low-income housing who travel several blocks from home have to "get creative" when they have to use the restroom. 
In 2012, the City of Los Angeles was cited by the LA County Health Department for three violations, one of which was for a high concentration of urine and feces all over Skid Row. 
Going back to the "number one least-asked question," even when homeless folks relieve themselves, whether it be in an alley or behind a car, where would they be able to wash their hands? 
People outside of Skid Row don't even realize that a person living in low-income housing (in this case an SRO) who happens to be receiving GR (General Relief) only receive $221 a month; sometimes they don't have money at the end of the month to by a bar of soap. This means there are even residents who have access to bathrooms who can't wash their hands in a sanitary manner. 
With El Nino fast-approaching, along with the germs and bacteria that will travel with it, a much-needed holiday gift would be bars of soap and hand sanitizers. 
It would help tremendously if a responsible person or team could walk around pouring bleach into all the nooks and crannies where homeless people relieve themselves. (I say this holding my nostrils closed just thinking about some of the smells "passing" in the air. Pun intended.) 
Maybe Santa could drop off his elves for a few months before next year's holiday season so they would be tasked with BPD (Bleach-Pouring Duties). 
I don't think Los Angeles is ready to have serious conversation about everyday living in Skid Row. In February, 2016, both the City and the County of LA plan to release comprehensive strategic plans on homelessness. But I can almost guarantee that funding for hand sanitizer, soap or bleach will not be anywhere in these two separate documents. 
And by the way, why will there be two different strategic plans released the same time anyway? But that's a whole different article for a later time. 
Right now, though, it must be made public as to just how easily germs and bacteria can spread in Skid Row. Since it is winter time, it won't be considered offensive if volunteers wear gloves when passing out food, blankets or whatever. 
Fist bumps instead of handshakes are a must…anyway, it makes people seem cool. Even volunteers should carry hand sanitizer in their pockets and/or purses. 
While we appreciate it if you want to "give back," there are many more realistic complexities that all should be aware of. 
Instead of "walking to end homelessness," how about pouring some bleach to end undesirable smells? It's a more realistic way to help. 
I hope Angelenos appreciate what a luxury it is to have a place to wash their hands and soap to wash them with. 
Happy Holidays to all of you from all of us in Skid Row!
(General Jeff is a homelessness activist and leader in Downtown Los Angeles.) Edited for CityWatch by Linda Abrams.
-cw
 CityWatch
Vol 13 Issue 104
Pub: Dec 25, 2015