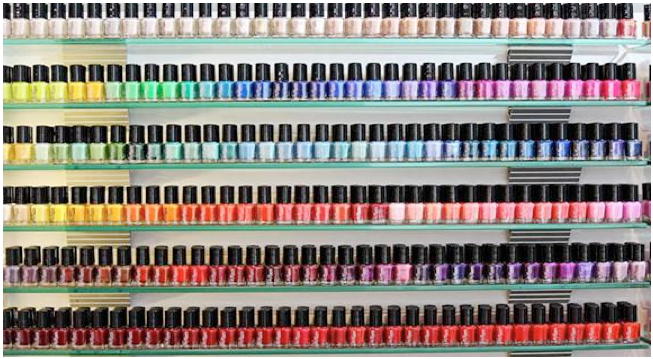 DEALS & DISCOUNTS--If you visit the beauty supply store or a local nail salon, you will quickly see that there are thousands of nail polish colors. Choosing a single bottle among the many competitors in this $6 billion business is hard. The name of the color maybe just the tipper to buying the one particular bottle costing anywhere from $5 - $20. After all, I cannot express myself better than nail polish brands OPI, Essie, Revlon, or Deborah Lippmann already have in the names of the different shades. When I am excited about a vacation, "The Thrill of Brazil" or "Live. Love. Carnaval." says I am greatly looking forward to getting away. If I am getting ready for an evening out, "I'm Gown for Anything", or "Orange you Glad" better. If I plan to spend some time with my fun-loving Zumba buddies "Backseat Besties" says it all.  When wearing bright red on my fingertips, who wouldn't love to shout out that they are wearing "Kimona Over". 
How about names of colors that describe your feelings. Here are a few from Revlon's New Shades line: Untamed, Electric, Uninhibited, Magnetic, Bubbly, Adventurous, Provocative, Vixen, Coy and Impulsive. I guess there are times when I feel a little of each one of these. 
When I was at the new Ulta store in Santa Monica that opened a few days ago, I can came across polish names that caught my eye and kept me thinking. Some are really entertaining, punny, exude fun and energy. Warning, there are some XXX names (Oh, which just happens to be an OPI color, "XXX SPF"): 
These names are to empower women to be stronger, braver, more powerful and optimistic. As you can imagine the colors are bolder.
Who Needs a Prince? - OPI
I Pink I Can - Sally Hansen
Shifting Power - Essie
No Shrinking Violet - Revlon
Brave - POP Beauty
Ivy League - Ginger + Liz
Aristotle in a Bottle - Glamorous
Rosy Future - OPI
I Am Strong - Essie 
This line is called the Washington DC from OPI. It came out last fall before the November 2016 Presidential Election. Perhaps they were certain that Hillary would win.
We the Female
Freedom of Peach
Stay Off the Lawn
Pale to the Chief
CIA" Color is Awesome
Never a Dulles Moment
Squeaker of the House
Yank My Doodle
Shh…It's Top Secret
OPI By Popular Vote 
Everyone must get their nails done before the holidays, the more sparkles, the better.
I'm Gown for Anything - OPI
Party at Holly's (OPI Breakfast at Tiffany's, Holiday 2016)
Ring the Buzzer Again (OPI Breakfast at Tiffany's, Holiday 2016)
Snow Globe – China Glaze
Twinkle Lights – China Glaze
Champagne Bubbles – China Glaze
Poinsettia – China Glaze
Velvet Bow – China Glaze 
There is no other time to show off your pedicure than when you are wearing sandals at the beach. Here are a few names that will make you wiggle your toes in the sand.
Taupe-less Beach - OPI
Lost My Bikini in Molokini – OPI (BTW, the color is a bright purple)
No Tan Lines - OPI 2017 Spring Collection
Do you Sea What I Sea? - OPI 2017 Spring Collection
100 Degrees in the Shade – China Glaze 
What better way to celebrate life events like anniversaries, birthdays, wedding or a birth than to get your nails done in one of these colors. To my delight, I would love to show off and say, I'm wearing OPI's "It's a Boy" blue. "Incidentally I just delivered a baby."
It's a Boy - OPI
Happy Anniversary - OPI
Happy Birthday - Deborah Lippmann
I Do! I Do! – OPI, Perfect for your wedding night
Catch the Garter – OPI
Mimosas for Mr. and Mrs. - OPI 
Names of nail polish color can be inspired from foods and beverages, especially when we associate them with a particular color.
Coney Island Cotton Candy - OPI
Gelato on My Mind - OPI
Tiramisu for Two - OPI
Cajun Shrimp - OPI
Got myself into a Jam-balaya - OPI
Orange You Fantastic (OPI Coco-Cola Anniversary Summer Collection 2015)
Malaga Wine - OPI
Life's a Cabernet  - OPI
Is Mai Tai Crooked - OPI 
There are companies that dedicate lines to cities as Revlon does with a bright jewel tones for Las Vegas or OPI's New England, New Orleans, New Zealand, Far East and Chicago and Far East lines.
Big Win – Revlon
All or Nothing - Revlon
Stays in Vegas – Revlon
Amore at the Grand Central - OPI
Danke-Shiny Red - OPI
The Thrill of Brazil - OPI
An Affair at Red Square - OPI
Bogota Blackberry - OPI
La Paz-itively Hot - OPI
Vampsterdam - OPI
Tickle My France-y - OPI
Berlin Done That - OPI 
Sex sells. Here are some of the more tame ones.
Gondolar Fondolar – Essie
Pussy Galore – OPI, Don't think this is referring to the Women's March
Pounded on the Kitchen Table – Naughty Nailz
Berry Hard - Essie
Dark Side of the Mood - OPI Fifty Shades of Grey 2015 Collection
Porn-a-thon - Smith and Cult
Size Matters – Essie
Between the Sheets - Deborah Lippmann
Makin' Whopee - Deborah Lippman
Orgasm - Nars
Shag - Butter
Royal Mattrimoany - ManGlaz 
OPI carries colors designated for little girls from the Hello Kitty and Muppets lines carrying more subtle colors such as light pinks, purples and blues.
Kitty White - OPI Hello Kitty
Look at My Bow - OPI Hello Kitty
Meep Meep Meep - OPI Muppets
Gone Gonzo - OPI Muppets
Pepe's Purple Passion - OPI Muppets
Rainbow Connection - OPI Muppets
UnFROGetable - OPI Muppets 
OPI makes a smaller bottle costing slightly less at $6.99. It is geared at youngsters and empowering them to do great things:
Do Good, Feel Good
My Claim to Fame
Please Red-cycle
Believe It, Do It
Profoundly Purple
Make a Compliment
Miss Independent
Sometimes colors can reflect a woman's poor self-image. Based on the name, I could not bring myself to buying self-deprivation even if the color was amazing.
Cougar Attack – Wet N Wild
My Silicon Popped - Wet N Wild
Plenty of Fish in the Sea – Wet N Wild
I Only Eat Salads – Wet N Wild
Dirty Slut – Matresse
Iris I Was Thinner - OPI 
Tomorrow, Detox! - Sephora Collection 
Marry a Millionaire - China Glaze
Sugar Daddy - Essie
Trophy Wife - Essie 
I'm Not Really A Whore - Naughty Nailz
I'm Not Really A Waitress – OPI 
At the forefront, OPI, one of the most prominent nail polish brands (coincidentally located in North Hollywood) is the executive vice president and artistic director, Suzi Weiss-Fischmann, known as "the first lady of nails". She is the creative force behind the shades of colors as well as the names. Describing the inspiration of the names from just about anything: everyday people on the street, notable people and celebrities, geographic locations, places to travel, looking at runway trends, food, music, movies, and more. As we can all witness from the sampling of names mentioned, the names creatively and whimsically and tell a lot about how a person is feeling, an experience, and what they are anticipating. There's a name to perfectly fit any occasion. 
There are a few colors that are named in her honor:
Suzi had a Swede Tooth
Suzi Shops & Island Hops
Suzi Without a Paddle (OPI Fiji Spring/Summer 2017)
Suzi Nails New Orleans 
SO WORTH IT!
Some may think of polish as merely slapping on a color on our nails, but others look at it as an experience. Going to your favorite beauty store or nail salon, spending time choosing a color to match a mood or an occasion, and carefully applying it to last as long as possible. No matter if I pay $5 or $20 for a bottle or $15-35 for a manicure, this is one spurge that makes me feel like a million bucks. Long after the polish wears off, I get bragging rights on the polish color name for a long time.
(Sue Helmy has plenty of tricks up her sleeve. She is currently providing superb administrative services at a financial management firm in Century City. She is active in countless church and civic organizations and spends every minute she can spare dancing to the Zumba beat.)
-CW