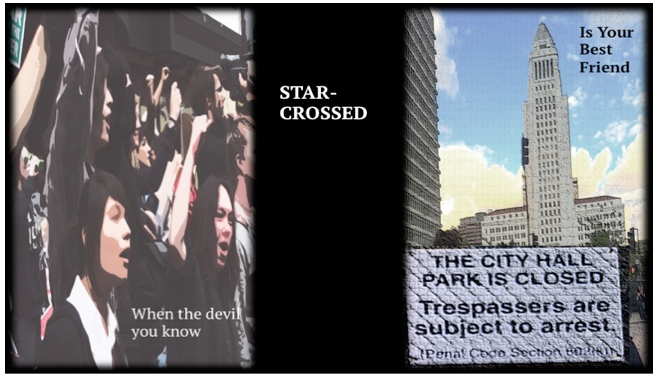 DEALS & DISCOUNTS--As Nora journeys from uptight business major to lefty activist, she discovers that the right-wing politician whose office she's occupying is college friend, Star, who once championed the oppressed. This is the story of the transformation of two women and the people who shape their journey across the ideological divide. From former Black Panther sisters to religious demagogues, there is no turning back for anyone in the city of Los Angeles. Financial and political structures collapse as the two women face off - opposites again - but crossed. Star-Crossed. 
That there is my screenplay in a nutshell, or, as they call it in the Biz, a logline. I've worked for years on this feature and I've got to tell you, I'm more than a little bit excited at the thought of the awesome cast of actors that is assembling as we speak who will be giving their time to bring these characters to life. That's why I'm reaching out now to invite you to come be a part of this process. 
Melvin Johnson and Bill White are the producers of the Nesona Play Reading Series. They're always super busy putting up artistic works that reflect the lives of real people in the diverse communities of Los Angeles. They are committed to diversity and inclusion and to telling socially relevant stories of the resistance and heroism of ordinary people and extraordinary people. 
The readings they produce help writers develop their work by providing a space where artists and audiences can interact in a productive and exciting way. This is where my script will be going up next Wednesday, April 12. The event will include a reading of the script as well as Q&A and a meet and greet with refreshments. You too can have all of this for a donation of your choice. 
A couple of months ago, I was attending a Film Independent event, getting inspired by the cast and director of "Moonlight," when I ran into an actor friend of mine, Bill Mendieta. I've known Bill since I came to Los Angeles. We got to talking about days gone by and times to come. To make a short story even shorter, it was Bill who gave me the nudge I needed to get this thing up on its legs with a reading. 
Turns out Bill is also perfect for the part big firm accountant, Robert Barnes – the husband of one of my leads; and fortune would have it that he was available. Jill Awbrey (playing Nora Bolden) is an amazing actress from my class with the incredible Brad Barnes. "In the moment" is her middle name. I was over the moon when my acting coach and richly talented actor and director, Elise Robertson, agreed to play Star. It is the ideological journey of Nora and Star that lies at the heart of the story. 
I met Bruce Lemon Jr. while doing a bit of casting for Carolfrances Likins' reading of her script "Subversion!" for which I also played a leading role. That story told the tale of a family affected by the infamous Palmer Raids of the early 1920s, which resulted in massive rounding up and deportations proceedings against thousands of people #resisting unfair labor practices and other social ills. 
This past December, I went on to shoot a reading of a Langston Hughes poem with Bruce. I'm thrilled to say he will be playing the part of Jason Wright – a pivotal character in the life of Nora and the future of Los Angeles. 
More actors are signing on to play pivotal roles and we are sure to be in for a treat. For any of you awesome City Watch readers who would like to be a part of this creation and an enjoyable evening, I extend a hearty welcome. #TheResistance continues – onward to the big screen! 
NEED TO KNOW: 
Reading of "Star-Crossed" by Jennifer Caldwell
April 12, 2017 7:15 pm
MOments Playhouse
665 Heliotrope Drive
Los Angeles, CA 90004 
A production of NESONA Play Reading Series
Contact Information:
dramastage1@yahoo.com            213-908-5032
Talawah65@gmail.com                323-702-6317
You can find NESONA Play Reading Series on Facebook
Next Readings:   
April 26, 2017
"Oscar's Last Stand" by William "Bill" White
May 10, 2017
"A Lesson Before Dying" by Ernest J. Gaines
May 24, 2017
"Bunk" by Julie Taiwo Oni
(Jennifer Caldwell is a an actress and an active member of SAG-AFTRA, serving on several committees. She is a published author of short stories and news articles and is a featured contributor to CityWatch. Jennifer can be reached at recessioncafe@yahoo.com.  Facebook: http://www.facebook.com/jennifercald - Twitter: @checkingthegate ... And her website: Jenniferhcaldwell.com) 
-cw