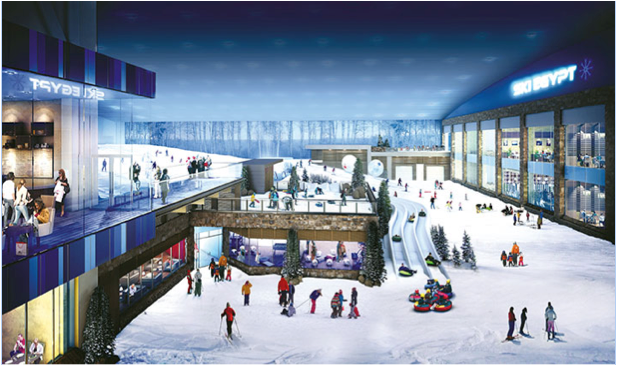 This week's Deal takes place on the opposite side of the world in Cairo where a new attraction has most folks excited, but skeptical. The attraction has nothing to do with ancient Egyptian civilization. On the contrary, it is inside an ultra-modern mega-shopping center. The Mall of Egypt, just 30 minutes away from the great pyramids of Giza, had its grand opening this March 2rd. It is not just any shopping mall, but nearly 2 million square feet containing 400 retailers, an ample 6,500 parking spaces, 2 family entertainment centers and an indoor ski complex. Yes, snow in the middle of the desert, all year round. How ironic is that! I was lucky enough to be visiting my niece who had just taken her 3-year old son after school. Showing off their souvenir photos, I could see that this is something really special for Egyptians. 
Ski Egypt is the first indoor ski slope and snow park on the African continent. It offers skiing, snow-boarding, lessons, a sledding ramp, a chairlift, and a pro shop. The Snow View Café gives visitors while sipping hot cocoa a picturesque overview including watching adorable live penguins waddling around. 
Ski Egypt was built on the great success and on-going popularity of Ski Dubai by the same Emirati developer, Majid Al Futtam, and operated by a British partnership, Extreme Cool Ltd.
MAF began the construction for the mall in 2012, taking almost six years to build employing 6,000 local construction workers costing close to 6 billion EGP or $400 million (hard to know in real dollars because of so much inflation). For more info.  
For a family of 4, the cost is approx. $70 for rentals and lift tickets, and don't forget professional photos.  To our American standards, the outing sounds like a bargain. For Egyptian standards, it is extremely expensive, if not nearly impossible for the working class. A government employee earns about 1,200 Egyptian pounds per month, or $66 US ($1 USD = 18 Egyptian pounds). 
If Ski Egypt is not affordable for the average Egyptian, the question is who are they targeting their customer base? Is it the more affluent Egyptian? There is a good chance they are getting away on weekends to their Red Sea or Mediterranean villas. Is it international tourists who are taking a day off from visiting national treasures and "Mummies and Deadies" at the Egypt Museum?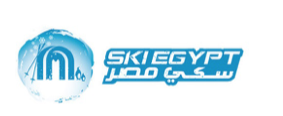 The investment group may be betting on sheer numbers for Ski Egypt's success. Cairo's population is close to 10 million and they need somewhere to go. Even if the obvious factors are working against them such as political unrest, weak Egyptian currency and economy, high unemployment, a declining tourism industry, ongoing safety issues, a food shortage (most recently, sugar) and a growing population of penniless refugees from Iraq and Syria. With such huge problems, it would be wonderful to take the afternoon off to enjoy a light-hearted activity. 
To be honest, I am not sure what kind of "deal" this is for the Egyptian people. My biggest fear is that the Egyptians have learned American consumerism, living hand to mouth, accumulating debt, and ravaging its country of its natural resources, especially water. 
On the other hand, it was apparent how excited my niece and her toddler were after spending a few hours at the center. They should be proud, SKI EGYPT is amazing. I am hoping it will be a huge success. After all, it provides a paycheck for hundreds of employees and gives people a fun place to go. Otherwise, they may sitting on a huge pile of slush in the middle of the desert.  
NEED TO KNOW: 
SKI EGYPT
Mall of Egypt
Al Wahat Al Baharia
6th October, Cairo, Egypt
PRICING
SNOW GO (entry, rentals, helmet)
Child, height and age restrictions           300 EGP ($17)
Adults                                                 350 EGP ($20) 
NORTH POLE EXPERIENCE (entry, lesson, gloves, locker rental)
Child and Adult                                            480 EGP ($27) 
SNOW VIEW, Entry to Café for Viewing
Admission                                                    120 EGP ($7)
(Sue Helmy has plenty of tricks up her sleeve. She is currently providing superb administrative services at a financial management firm in Century City. She is active in countless church and civic organizations and spends every minute she can spare dancing to the Zumba beat.)
-cw