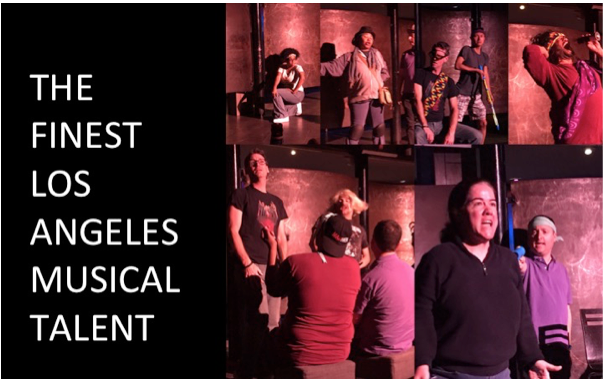 DEALS & DISCOUNTS--I guess you could say that it all started when I met this artist named Leland when I was volunteering for the GLAAD Media Awards … 
So there I was in front of City Hall, listening to the mayor after a long May Day march, when I ran into this Leland fella once again and he invited me to go have a drink with him and a couple of his friends later in WeHo. Of course, I said I'd be delighted and we parted ways with much adieu. 
I arrived in the San Vicente/Santa Monica Boulevard area at around 7 pm. I drove around and tried to find street parking but finally opted for the library parking off of San Vicente. I scuttled on up to Santa Monica and met Leland and his pals at Rage. 
I have to tell you that I really had no idea what I was in for. 
The tables were all arranged facing a stage area and it dawned on me that we were not only having a drink but seeing a show. In fact, one of my newfound pals, Terrence, was due to be in the show. 
The show began with a tall lean dude with glasses lip-singing a rousing rendition of "Rose's Turn" from Gypsy as the divine Miss M belted it out from a screen up above. The live performer was shaking his groove thing and shimmying his shoulders and I thought, "What the heck is going on here!" 
It became clearer with each number that Musical Mondays at Rage is a rager of a deal. 
TRANSLATION: THIS SHOW IS ABSOLUTELY FREE OF CHARGE! 
Leland and his pal Elizabeth had never seen the show either and we were astounded at the depth of talent in the group of performers before us. They would strut and scoot and sashay hither and tither as they seemingly belted out tunes from Trouble in River City to All That Jazz while videos played overhead. 
Some of them were so good at lip-singing that I'm still convinced they WERE singing. 
The joint rocks a happy hour too. I enjoyed a glass of Pinot Grigio for $7. You never know how wine will be in a bar but this was just fine. They also offer up tasty food items at reasonable prices. I have to admit that I had already eaten so didn't sample the fare but would love to hear from a reader on that score! 
One thing is perfectly clear. Everything's Coming Up Roses at Monday Night Musicals at Rage and I plan to take my friends there the next chance I get. They've made a musical lover out of me. Who knows, maybe I'll see if I can take a stab at it myself! 
Thanks to the awesome performers Andrew Blau, Bobby Beus, Pilar Herrera, Gerson Rapoport, Brian Treadway, Chris Ahears, Imani Estese, Danielle Dee, Frank Woo, Jason Rasmussen, Martin "Free" Ramon, Ryan Provencher, Kevin Clager, Coleen Quinn-Allen, David Shepherd, Rudy Villa, Chris Lilly and Jose Gallegos – and the Ishka Maher for producing this wonderful night and her husband Keith Jacobson the VJ.
NEED TO KNOW: 
Rage nightclub
8911 Santa Monica Blvd.
West Hollywood, CA
Starting at 6 PM, VJ Keith Jacobson plays all your FAVORITE Broadway and movie musical clips. Then, at 10 PM, the show begins!
(Jennifer Caldwell is a an actress and an active member of SAG-AFTRA, serving on several committees. She is a published author of short stories and news articles and is a featured contributor to CityWatch. Jennifer can be reached at recessioncafe@yahoo.com.  Facebook: http://www.facebook.com/jennifercald - Twitter: @checkingthegate ... And her website: Jenniferhcaldwell.com) 
-cw