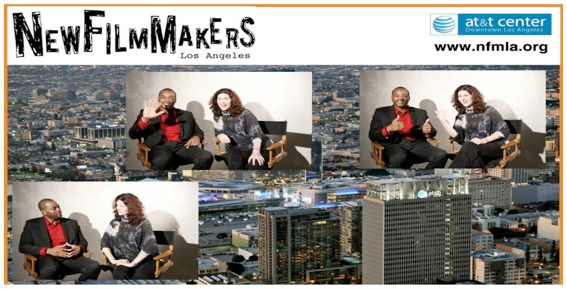 DEALS & DISCOUNTS--I'm shouting from the rooftops (aka Deals n' Discounts at City Watch LA) about New Filmmakers LA! This organization is steadily gaining notoriety and it is absolutely a fantastic deal for actors, directors, writers – anyone who plays a role in the making or enjoying of creative content. 
NEW FILMMAKERS IS A VERITABLE CORNUCOPIA OF OPPORTUNITY FOR CREATIVES! 
You don't HAVE to be a filmmaker to enjoy a membership either. I've met plenty of film fans at the networking events in various venues. Please, performers have to have an audience, for crying out loud! 
Here's the skinny on what a $75 membership gets you for a full year: 
Admission to monthly film fests, featuring short programs and groovy features from around the world and around the block. In all, you'll get tickets to over 24 screenings per year. Most screenings are also accompanied by Q&A.
Tons of chances to meet up with all manner of creatives and possibly team up to create your next project or just chew the fat about the amazing work you just saw them do.
Complimentary drinks during all NFMLA Los Angeles events
Discounts on tickets to special events like the upcoming Produced By conference on June 4-5 and the Cine Gear Expo on June 2-5
Member discounts on NFMLA annual Best of Awards. Last year, Kate Flannery had us LOL. This year, John Malkovich will be hosting.
Free casting space for filmmakers at Hollywood Casting and Film (located in Hollywood)
Free 3-month membership for actors at Hollywood Casting and Film with coupon code NFMLA (located in Hollywood)
Complimentary membership to MovieMaker Magazine
Member discounts and first dibs on more cool programs and events like Short Shorts; On Location 2016; Doc Day Fest and the Panamanian International Film Festival.
The On Location event is super special. You 'll meet the usual fabulous folks who make it all happen and enjoy great food and drinks. You also get to watch films from all over the world and vote on the ones you like the best! An extra added bonus last year was my SAG-AFTRA colleague Patrick Fabian from "Better Call Saul" as host! 
NFMLA has so many great events where you can connect and support up and coming filmmakers. You can also work on getting your own project on the screen. I've already got my ticket for the Best of 2015. You can get a ticket now by clicking NFMLA Best of 2015 right now.  
My money is on this being a thoroughly enjoyable and enriching networking experience. It will be at the same venue as last year – an outside soirée at the A+D Architecture and Design Museum. 
DON'T WAIT TIL JUNE! 
You can get on down to the next monthly film fest this coming weekend on May 28th. This month, they are featuring the work of Asian talent from around the world. As usual, they'll have several programs of shorts and a feature, paired with pre-screening receptions. This month, they've got a doc feature going as well. 
THESE MONTHLY SCREENINGS ARE FREE TO MEMBERS AND COST ONLY $15 FOR THE ENTIRE NIGHT FOR NON-MEMBERS!
The non member thing could be for a friend from out of state who will never come to LA again – because the deal is so great, why would't you just become a member! The individual membership is $75. For a measley $25 more, you can get two tickets to each event instead of one! If you're a student, Membership is only $35!! 
So there you have it: 
THE BEST DEAL IN HOLLYWOOD right at your feet. The benefits are remarkable, but the best deal with New Filmmakers is the incredible people who turn the wheels. From Directors Susie Kim and Larry Laboe to each and every one of the amazing volunteers, the entire team makes each event a truly extraordinary and inspiring industry experience.
NEED TO KNOW: 
New Filmmakers LA
NFMLA Film Fest 5/28/16
The first Pre-Reception begins at 4:30
The last feature film begins at 9:15
Come to all or some! 
Venue:
1139 S. Hill Street
Los Angeles, CA 90015     
Parking available FOR THE COMING 5/28 FILM FEST ONLY at:
150 W. 12th Street
Los Angeles, CA 90015
USUAL PARKING AVAILABLE AT:
1133 S. Olive Street
Los Angeles, CA 90015
Best of 2015 Event
June 18, 2016
A+D Architecture & Design Museum - DTLA
6:30pm VIP Reception
8:00pm General Arrivals
8:30pm Awards Show
General Admission Tickets $50
VIP Admission $75
(Jennifer Caldwell is a an actress and an active member of SAG-AFTRA, serving on several committees. She is a published author of short stories and news articles and is a featured contributor to CityWatch. Her column at www.RecessionCafe.wordpress.com is dishing up good deals, recipes and food for thought. Jennifer can be reached at recessioncafe@yahoo.com.  Facebook: http://www.facebook.com/jennifercald - Twitter: @checkingthegate)