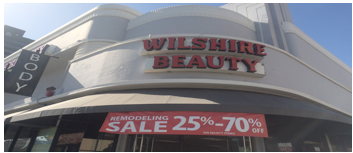 SUCH A DEAL--Ready for your close up? Wilshire Beauty is a one stop shop for everything you need to be camera ready! 
As I write this, Wilshire Beauty Supply is having a dazzling sale! 
This centrally located apothecary is filled with lotions, creams, polishes and poufy do's from Hollywood and around the world. Good deals are always on hand but right now they are going through a remodel, so they have some real savings on high end products. 
If you need some high quality beauty supplies and fashion accessories at prices up to 70% off regular, you owe it to yourself to come on down to Wilshire Beauty. It's at the corner of Wilshire and Cloverdale along that famous boulevard of retail splendor from the golden age of Hollywood – the Miracle Mile. 
I've been a customer of Wilshire Beauty Supply since I moved back to LA from the Big Apple. This is my current spot for all my hair coloring needs. 
Ooh-la-la! I love the Schwartzkopf lgora line of reds – and WB has them! 
WB also carries premiere brands like: 
Dermalogica
Yonka
Caudalie
Ojon
Phyto
Jonthan Product
Bar Escentuals
Stila 
I was in the store just this evening. The savings are popping. The staff is stellar. What more could anyone want? You'd have to be anemic not to want to get up and dance about it. I've always got the real skinny from Cindy who is a veritable fountain of knowledge concerning all things beauty. She's more than happy to share her seemingly bottomless bag of tips and tricks for making oneself camera ready - or set for the 9 to 5, whichever may come first. 
Adam is also spectacular. In fact, he's the one who sold me my new spring handbag. The last time I came in, I was captivated by the colorful and chic new spring collection of handbags that were sitting on the shelves. When he told me how much they would set me back, I took me about two seconds to say, "Yes, I'll take it!" Honestly, Kate Spade and Ted Baker, stand back. 
PEOPLE LOVE MY VEGAN SPRING HANDBAG! 
I can't tell you how many compliments I've got from this bag. It is a real find. Since the labeling featured the fact that the bag is lead free, I am now imagining that vinyl must normally have a lot of lead in it. Who knew? Like they say, you learn something new every day. Anyway, the fact that it's not leather but definitely looks like it is all good by me! 
The store is full of beautiful pieces of all sorts, including HAIR ACCESSORIES, JEWELRY, HATS AND SCARVES. You can even get a reflexology kit or a traveling sonic toothbrush with a cool design on the case for only $16. 
I bought a really lovely scarf for that other lady who writes for this column on her birthday last year. She loves it! If you're in the market for a special gift that won't be found just anywhere, this is the place to come. 
I love old Hollywood lore and WB has quite a history with the stars and starlets. It began back in 1947 as a playground of experimentation for Rita Hayworth's colorist and Bette Davis's makeup artist. Here, they would whip up all kinds of concoctions designed to bring out the best in their famous clients. Now, the store is operated by the Kohan family, who have made it one of the premier destinations in Los Angeles for quality products. 
The care that goes into the selection of the items on offer is obvious. It is such a treat to visit the shop and see what new and special treats will be in store. As Cindy says when she speaks of what it's like to unpack the new arrivals: 
IT'S LIKE CHRISTMAS EVERY TIME! 
NEED TO KNOW: 
Wilshire Beauty Supply
5401 Wilshire Bouleavard
Los Angele, CA 90036
(323) 937-2001 
wilshirebeauty.com
Hours:               M-F     9 am – 8 pm
                        Sat      9 am – 7 pm
                        Sun     10 am – 5 pm
Parking is behind the building off of Cloverdale.
(Jennifer Caldwell is a an actress and an active member of SAG-AFTRA, serving on several committees. She is a published author of short stories and news articles and is a featured contributor to CityWatch. Her column at www.RecessionCafe.wordpress.com is dishing up good deals, recipes and food for thought. Jennifer can be reached at recessioncafe@yahoo.com.  Facebook: http://www.facebook.com/jennifercald - Twitter: @checkingthegate)