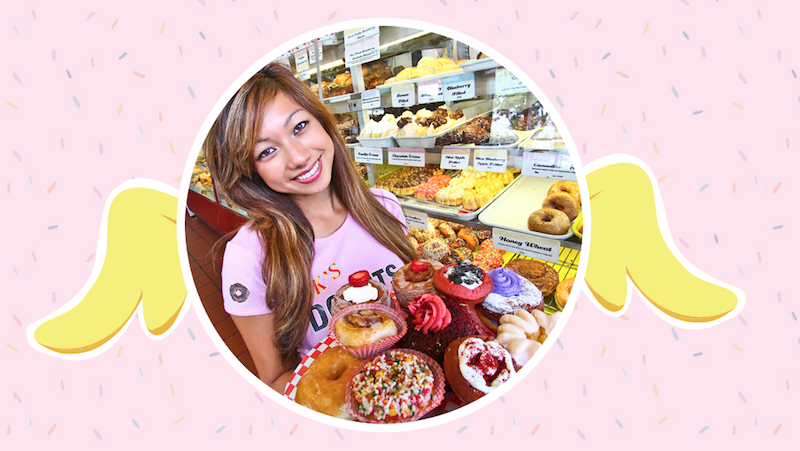 DK Donuts, the old-school bakery in Santa Monica deserves all the attention it has received. For a buck, you can choose from a selection of over 30 different kinds of sweet confections ranging from the traditional glazed, old fashion, devil's food cake, and French cruller to the maple bacon bliss and the super ube donut. Since ube is a purple yam, it is the best way by far to eat your daily vegetables. My favorite is the red velvet "Pro-nut", a protein donut.  An even better deal is the dozen for $9.75, or the dozen bagels for $9.75.  
In addition to the $1 donuts, there are specialty donuts that cost a bit more. Check out the best sellers, the O-Nut - layers of croissant and donut hybrid, and the WOW-Nut, LA's first waffle-donut hybrid. There are so many variations to choose from. Imagine, six different kinds of donuts with bacon or bacon bit toppings; donuts sliced in half with a scoop of ice cream drizzled with Nutella, glazed donuts with Fruity Pebbles, strawberry shortcake donuts, and éclair donuts with fresh fruit. How about colorfully decorated donuts made in the shape of letters to spell out your message like "HAPPY BIRTHDAY."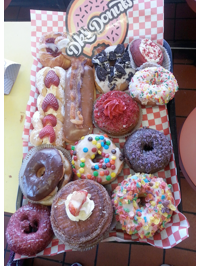 To satisfy your every desire, there are also fresh handmade sandwiches with the finest meats and cheeses for $5, specialty and ice blended coffees, boba drinks and milk teas. 
This is not your typical mom 'n pop donut shop anymore. In the beginning, thirty-four years ago, DK was a convenient place to grab a cup of Joe and box of donuts on your way into the office. Still a single-establishment owned family business, it is now spearheaded by the energetic entrepreneur daughter Mayly, who co-owns with her brother Sean. Mayly has a knack for social media, branding, and the love of donuts. She has transformed DK to satisfy any appetite 24/7. Seriously, this place never closes. 
During my short visit to the shop, there was a steady stream of customers picking up freshly baked delights out of the oven. While I was there, a long-time customer from Chicago called  to place an order for 10 dozen donuts to be delivered to Cedar-Sinai - an annual thank you to the staff. DK Donuts will make local deliveries over $10 through Grub-Hub, and ship nationally overnight for orders over $150. 
What more can I say about this place that has not been said before? There are over 1,100 Yelp reviews, (averaging 4 stars and 2,000 photos uploaded), 1,000 Twitter followers, 62,000 Instagram followers, over 6,500 Facebook likes, and tons of media coverage.  It is one of the few donut shops that have reviews on Thrillist, Zagat, and Chowhound. Did I mention Mayly is a media genius? 
Are you salivating yet????? Check out DK Donuts located on Santa Monica Blvd and 16th Street. You will love this place!   

DK Donuts
1614 Santa Monica Blvd
(310) 829-2512 
https://www.facebook.com/dksdonutssantamonica 
https://instagram.com/dksdonuts/?hl=en  
http://www.yelp.com/biz/dks-donuts-and-bakery-santa-monica 
#DKSDONUTS
Sue Helmy has plenty of tricks up her sleeve. She is currently providing superb concierge duties at the Building and Safety Division of the City of Beverly Hills. She is active in countless church and civic organizations and spends every minute she can spare dancing to the Zumba beat. 
CityWatch
Vol 13 Issue 57
Pub: Jul 14, 2015