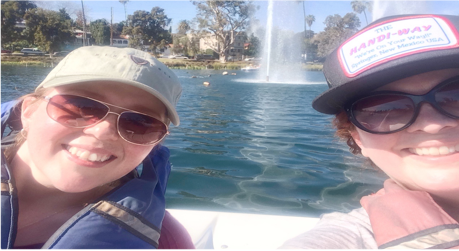 My sister was coming to visit and I was a little nervous. She's the type who has constant activities planned out whenever she travels. I definitely wanted my little sis to have a whale of a time here in Los Angeles, so I got busy early on, compiling lists of things we could do during her stay. 
I wasn't sure exactly what would tickle her fancy, so I made long lists filled with an assortment of activities of several types. This way I could present her with choices. There was one thing, however, I didn't count on. 
My sister is not the insisting type. 
For each time slot, most of my suggestions were met with, "Whichever one you like. They all sound good." For a consistently indecisive person like me, this was pretty tough. However, there was one option on my list that turn out to be…. 
ON THE BUCKET LIST! 
Yep. Turns out little sis had always wanted to ride on a pedal boat! So naturally, that is just what we did. "Where do I sign up?" you might ask. Well, here's the skinny: 
   The action is at Echo Park Lake (although it seems like more of a pond)
   The deal is $10 per adult for an hour of fun and good exercise.
   A life vest is provided. Gotta wear it in case you're clumsy and you fall in.
   Sunscreen is not; so, bring it.
   It's two people per boat – great for a date or just good ole fun with a family member. 
We had a lot of fun getting as close as we could to the fountain in the center of the lake before making a sharp turn so we could take a selfie with the fountain in the background. 
When we were there, a local arts organization had a "floating library" out on the lake. It took a few times for us to maneuver our craft into a position where we could grab hold of some of the plastic enclosed "books" they had on offer, but we did manage to pull it off. Unfortunately, the floating library is gone now but it will no doubt be back again. Keep a look out here and follow me on Twitter @checkingthegate to hear about it first! 
Guided canoe rides and gondola rides are also available for those who want to sit back and leave the driving to someone else. At the end of the day, the pedal boats were truly a memorable experience. Check it out. Maybe a trip to Echo Park will help you put a check þ next to something on your bucket list. 
NEED TO KNOW: 
Echo Park Pedal Boats Concession
751 N. Echo Park Ave., Los Angeles, CA 90026
Phone: (213) 481-8577
Facility E-mail: S44CAPTAIN@YAHOO.COM 
Company Website: HTTP://WWW.ECHOPARKPEDALBOATS.COM 
Facility Hours of Operation:
9 am to 1/2 hour before sunset 7 days a week
(Jennifer Caldwell is a an actress and an active member of SAG-AFTRA, serving on several committees. She is a published author of short stories and news articles and is a featured contributor to CityWatch. Her column at www.RecessionCafe.wordpress.com is dishing up good deals, recipes and food for thought. Jennifer can be reached at recessioncafe@yahoo.com.  Facebook: http://www.facebook.com/jennifercald - Twitter: @checkingthegate) 
-cw