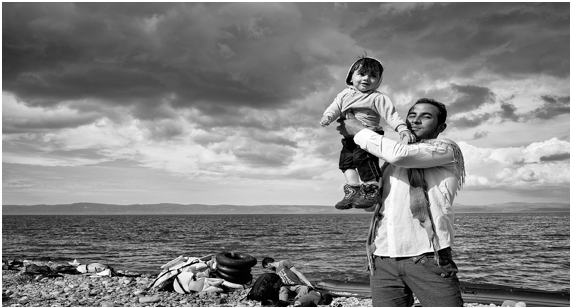 THE REFUGEE PROJECT --As professional photojournalist Tom Stoddart said, "Every picture tells a story." There are thousands of refugee stories told at the Annenberg Space of Photography exhibit. Their stories are told through the eyes of accomplished and distinguished photojournalists who have been on the front lines of wars, refugee camps and war torn communities communicating this vast global crisis calling for humanitarian efforts. (Graphic above: Lesbos, Greece, 2015. A father celebrates his family's safe passage after a stormy crossing over the Aegean Sea from Turkey – Tom Stoddart 
The Annenberg Foundation exhibit, "Refugee", is made up of three parts. The photo and video exhibit in the main gallery, Photography Space, features a documentary of the work of five well-known photojournalists as well as photos from all over the world; "New Americans" is installed at the lower gallery, Skylight Studios telling stories of new immigrants to the US; and a Thursday evening lecture series, Iris Night, takes place until August 26 also at the Skylight Studios. 
ANNENBERG SPACE FOR PHOTOGRAPHY
As you walk around the main gallery, you will be blown away at the magnitude of global crisis conveyed through video and photos effecting 60 million people with half children under the age of 18 (UN Refugee Agency). They come from different countries from all five continents, the Middle East (Syria, Iraq, Jordan, Yeman, Lebanon), Asia (specifically Myanmar and Afghanistan), Africa (South Sudan, Somalia), South America (Colombia), Europe (fleeing Croatia and Slovenia, travelling though Greece, and arriving to their final destination of Germany). 
To convey this message, there is a 23-minute documentary tracking five photojournalists, Lynsey Addario, Omar Victor Diop, Graciela Iturbide, Martin Schoeller, and Tom Stoddart, telling stories of displaced people alog with their backstories narrated by Cate Blanchett. The Annenberg commissioned the phographers along with support from UN Refugee Relief, UNHCR, and Tiger Nest Films. Watch an excerpt. 
There are plenty of pictures of devastation of young and old, bombed out communities, churches, mosques and schools, highrise apartment buildings reduced to rubble, row after row of refugee camp tents, and endless faces of desperation and despair. On the other hand, the photos also show the refugees' courage, the love for each other and their homeland, their strength and ability to continue with life. Some of my favorite photographs are Omar Victor Diop's close-up portraits intimately showing facial expression of refugees in Somalia. You can see the look of determination and perseverance in their eyes. Another featured photojournalist, Giles Duley, shows refugees performing simple routines like sweeping the floor, looking for food, families congregating together, and trying to feel normal in their new life. 
Most importantly, the photos have become tools to educate and put pressure on politicians to take humanitarian actions. I could not think of anything more heartbreaking than the photo of three-year old Alan Kurdi, a Syrian refugee that washed up on the shores of Turkey shortly after starting the journey to Greece on a dingy last September. The picture made its rounds on social media going viral instantly on Twitter by Peter Bouckaert of Human Rights Watch being re-tweeted thousands of times within minutes. As a result, the public was outraged, funding came in to relief agencies to help the victims of the Syrian war, and countries started to open up their borders to welcome refugees to a new life. 
The photos at the Annenberg exhibit stir up the same emotion. I ask myself, How did this mass refugee crisis happen? What can I do? What political action can I take? That is exactly the point of the exhibit to first educate, then get people to take action. 
SKYLIGHT STUDIOS
On a happier note, across the courtyard, the Skylight Studio is holding an addendum exhibit, The New Americans. It features families that have resettled in the United States through the US Refugee Admission Program. They are inspirational recordings from new settlers in California and a Congolese family in making a new life for themselves in Rochester, New York.  
IRIS NIGHTS LECTURE SERIES
Along with the photo exhibit, there is a weekly lecture series, every Thursday night, starting from April 23 through August 11, from 6:30 – 8:00 pm.  It is given by internationally acclaimed photojournalists that will leave you riveted to your chair hanging on their every word. Their passion for their profession is evident as they describe their backgrounds, interest in photographing refugee people, captivating stories they share, and their many near death experiences on location. Truly, they treat photography as a mission field communicating through their camera lenses. 
HIGHLIGHTS:
Giles Duley's description of his motivation to photograph after losing both his legs and an arm after stepping on an IED while an assignment in Afghanistan, and his continued photography success after recovery. 
Elena Dorfman, hired by the UN to take pictures of the water source in a Syrian refugee camp in Jordan, started taking pictures of the condition of the camp. Being inspired by the teenage refugees, she documented the lives young people for the next several years, a man blinded by an explosion who eventually made his way into Canada, a woman living in a concrete shell spending her days looking for food for her family, and a Kurdish young man at the Domiz Refugee Camp in Iraq relying on his cellphone for communication with the world just like the teenagers from everywhere. 
Graciela Ituride developing a relationship with the young children to help her take pictures in Colombia. 
Kadir Van Lohuizen highlighting the risks people from Honduras, Guatemala and El Salvador take to come to the US, paying a "coyote" over $10,000 with hope of being granted political asylum, eventually make it to safety through very dangerous routes, and fail to get a green card. 
Like I said, these lectures are riveting. Here is the schedule of the lecture series.  
LECTURE SERIES SPEAKERS 
April 28          TOM STODDART: In the field
May 5             GILES DULEY: From fashion photographer to documenting the legacy of war
May 12           KADIR VAN LOHUIZEN: Refugee or Migrant?
May 19           ELENA DORFMAN: Syria's lost generation
May 26           GRACIELA ITURIDE: My experience photographing refugees & displaced people
June 2            IVOR PRICKETT Stories of displacement from the Balkans to the Middle East
June 4           OUT OF IRAQ, A Documentary, Soldiers falling in love
June 9           ALIXANDRA FAZZINA: Visualizing migration from Somalia
June 11         AROUND THE WORLD WITH LITTLE MARKET; Lauren Conrad & Hannah Skvarla
June 11         EVENT: Handmade LA POP-UP, an afternoon of local food and art
June 16         DON BARLETTI: The roads most traveled, causes and consequences of illegal immigration
June 23         DANIEL JACK LYONS: Witnessing the vision and hearing the voice in marginalized communities
June 30          REZA DEGHATI: Exile Voices, Visual stories of refugees by refugee children
July 28           LESLIE KNOTT AND CLEMENTINE MALPAS: Putting the Camera Down
August 4        BRIAN SOKOL: People, not numbers: Using photography to humanize the global refugee crisis
August 18      MERIDITH KOHUT: Refugees and migration issues in Latin America 
Please check the website for updates in the lecture schedule. Please rsvp, seating is limited. 
If you are unable to attend a lecture in person, you can live stream it. If you are unable to watch live, all lectures are available online. I would highly recommend watching them.

THE ANNENBERG FOUNDATION
The Annenberg Foundation, established in 1989 with 1.2 billion, is committed to support the arts and public education. The foundation is committed to creating public community space. The Annenberg Space for Photography is one example. The Century City facilities are just five years old and are neither museums (they do not own the art) nor are they galleries (no sale of art takes place) but are spaces to share photography that will have an impact on the community. 
The generous Annenberg Foundation commissioned and funded the entire project, photojournalist from the galleries and the photojournalists presenting through the IRIS NIGHTS LECTURE SERIES along with support from the UNHCR. 
WHAT TO KNOW
EXHIBITION
REFUGEE - explores the lives of refugees from a host of diverse populations dispersed and displaced throughout the world.
DATES: Apr 23, 2016 - Aug 21, 2016
ANNENBERG SPACE FOR PHOTOGRAPHY
LOCATION: 2000 Avenue of the Stars, Century City
HOURS/ADMISSION: 
Mon-Tues: Closed 
Wed-Sun: 11 am – 6 pm
SKYLIGHT STUDIOS
LOCATION: 10050 Constellation Blvd., Century City
HOURS/ADMISSION:          Wed-Sun: 11 am – 6 pm
Mon-Tues: Closed
IRIS NIGHT LECTURE SERIES
SKYLIGHT STUDIOS
LOCATION: 10050 Constellation Blvd., Century City
THURSDAY NIGHTS 6:30 – 8:00 pm
Web: annenbergphotospace.org/visit  
 PARKING
Entrance is on Constellation, east of Avenue of the Stars, on the south side. Parking on Saturday and Sunday is just $1 all day with validation. On weekdays, if you enter the structure after 4:30 pm, parking is validated and will cost $1.00. Otherwise, it is pricey.
(Sue Helmy has plenty of tricks up her sleeve. She is currently providing superb administrative services at a financial management firm in Century City. She is active in countless church and civic organizations and spends every minute she can spare dancing to the Zumba beat.)