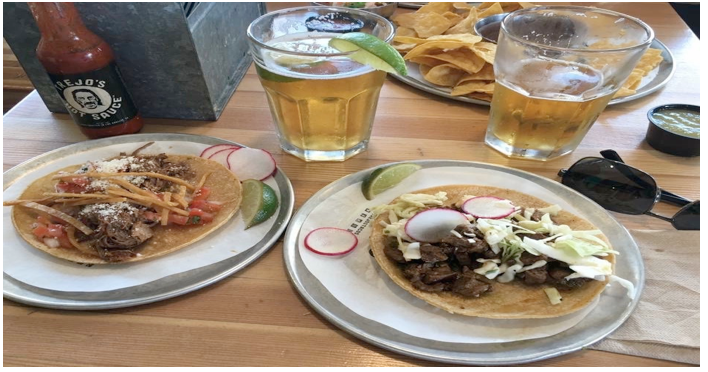 DEALS & DISCOUNTS--These days, All I want to eat is tacos! 
Fortunately, I've found quite a few places where excellent tacos are on hand. I thought it would be fun to write up a "Let's Taco Bout It" series all about the wonderful places where a person can get some dang good tacos. First on my list is Trejos Tacos. 
If you're wondering if the joint is named so because it has something to do with the actor, Danny Trejo, you would be correct. Danny has started up the place over on the east side of La Brea, just south of Olympic. So far, I've been there three Times and haven't seen hide nor hair of the "Sons of Anarchy" star but that hasn't stopped me from having me some excellent tacos as well as some other tasty grub at the establishment. 
They've got plenty of meat tacos, which I hear are grand, but I'm a vegetarian and I love the Black pepper tofu tacos with carmelized onions. Delicioso! This place has also got their own brew - Trejos Lager, which is one of my new favorite beers. They serve up decent wine and other craft beers too. 
We also sampled the cheesy bean dip which was great and the guacamole, served in a way I've never seen, with a garnish of cilantro and pistachios. This is really addictive. They've got an outdoor patio where you can sit and enjoy and help yourself to the salsas and infused waters they make there. 
Directors and producers will often treat the cast and crew to the Coolhaus ice cream truck, and that was how I was introduced to their amazing ice cream sandwiches such as Mintmalism with double chocolate cookies and dirty mint ice cream or chocolate chip cookies with Tahitian vanilla bean ice cream. Ruff! 
I guess ole Danny must have figured folks might like those for dessert cause they've got 'em, and they are just as tasty as they are off the truck. 
The staff at Trejos is super friendly and more than happy to fill you in on the way everything they've got going is made from local and sustainable ingredients - a real plus in these times. The prices are not exactly cheap, but DEFINITELY A DEAL for the quality put in to these mouth-watering morsels. 
A chicken, pork or beef brisket, tofu or veggie taco will cost you $4 and the salmon is $6. That amazing guacamole is $7, the cheesy bean dip is $5 and they've got a dynamite chili toreado for $3. Chili toreado stands for a beer battered Fresno chile with cashew cream, micro cilantro, shallots, white corn and pico de gallo. Folks from the 505 to the 805 will love these taste bud delights! 
BONUS: Kombucha on tap, various cane sodas and tea from The Art of Tea! 
I can't wait to give y'all the scoop on my next find for outstanding tacos. Be sure and send me your ideas too! Just type 'me up in the comments section below. I'd love to hear about your discoveries. Let's taco bout it! 
NEED TO KNOW: 
Trejos Tacos
1048 S. La Brea
Los Angeles 90019
323-938-TACO
COMING SOON TO: 
1556 N. Cahuenga
Hollywood, CA 90028 
(Jennifer Caldwell is a an actress and an active member of SAG-AFTRA, serving on several committees. She is a published author of short stories and news articles and is a featured contributor to CityWatch. Her column at www.RecessionCafe.wordpress.com is dishing up good deals, recipes and food for thought. Jennifer can be reached at recessioncafe@yahoo.com.  Facebook: http://www.facebook.com/jennifercald - Twitter: @checkingthegate ... And her website: jenniferhcaldwell.com)  
-cw