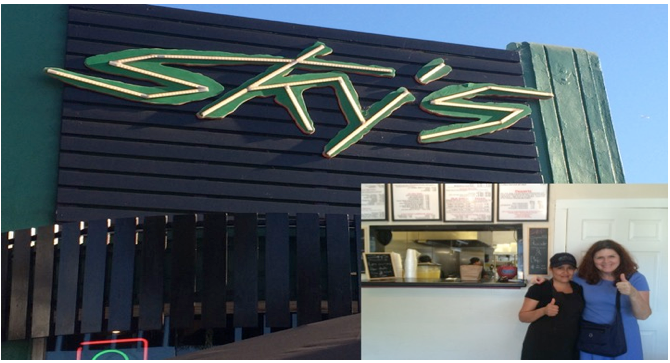 DEALS & DISCOUNTS--The Wilshire Vista neighborhood has it going on. There are several theaters, a few dispensaries and some really sweet boutique retail shops for clothing, gifts and stationery. From San Vicente to Pico and from Fairfax to Hauser, the community is full of fun loving types who even organize a great spring mixer each year in June. 
Just one block east of this boundary is a taco joint you really don't want to miss. As their website says, "Some people call it Mexican food with a splash of soul. Others say it's Southwestern meets Louisiana." Whatever you want to call it, Sky's Gourmet Tacos will hook you up for breakfast lunch or dinner and they've been doing it for 22 years. Folks love their signature shrimp tacos. They've also got filet mignon, lobster, mahi mahi and tilapia tacos galore. 
For breakfast, you can naturally get breakfast tacos and burritos of assorted types. You can also chow down on some double-dipped French toast or and omelet. All meals come with Sky's own recipe for Southern sautéed apples. 
For myself, I love it that this taco spot is not the least bit short on mouth-watering veggie options. You can get your traditional veggie with either black or pinto bean or vegan meat. They've got a tofu taco that's mighty tasty. Then we get to the really unique stuff. The potato taco is outta this world! They've got a wild rice and yam taco I honestly have not tried yet. 
The reason why: I can hardly pull myself away from always ordering MY FAVORITE: the shitake mushroom taco. THESE MUSHROOMS WILL BLOW YOUR MIND! 
Then you can treat your taste buds to one of Sky's homemade sorrel lemonades. They're loaded with hibiscus and infinitely delicious! 
If you're in the mood for dessert, they made their very own plain, caramel crunch, mango and pineapple cheesecakes right there in the kitchen so watch out! 
You can tell by the veggie selections that Sky's is health conscious and you should keep it in mind that all of the creations are made without trans fat, lard, artificial additives or preservatives. 
Let me know what you think of Sky's and fill me in on your favorite places to get excellent tacos in LA. 
Let's taco 'bout it some more! 
NEED TO KNOW: 
Sky's Tacos
5408 West Pico Blvd.
Los Angeles
Phone: 323-932-6253
Hours: 
Mon-Sat 9am – 9pm
Sun 9am – 7pm 
(Jennifer Caldwell is a an actress and an active member of SAG-AFTRA, serving on several committees. She is a published author of short stories and news articles and is a featured contributor to CityWatch. Her column at www.RecessionCafe.wordpress.com is dishing up good deals, recipes and food for thought. Jennifer can be reached at recessioncafe@yahoo.com.  Facebook: http://www.facebook.com/jennifercald - Twitter: @checkingthegate ... And her website: jenniferhcaldwell.com)  
-cw