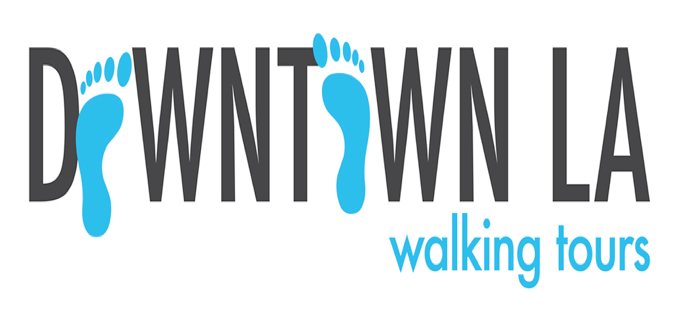 DEALS & DISCOUNTS--Are you looking for an easy way to visit downtown Los Angeles? I have a great suggestion for you. I stumbled across DOWNTOWN LA WALKING TOURS while looking for a unique activity for our out-of-town guest's visit. Downtown LA Walking Tours offers eight guided tours to choose from most days of the week, and I booked the 1:30 pm, OLD AND NEW DOWNTOWN LA tour through the website: http://www.dtlawalkingtours.com/ to get acquainted with a new perspective of DTLA. Neel Sodha, the owner of the tour company, responded within an hour to book a tour for the next day. 
Not only is Neel the owner, he was also our fearless tour guide as well, taking us on a wonderful adventure beginning at Angels Flight Railway on Hill Street. We walked through the Grand Central Market, across to the iconic Bradbury Building, passing the headquarters of CalTrans, LAPD, The Los Angeles Times, by the historic St. Vibiano's Catholic Church, sites on Broadway, Spring and Main Streets, the theatre district, the Last Book Store, Clifton's Cafeteria, the St. Vincent Court area ending at Pershing Square lasting about two hours.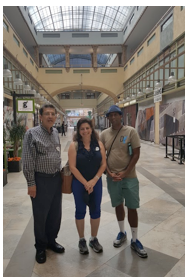 Neel dished out interesting facts about each site, teaching us about early California history, local politics, the growing pains and growth of various settlements and downtown districts, local industries, zoning and planning laws and restrictions, public transit, and what the city has evolved into today. On his iPad, he showed us old vs. new photos and videos of DTLA. 
Since Neel is continuously in contact with local business, he made some really great recommendations for hip LA eateries, pubs, and attractions like the glass slide in the US Bank building that opened just this week. He also knows a lot about downtown events like the monthly Art Walk and free movies at independent theatres. 
While working as a public CPA and real estate investment accountant, Neel Sodha, volunteered at Union Station information booth. In January 2015, he gave up his accounting career to fully dedicate himself to Downtown LA Walking Tours. He is thoroughly and enthusiastically dedicated to providing educational and entertaining tours. In fact, instead of calling himself a tour operator, he is a Los Angeles promoter, and he does that so well, putting his heart into his business and each tour given. 
Customers are made up of 50% locals who want to learn more about LA, 30% visitors from other parts of the US, and 20% international tourists. Many clients are repeat customers, were referred by word of mouth, or have read the company's raving reviews online. 
By the end of the tour, we were great fans of Los Angeles. Neel's fondness of Los Angeles is infectious leaving us anxious to sign up once again for a Downtown LA Walking Tour, maybe of the Holiday Lights – or Haunted Tales. It is hard to choose which one, but cannot wait to be back (and will take the Metro to get there.) 
WHAT YOU NEED TO KNOW
Downtown LA Walking Tours
For more information and to book tours, please visit: 
Website        http://www.dtlawalkingtours.com/
Facebook      https://www.facebook.com/dtlawalkingtours
Twitter          https://twitter.com/dtlawalkingtour
Instagram     https://www.instagram.com/walkingtoursdtla/
Yelp              https://www.yelp.com/biz/downtown-la-walking-tours-los-angeles
Email            bookings@dtlawalkingtours.com
Phone           (213) 399-3820 
Tours offered daily, please contact for updated information
9:30 am         Fashion and Flower District
11:00 am       LA's Beginnings
1:00 pm         Arts District
1:30 pm         Old and New Los Angeles
4:00 pm         Downtown Architecture
4:00 pm         Hollywood in Downtown LA
6:30 pm         Haunted Tales
6:30 pm         Holiday Lights (a must in December) 
Cost
Adult               $15/ticket
Child              Free, 12 and under
Group             Please contact Neel  
YouTube videos - See for yourself:
Questions & Answers        https://www.youtube.com/watch?v=MSubIiYpM3M
Olivera Street                   https://www.youtube.com/watch?v=-RQHk971Ie4 
(Sue Helmy has plenty of tricks up her sleeve. She is currently providing superb administrative services at a financial management firm in Century City. She is active in countless church and civic organizations and spends every minute she can spare dancing to the Zumba beat.)
-cw