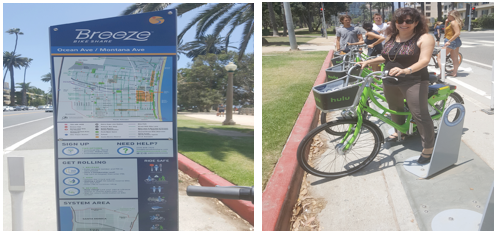 SICK OF DRIVING?--Have you ever found yourself in Santa Monica wanting to run errands, but were afraid to lose your parking space? Or stuck in bumper-to-bumper traffic restless out of your mind? The Santa Monica Breeze Bike Share program is the perfect solution to run errands around town, with the Metro Expo line in at our backyard; Bike Share provides short-range transportation to and from the train station and buses. Commuter biking is a great way to enjoy our So Cal weather sunshine.
TRY A SMART BIKE--These smart bikes are super cool, painted bright neon green with a bold HULU logo and stocked with advanced technology such as a GPS location device to lock, unlock and track the bike's location. The system is integrated with the "social bicycles" app to be downloaded on your smartphone. Through socialbicycles.com, you can reserve a bike in advance, get an annual or monthly membership, and rent a bike daily or hourly at a specific station. If you do not have a smartphone, many of these services can be done at the kiosk at the bike station. 
Besides the fancy technology, the bikes have adjustable seats, kickstands, a bell and basket. Making it perfect to get around town to run errands. BYOH-There is no helmet rental yet, for now at least, so don't forget to bring your own. 
SUPPORT--The SM Breeze smart bike program seems to be getting a lot of support since it rolled out in November 2015. The City of Santa Monica budgeted $1.2 million per year to keep this program running, with Hulu has contributing $675,000 annually for the next five years, and $2 million in grant funding to get started. With over 800 bikes in use daily, and 76 bike stations with an additional 8 being added over the next few months. Residents want the bike share system to work out as an alternate mode of transportation. In addition, the city is adding or has added bike lanes and paths to many streets to accommodate more cyclists. 
DEBBIE DOWNER NEEDS TO BE PATIENT--All residents are not exactly thrilled about all of this. The streets are already extremely congested and there is so much construction at any given time. But we all need to be patient to give this program an opportunity to catch on. After all, this pilot program is the first of its kind in LA County. 
HOW MUCH WILL IT COST--There are three basic plans: 
MONTHLY PLAN: $25/month includes 90 minutes daily riding time 
ANNUAL PLAN: $99/year, promotional rate for the month of August 2016 only
Includes 90 minutes daily ride time. 
STUDENT RATE: $7 includes 90 minutes of daily ride time, must sign up through .edu email 
Additional charges:
Overtime rates by the minute
Return bike to a non-Breeze hub location within the system area, $2
Leave bike out of the system area, $20
Return "out of hub" bike to hub location, $1 credit  
DEAL OF THE YEAR 
Imagine being able to use the bikes everyday for 90 minutes at a time. Seriously, I have had three bikes stolen after being locked up near my home. This is a so easy to use, a great value and convenience. The annual membership is only $99!!!
Also many employers are offering memberships to their employees to promote good health and exercise – so you many want to ask.
There are several low-income options for SM residents, so you may want to ask the Breeze Bike Share office.   
CONTACTS 
Website:     www.breezebikeshare.com - Check out the website from time to time as terms are subject to change. 
Link:          http://www.smgov.net/Departments/PCD/Programs/Santa-Monica-Bike-Share/ 
Twitter:      @breezebikeshare 
Contact:     Kyle Kozar, SM Bike Share Coordinator, or Bike Share hotline (310) 458-8341 
SO EVERYONE, LET'S GO RIDE A BIKE! SAVE SOME MONEY AND THE ENVIRONMENT!
(Sue Helmy has plenty of tricks up her sleeve. She is currently providing superb administrative services at a financial management firm in Century City. She is active in countless church and civic organizations and spends every minute she can spare dancing to the Zumba beat.)
-cw