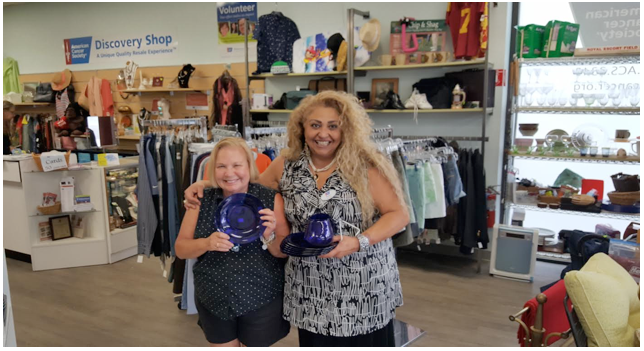 DISCOVERY DEALS-I don't know why it took me so long to find the Discovery Shop. It has only been in the same location for the past 10 years on Wilshire Blvd and 9th Street, prior to that in the Brentwood Country Mart for 10 years. But now that I have found it, I try to stop in as often as I can to check out new merchandise. It is easy to find treasure and I love the shop's most enthusiastic volunteers. True, it is a second hand store, but definitely not your typical resale thrift shop, it feels more like a boutique. With As Ruby, a volunteer, says "a little of everything, something for everyone."
When you come in, you feel compelled to spend money knowing the Discovery Shops are a part of the American Cancer Society and 100% of the profits go toward cancer research, education, advocacy and service. Most everybody feels personal and emotional about that.
The store is not big, more like "cozy", with items beautifully displayed and immaculate that includes shoes, handbags, jewelry, books, collectibles, furniture, antiques and, of course, clothing. The clothing is of distinct quality, mostly designer brands, clean and ironed.
On this visit, I found some real gems: a pristine brass 12-light chandelier that would look great in my dining room for $200, originally costing $2,500, also found 4-place settings of Swedish blue glass dinner and salad plates. I also found a white long sleeved blouse for $15. S­­­ince it had a blue tag, it was marked 75% off, discounted to $3.75. Always, there are promotions to keep the inventory circulating within the month. 
Besides the great merchandise, the shop's most enthusiastic volunteers also keep me coming back. The 40 store volunteers work tirelessly making sure that quality merchandise is put out on the racks, and they are part of a community and network of support. I always leave the store giving hugs to the sales clerks and cashiers. 
ONLY THE BEST SALE
In addition to the store, the Discovery Shop has a semi-annual ONLY THE BEST SALE. Only the Best Sale is made up of donations of high-end designer handbags, shoes, jewelry and clothing, coming up soon on Friday-Sunday, October 7- 9, 2016 perfectly timed for October, the Breast Cancer Awareness month. There is also a pre-event providing early access to the store on Thursday, October 6, from 6-8 pm for a donation of either $10 or a bag of jewelry to be resold. 
According to store manager, Tonya Wagner, there are some very generous contributors who donate fabulous clothing, shoes, jewelry and handbags. With designers like Chanel, Michael Kors, Gucci, Coach, Ferragamo, Prada and Hermes, you cannot go wrong. This is a total win-win situation, buying very expensive designers at affordable prices. At the last OTB Sale last May 2016, the shop raised over $18,000.
The regulars know to come early to line up at the door, just like a Black Friday Sale, chanting "open, open, open!" (Btw, the shop opens at 10 am.) Here are some photos of the kind of items at the Only the Best Sale. You can see why people get so excited about it. Is that a Chanel purse? Pretty cute, huh?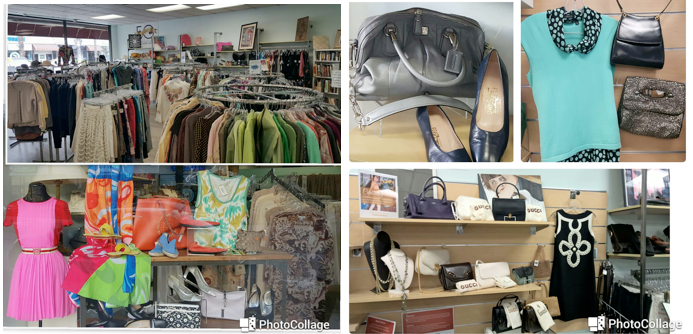 LOCALLY
There are 40 Discovery Shops in California.
Shop at one of three Discovery Shops in the West Los Angeles area: Santa Monica, West Los Angeles, and Beverly Hills which all have semi-annual Only the Best sales. There are also stores in the valley.
Visit the wig bank the ACS, Culver City office. For info, call 1-877-227-1596.
Need transportation or lodging near a treatment center? ACS can help the patient, caretaker or family members find a ride or a place to stay.
Call for free mammogram testing and other cancer screening tests.
Get involved and be a volunteer, and join this enthusiastic bunch.
Donate your gently used items to be resold in the shop.
Shop at the Discovery Shop and the Only the Best Sale. You will be sure to find wonderful treasures that will keep you coming back for more.  
NATIONALLY
To get an idea of services the American Cancer Society provides:
Over 100 years of experience providing resources for research, patient and family education, referral and support.
Funding for research. $4.3 billion has been invested in research grants since 1946.
Call the information hotline: 1-800-ACS-2345, anytime, 24/7.
Browse the website for comprehensive information cancer.org. In 2014 alone, over 61 million people have visited this site.
Through ACS grants, 47 research scientists have won the Nobel laureates in science.
Provide information, through 12 million books and brochures, online education classes, personal health manager kits.
Create awareness and education about screening guidelines, aimed at risk communities, individuals, caregivers and medical professionals.
5 million volunteers are helping to save lives from cancer  
DISCOVERY SHOPS IN LOS ANGELES
Each individual shop has their own events. You may want to check out the location closest to you. Call for hours and special events:
SANTA MONICA
920 Wilshire
Santa Monica, CA 90404
(310) 458-4490
Website: www.canver.org/ds-santa-monica
Facebook: American Cancer Society Discovery Shop/Santa Monica
@discoveryshopsantamonica
LOS ANGELES
2460 Overland Avenue
Los Angeles, CA 90064
(310) 287-1156
BEVERLY HILLS
844 S. Robertson Blvd
Los Angeles, CA 90035
(310) 360-4894
(Sue Helmy has plenty of tricks up her sleeve. She is currently providing superb administrative services at a financial management firm in Century City. She is active in countless church and civic organizations and spends every minute she can spare dancing to the Zumba beat.)
-cw