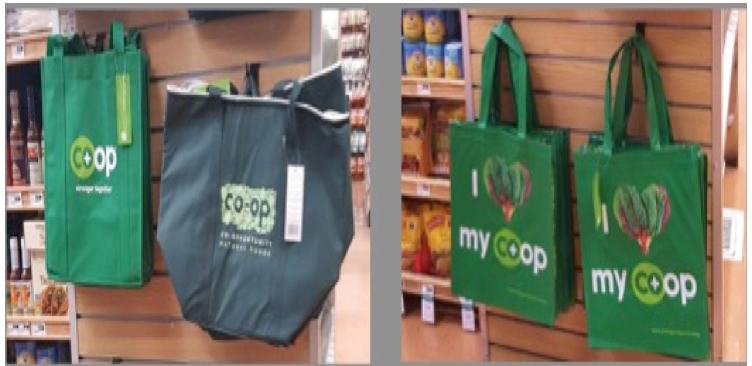 DEALS AND DISCOUNTS--Since Los Angeles banned single-use plastic bags in September 2014 at grocery and drug stores, Angelenos are getting the hang of bringing reusable bags for shopping. Using reusable bags makes us feel good knowing we are helping the environment and relieve local city dumps and landfills. (Photo above: 1bagatatime.com … Fabric NWPP Shopping Bag $0.99, Insulated Bag $2.99, Laminated Shopping Bag $1.99, Environmentally conscience bags can be purchased at Santa Monica Co-opportunity)
You would think bringing our own reusable bags was picking up momentum, but with the strong lobby from Big Plastics, the ban on single use plastic bags has come to a halt, not just once, but twice on the California ballot for November 8, 2016. 
DO NOT USE SINGLE USE PLASTIC BAGS
Single use plastic bags are bad for our environment.   The experts estimate that before the ban, families were taking home an average of 10 thin plastic bags every time they shopped with an annual average of 1,000 bags. 
These bags are made from either a high-density or low-density polyethylene drawn from petroleum, a precious natural resource made by the burning of fossil fuels. It is estimated that annually 12 millions barrels of oil are used to manufacture the 100 billion plastic bags that Americans use, with 15 billion in California alone. 
The average plastic bag is used for only 10 minutes, yet it can take up to 1,000 years to break down into a landfill. In fact, plastics eventually break down by flaking into a toxic dust getting into our soil and waterways. These plastic chunks and microscopic particles form a glutinous mass along with the plankton can be easily mistaken for food. Turtles, ducks, dolphins, porpoises and whales can choke or starve by confusing plastic bags for jellyfish or particles for plankton. If the animals survive, it is unlikely that they are able to continue with normal digestion eventually dying a slow and painful death from toxicity or intestinal blockage. Once a sea life dies, it disrupts the environmental balance where every other living organism is impacted. 
On land, the plastic bag litter is everywhere, and hard to clean up. While the statistics are incomplete, some conservationists estimate that at least 100,000 mammals and birds die from them each year. We also need to look at what plastic bags are doing to our landfills as it interacts with water forming hazardous chemicals. Once these chemicals seep underground, they contaminate the water system. 
We get the picture; disposable plastic bags are really bad, unnecessary, and only recycled 3% of the time leaving 97% disposed of improperly. We need to come up with another solution. The most viable option is to use reusable shopping bags. 
REUSABLE SHOPPING BAGS
For a bag to be deemed re-usable, they have to be able to be durable enough to last 130 reuses. These eco-friendly bags, cost about one dollar, are available near the checkout stand just about everywhere. They come in a full range of sizes, colorful prints and patterns crafted from numerous materials and fabrics. 
Many retailers hand them out for free when you buy their products such as Lululemon and Steve Madden. But if I had to pay for shopping bags, my favorite would be from 1bagatatime.com, pictured in the top banner. 1 Bag At A Time is a local Los Angeles company trying to make the planet a little greener. 
The founder of 1 Bag At A Time, Lisa Foster, started this company ten years ago to advocate for reusable bags and to publicize the damage of disposable bags in our environment and economy. As an advisor to Los Angeles County Department of Public Works, she knows the importance of reducing our carbon footprint by providing the best quality bags possible. You can get three varieties of reusable bags: 
For $0.99 you can get a standard fabric bag from 90 grams per square meter (GSM), non-woven polypropylene (NWPP) fabric tested for 1500 lifts and drops, to last up to two years of regular use. 
For $1.99, gets you a four-color laminated bag a little extra durable at 120 GSM that dirt can easily be wiped off. 
For $2.99, an insulated fabric bag for hot and cold foods. They can be zipped to seal the temperature inside. 
You can buy them retail at the Santa Monica Opportunity on Broadway and 15th Street, or wholesale online. 
FYI: Heal the Bay is sponsoring a Reusable Bag Day is on October 20. HTB volunteers will be passing out reusable bags to customers at grocery stores in underserved communities throughout the Los Angeles County. 
Another way you can help our environment is on Tuesday, November 8, in the California General Election. There are two measures on our ballots that need the attention of people who care about the environment by continuing to ban single use plastic bags. 
SINGLE USE PLASTIC BAG PROPOSITIONS ON THE NOVEMEBER BALLOT
Prior to 2014, one-third of the state of California had already instituted local bans on single use plastic bags at large chain grocery and pharmacy stores. In 2014, Governor Jerry Brown signed Senate Bill 270, SB-270, into law banning free plastic bags in the entire state, to take effect September 2015. 
Reacting quickly, the American Progressive Bag Alliance comprised of mostly out-of-state plastic bag manufacturers, or Big Plastics, spent millions to recall this ban and lobby for Propositions 67 and 65 to be placed on our California ballots. 
Big Plastic has a lot of money at stake, with annual revenues of almost $1 billion, and Americans being quite the consumer, throwing away 100 billion plastic grocery bags each year. 
On voting day, educate yourself on the measures at hand. The two propositions go hand in hand. As a warning, these propositions are designed to be really confusing. I have listed the propositions in opposite order since Prop 65 hinges on the outcome of Prop 67. (confusing already) 
CALIFORNIA PROP 67: PLASTIC BAGS BAN VETO REFERENDUM
This is a referendum, rather than an initiative, to repeal the 2014 vote ban on distributing single–use plastic carryout bags for free at the grocery check out. The mere act of putting this proposition on the ballot puts the state ban on hold until there is a majority vote for Prop 67. 
A "Yes" vote will do two things: ban single use plastic bags given out for free at the grocery in the state and require grocers to continue to charge a minimum of 10 cents for the paper bags. 
A "No" vote will stop the statewide bag ban altogether. Since we would have thin plastic bags at our disposal, there would be no need to buy paper bags for 10 cents. 
If Prop 67 passes and the10-cent bag charge continues, sales of paper bags in California can total $30 million annual, which is A LOT! What to do with the sales revenues of paper bags is the question for Prop 65. 
CALIFORNIA PROP 65: CARRYOUT BAGS. CHARGES. INITIATIVE STATUTE
A "yes" vote would direct sales revenue into a so-called "environmental fee protection act" fund administered by the state of California. Most voters would assume that there is an environmental fee protection fund out there, but not so. This fund does not exist and would require years of legislature to turn into a reality.
A "no" vote is a vote against redirecting money. The sales of paper bags stay with the grocer, who in turn pays for their cost, as well as educational recycle-reduce-reuse programs in the community. 
Remember that both props were written by the Plastic Alliance with the purpose of eliminating the ban on single use plastic bags by deception and confusion. The "fine print" here is how both 67 and 65 are related to each other. 
HOW THE TWO PROPOSITIONS INTERACT
If 65 does not pass, and 67 passes:
The statewide ban goes into effect, and the stores keep the bag fees being used to educate the public. Any future attempt to ban plastic bag sales will be effected by those provisions. Sounds like a WIN-WIN to me. 
If 65 passes, and 67 not passes:
No more statewide ban on thin plastic bags and the stores would hand them out again. There would no longer be a mandatory minimum 10-cent charge on paper and heavy plastic bags eliminating city of county ban ordnances. A lose-lose situation here. 
If both 65 and 67 passes, the result would depend on which proposition got the most votes:
MORE VOTES FOR 67 – Bag sale revenue would be kept by the stores and there would not be a fiscal impact on the stated related to prop 65. 
MORE VOTES FOR 65 – Bag sale revenue would be transferred to a new state fund with the increased state revenue used to support certain environmental programs. 
If both 65 and 67 do not pass:
No statewide carryout bag law. A total loss. 
IN CONCLUSION
It is a mystery how the powerful plastics lobby got enough signatures to put these measures on the November California ballot. They also cleverly found a way to get them listed as the last two propositions on a lengthy 17 propositions ballot. Your average voter will take an estimated 20-30 minutes to fill out their ballots. Since Prop 65 and 67 are the two last initiatives listed, a person may be anxious or impatient by the time they come across them. Big Plastics' hope is that voters would hastily vote NO on both, 67 and 65. 
NO votes on both would eliminate the statewide plastic bag ban altogether. In turn, consumers would revert to getting free disposable bags at checkout. This, in turn, would, reinvigorate the plastic business and lead to further destruction of our ecological environment with deadly plastic pollution and discouraging sustainable consumer behavior. 
VOTE YES on PROP 67 to continue the ban on disposable plastic bags. 
VOTE NO on PROP 65. This prop was written to deceive voters into sabotaging the statewide ban. There is no Wildlife Fund. 
In addition, buy ecologically smart reusable bags. My favorites are from a local Los Angeles manufacturer, 1 BAG AT A TIME. Information below.  
ONE BAG AT A TIME
RETAIL: The Opportunity Market and Deli, 1525 Broadway, Santa Monica 
WHOLESALE:  Bagatatime   
VOTER INFORMATION
PROP 67
PROP 65
(Sue Helmy has plenty of tricks up her sleeve. She is currently providing superb administrative services at a financial management firm in Century City. She is active in countless church and civic organizations and spends every minute she can spare dancing to the Zumba beat.)
-cw