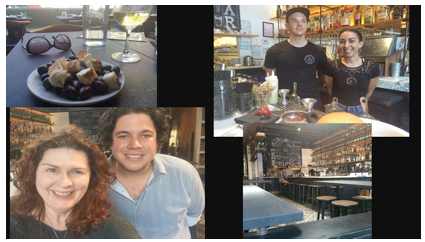 HAPPY HOUR DISCOVERIES--Sometimes, you just want to try something new. That was how I was feeling this past Saturday when I set out to sample more of our city's happy hour fare. 
A gal can't always find a happy hour on a weekend; but on this particular day, I discovered two real gems. Today, I'd like to chew on your ear a bit about this place on Third Street over by the Beverly Center. I'll tell you one thing; It's really tough to get free parking around those parts and the meters nearby are only good for an hour. If you really want to go out in the carefree style to which we would all like to be accustomed, it's really best to just pay the $7 for the valet. 
Other options of course are CARPOOL or LYFT. 
However you get there, you are in for a real treat! I had a French pinot gris and a Sonoma Coast pinot noir - both solid and satisfying wines. Their happy hour menu is luscious and I can't wait to get back and sample more! I had an out-of-this-world kale salad with kohlrabi, nuts, seeds, quinoa and pecorino - perfection! ONLY $7! 
They're packing a punch of flavor with haloumi and olives, truffle fries with truffle aioli, a fried chicken sandwich or a Goldie's burger, to name a few, all at prices ranging from $5 To $8! Their regular menu looks pretty dang dandy as well. I didn't know it at the time, but it turns out the chef is renowned - a bloke from Australia called Paul Lim. 
Now I doubt ole Paul works night and day; so, I think I'll have to get down there and try the dinner menu one day soon! 
Special craft cocktails abound and, like the beer and wine, they're on offer for 1/2 price during the happy hour. "The Young One" comes with vodka, fresh raspberries, Campari, lemon, basil, and sparkling spritz and the "Smoke on the Water" comes with mescal, watermelon, oolong tea, lime, agave and Fresno chili. 
SMOKIN' INDEED. 
The half price special brings these mouth-watering cocktails in at $6.50 and the wines at $6.50 to $7.50. You'll pay a mere $3-$3.50 to sample a bottle of one of the beers for a discriminating palate, such as Humboldt IPA, Scrimshaw Pils and Anderson Valley Summer Solstice. 
After all this talk, I'll bet you're thinking like I was. Goldie's...sounds like the owner is a blonde woman Hollywood agent from William Morris who drives a flashy convertible and smokes pastel colored cigarettes. Well, You would be as far off as I was. I spoke to one of the amazing bartenders at the establishment who informed me that the owner is, like the chef, an Australian bloke, who also owns Eveleigh up on Sunset as well as a restaurant in New York. 
It's worth meant mentioning that the restaurant is committed to sustainability and that the decor is inviting and relaxing. With the look of a comfy cabin in the woods, I was inclined to dream of the next chapter in my novel as I sat on the open patio, enjoying the culinary treats. That was great but I feel that Goldie's real strength is in its perfect atmosphere to share an evening with friends or maybe a date - where folks can unwind, talk and have a laugh or two. 
NEED TO KNOW: 
Goldie's
8422 W. Third St.
Los Angeles, CA 90048
Phone: 323-677-2470
Happy Hour times:
M-F 12 - 6
Sat 3 - 6
Sun 3 – Close
(Jennifer Caldwell is a an actress and an active member of SAG-AFTRA, serving on several committees. She is a published author of short stories and news articles and is a featured contributor to CityWatch. Her column at www.RecessionCafe.wordpress.com is dishing up good deals, recipes and food for thought. Jennifer can be reached at recessioncafe@yahoo.com.  Facebook: http://www.facebook.com/jennifercald - Twitter: @checkingthegate ... And her website: jenniferhcaldwell.com)  
-cw