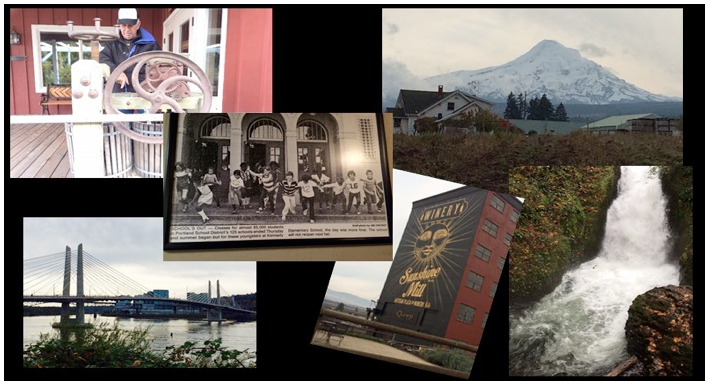 DEALS & DISCOUNTS--The best deal I had all week was traveling in the beautiful state of Oregon. My parents came from New Mexico and we all headed up north with a fantastic deal from Southwest Vacations. We actually got three days and two nights in Vancouver Washington for just under $200! What a bargain!
Vancouver is right across the border from Portland and a fine place it is. The Goodwill there is particularly wonderful. Since Southwest allows two bags free, you can easily get some easy bargains and pack them up for the check in baggage on your flight home!
Everywhere in Oregon it is green green green – but the prices are easy on the green in your wallet. We at Mothers Bistro and Bar in downtown Portland and it was absolutely amazing. Not only that, the owner, Lisa Schroeder, has won tons of awards for her work in the community. They also have great events in their Velvet Lounge for your entertainment.
Another amazing Portland story is that of the McMenamins. The brothers were the first ones to open up a brewpub back in 1985 up in Portland. They now have something like 65 brewpubs across Oregon and Washington. But that's not all they do. These guys are experts at renovating buildings and making them into sweet places, to eat, drink, relax and be entertained.
We checked out The Kennedy School, an old elementary school with a hotel, six bars, a theater, a spa and soaking pools. Prices are big time reasonable and the place is fantastic.
We also spend an entire day exploring the Historic Columbia River Highway and the six waterfalls just off of it. The highway itself is a national landmark. After that, we went down to the Mt. Hood scenic area to Parkdale where by Dad worked as a kid. In fact, my Dad has been talking about this area for years and that's why we came. After laying eyes on it, you can see why he did.
We ended our day at the funky and fabulous former Sunshine flour mill in The Dalles. Yes, they're the ones who make Cheezits; and the building is not a wine tasting room for Copa Di Vino and Quenett. We had a great guy names Spencer treating us to wine tastings, Cheezits and all the low down on the building and the area. When my Dad was a kid, The Dalles was actually level with the mighty Columbia; but after the Dalles Dam was built, the town literally had to pack up and move to higher ground.
There's so much to see and do in Oregon that I know I've got to take more trips. There's no deal like clean air, wholesome food and delicious libations. Here's a tip: Don't say you're from California. Apparently Californians moving to Portland are driving the property prices up so high that they have a big housing crisis – not a good deal.
My idea is, let's be respectful Californians when we visit Oregon –
AND LET'S BUILD OUR OWN KENNEDY SCHOOL! 
NEED TO KNOW:
Southwest Vacations
Mothers Bistro & Bar
212 SW Stark St., Portland OR 97204
503-464-1122
Open 7 am – 9 pm
Sunshine Mill Winery
901 E. 2nd St., The Dalles, OR 97058
541-298-8900
McMenamins Kennedy School
5736 NE 33rd Ave., Portland OR 97211
Historic Columbia River Highway
(Jennifer Caldwell is a an actress and an active member of SAG-AFTRA, serving on several committees. She is a published author of short stories and news articles and is a featured contributor to CityWatch. Her column at www.RecessionCafe.wordpress.com is dishing up good deals, recipes and food for thought. Jennifer can be reached at recessioncafe@yahoo.com.  Facebook: http://www.facebook.com/jennifercald - Twitter: @checkingthegate ... And her website: jenniferhcaldwell.com)  
-cw