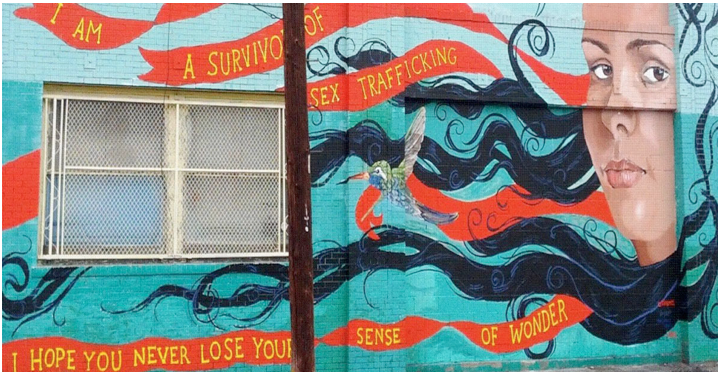 DEALS AND DISCOUNTS--As the saying goes, "it is better to give than receive." However, it is even better to give and receive at the same time. This holiday season, give to your favorite charity and receive a tax deduction when you itemize expenses on Schedule A of your tax returns. Here is my newfound favorite charity, Journey Out. 
Dance for Freedom
Last month, I was lucky enough to participate in a fundraising event called DANCE FOR FREEDOM. A group of zumba lovers had an intense workout from three popular westside instructors and the proceeds were donated to JOURNEY OUT, a local non-profit that helps victims of sex trafficking and exploitation from the streets of Los Angeles. 
We had an opportunity to meet the director, Dr. Stephanie Powell who told us of her first-hand experience working with this population as a retired, 30-year LAPD vice sergeant working the downtown streets and JO's current director. As a compassionate maternal-figure, she talks to victims in depth to find out their backstories and the common threads that led to this lifestyle. She spoke of the conditions why sex workers turn to the streets, being manipulated and coerced by pimps and traffickers, their need for attention and their willingness to work for the pimps' love, and their lack of self worth. Every zumba dancer was deeply moved emotionally as we physically moved to the beat raising awareness, support and money. 
(Photo left: Dr. Stephanie Powell and the DANCE FOR FREEDOM Zumba instructors) 
Sex Trafficking in our Backyard
What I did not know is sex trafficking is rampant throughout the US, Los Angeles included, especially downtown and in the San Fernando Valley. Underage girls, age of 12-14 years old, are being lured through psychological manipulation, force or fraud by someone they trusted and later become their "pimp" or "john". Sex trafficking includes all types of sex venues ranging from massage parlors, brothels, escort services, the streets and many the "dark corners" of the Internet. 
Here are just a few reports from 2016. The Los Angeles Times reported two LAPD busts on large crime rings rescuing 30 victims and arresting 350 perpetrators through Operation Reclaim in January 2016 and Operation Summer Rescue in August 2016. 
The Daily News reported young girls walking the streets of Van Nuys, Sun Valley and Panorama City day in and day out with large-scale brothels nearby last January. Just a few days ago reported a sex ring in the Western Avenue and Figueroa corridor that resulted in sentencing five LA pimps 11 to 21 years in state prison for turning teens into prostitutes. 
Journey Out
Journey Out, a 501c(3) organization, formally known as the Mary Magdalene Project, is based in Van Nuys has a big heart and a long history of service and success. They provide victims with the tools and support to be successful after leaving sex trafficking and rebuild their life. 
A recent success story that was just tweeted involved at 16 year-old girl, Ericka, who was kidnapped by a trafficker. While walking down a busy Van Nuys street, she was grabbed by the neck from behind and forced in his car. The pimp sex trafficked her for two weeks. He watched her day and night not to escape, and to get Ericka to sell herself for his gain, he burned her with cigarettes and used a stun gun. She felt desperate and hopeless until she was rescued by an LAPD Vice squad during a Vice operation targeting pimps and buyers. 
Ericka sat sobbing at the Journey Out office recounting her story of survival. She was comforted by a survivor-leader who knew all to well what Ericka was going through. JO helped Ericka with her immediate needs; food, clothing, took her for a medical exam and that night got her into a transitional living program in another city where she could be safe and continues to receive mentorship from JO. Today Ericka is safe and out of that abusive lifestyle. Very grateful for the help and support received, she would not be where she is without the assistance of JO. 
Journey Out programs include:
Survivor-led support groups and mentorship,
Case management and referrals,
Peer-to-peer support and counseling, therapy and crisis counseling,
HIV testing and education,
GED tutoring, and vocational referrals,
Basic needs provisions such as shelter, food, clothing, and hygiene products. 
So far this year in 2016, Journey Out has taken 322 individuals off the street, with the majority being women, a few male and transgender individuals. That is a 40% increase from 2015, which could be due to different factors such as a court referral diversion program and dismissal, or from rescue efforts from programs such as Journey Out. 
The topic of sex trafficking is disturbing. The silver lining is there are wonderful people in our community involved, and you can be too. You can make a year-end contribution, join our zumba group for future DANCE FOR FREEDOM fundraisers, volunteer at Journey Out, or attend a JO event. 
END OF YEAR CONTRIBUTION
If you have not make your end of year contributions yet, consider Journey Out. It will make your heart happy to know you are donating to a charity that does so much to help victims of sex crimes, and will make your pocketbook happy reducing your taxes. A win-win!
OTHER OPPORTUNITIES AT JOURNEY OUT
There is an event coming up on Friday, March 24, 2017 at the Joan Palevsky Center for the Future of Los Angeles at 221 S. Figueroa Street (part of the California Community Foundation) where Journey Out is giving an award to LAPD Sheriff James McDonnell as a "Visionary of Freedom" for his work dealing in this sector. 
Get involved. Visit their website and Facebook page, receive their Twitter feeds, check it out! 
NEED TO KNOW
JOURNEY OUT
7136 Haskell Avenue, Suite 125
Van Nuys, CA 91406
Tel: 818-988-4970
https://twitter.com/journeyoutla 
Informational video played on KCET on April 18, 2016
(Sue Helmy has plenty of tricks up her sleeve. She is currently providing superb administrative services at a financial management firm in Century City. She is active in countless church and civic organizations and spends every minute she can spare dancing to the Zumba beat.)
-cw