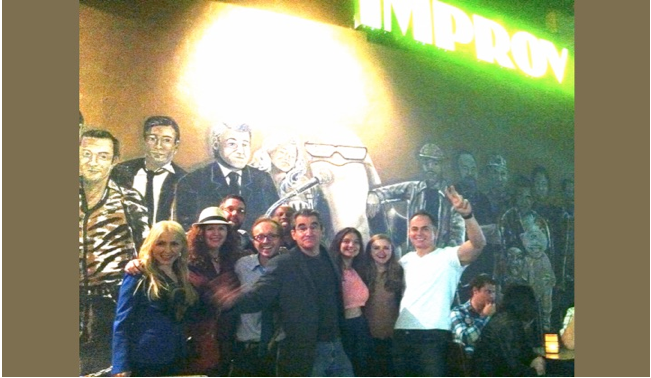 DEALS & DISCOUNTS--I just finished six weeks of comedy education and finished with a stand up show at the Hollywood Improv. You heard it right – I said the Hollywood Improv. I did a stand up comedy routine at this well-known comedy house along with most of my classmates from Jonathan Solomon's "School for Stand-Up." 
You can do it too! Right now, registration is open for the next class. It's offered through Santa Monica College Bundy campus and it is on offer for the incredibly low price of $99. 
What do you get for that, you might ask? Well, it turns out that you get a class that would normally set you back more than $400! 
I found out about the class when the instructor made the trek up the hill to the SAG-AFTRA Conservatory at AFI to present a workshop on his stand-up class. He told us actors that, at the very least, we would discover what our persona is if we took the class. It took me a couple of years, but I finally enrolled. 
I'm not going to lie. I struggled with the writing and performing. Still, Jonathan and all my classmates were so supportive and the space was open for creativity with no judgment. We had a gas. 
As destiny would have it, I had to miss a couple of classes due to unforeseen circumstances. Wouldn't you know it? Those were the ones where they covered the persona stuff. Sigh. I guess I'll never know who I really am - at least not this week. 
Never you mind. 
I got a lot more than I bargained for even though I didn't even try to bargain. The class is heaps o' fun the entire six weeks. The students came from diverse backgrounds actors, doctors, teachers, women and men from their twenties to sixties. 
Jonathan starts out deconstructing the joke. He'll provide descriptions of the various types of jokes. You'll get to watch tapes of famous and not so famous comedians in action. 
Then, you get to sit around and write jokes with your fellow comedians and try them out in class. The whole shebang ends with a graduation performance and you already know where mine was. You can invite your friends and family for a great evening of laughter. They can order drinks – but there is no minimum. They'll have an all around great time while supporting you as a comedian. The ticket was only $12 for the grad show. I did stand up to a sold out crowd! 
Our fearless leader, Jonathan, comes with a lot of experience as a funny fella. He's done it all. He's been on HBO, David Letterman and Comedy Central. He was a writer on the show "Mad About You" and a gaggle of other comedy and variety shows. It's obvious that Jonathan really cares about his students and puts a lot into making sure that everyone is supported in writing and performing their bits. 
He also exposed us to comedian culture. It's pretty cool. He shared about how he learned with other comics, some of them whose names you know, as they would pitch their jokes to each other and help each other with creating the jokes. He made a point to say how he always encourages his students to approach another comic if they have something to contribute. This quote from him gives you a flavor of the experience: 
One of the first things I really found exceptional about being a stand-up was that, because every night you've got a bunch of comics standing before the very same audience trying to get laughs, there's something about that solitary position, and the shared experience of it, that breeds a bond, breeds an equality, among comics. 
After our big night, Jonathan made sure we all enjoyed what he said is the tradition of going to dinner after the show. It's a lot like theater people do. I got to chat with my fellow comics and meet the guests they brought to the show. We all had a great time eating, drinking and talking about the night. 
My co-host Sue is planning on taking the class that starts in January. If you hurry, maybe you can get in too. The class fills up early and there is often a waiting list so plan ahead! Who knows, maybe I'll see some of you at one of the open mics around town as we work on our routines. Maybe I'll take that class again. Looks like the upcoming grads will have their show at the Comedy Store! 
Jonathan also teaches a class on writing funny and he does private consults. 
NEED TO KNOW: 
Here's a link to sign up for stand up:
Here's a link to sign up for writing funny:
Here's a link to Jonathan's website:
(Jennifer Caldwell is a an actress and an active member of SAG-AFTRA, serving on several committees. She is a published author of short stories and news articles and is a featured contributor to CityWatch. Her column at www.RecessionCafe.wordpress.com is dishing up good deals, recipes and food for thought. Jennifer can be reached at recessioncafe@yahoo.com.  Facebook: http://www.facebook.com/jennifercald - Twitter: @checkingthegate ... And her website: jenniferhcaldwell.com)  
-cw