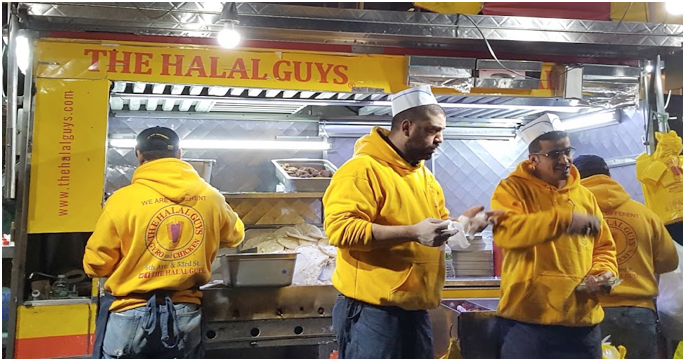 DEALS AND DISCOUNTS--After visiting The Halal Guys street cart at the original corner of 53rd and 6th Avenue in Manhattan last week, I was excited to lunch at The Halal Guys' new Koreatown restaurant. 
I got the combo plate: gyros beef (not lamb) sliced off the spit spiced to perfection, minced chicken, turmeric rice, salad, pita bread. What a great value for $9.95 and enough leftovers to bring home to feed my family dinner. I loved the beef gyro so much that I bought a small container of just the meat for $3.95, to be sure to have enough. 
The menu is limited to a few Mediterranean specialties: beef, chicken, falafel as a large for $10 or small platter for $9, or as a wrap. You can either have it with a simple iceberg salad or tabouli. As far as sauces, there's tahini, their proprietary "white sauce" (mayonnaise, vinegar and dill), babaganoush or very spicy hot sauce, and only one dessert, baklava. What else? 
This place is super convenient. It is opened until 4 am, 7 days a week. You can order online and pick it up; and if that doesn't work for you, they also deliver. What a great convenience.
Situated on the corner of a strip mall at Wilshire and Mariposa, street parking is abundant even at lunchtime. 
This may sound like a fast food franchise with a Mediterranean flair. But after experiencing the NY scene of the original food cart, the excitement of people standing in line in the cold nippy air, being handed a warm platter of delicious street food, and knowing how this place got its start, it means a lot more to me. 
It all began in 1990, when three Egyptian taxi drivers were not finding halal food for themselves after a long night of driving. Not finding a hot dog to be a satisfying meal, they converted a hot dog stand into a vertical gyros spit, and started cooking halal meat and chicken, serving it over a bed or rice with a homemade white sauce. Their success was wild. After all, where else can you get a warm hearty meal for the same cost as a cup of coffee. Rumor has it there have been people to stand in line for over two hours. 
After 25 years at the food business, The Halal Guys have four prime NYC street cart locations and franchised 200 restaurants in States, Canada, and Asia. If you were to check them out on Yelp, the original location has 8,300 reviews averaging 4 ½ stars. Imagine that, for a street cart to get almost 10K reviews! The most yelped about restaurant ever. 
The question is what has made them so popular?
First and foremost, the food is delicious, for a street cart or as a restaurant. 
Second, there is a market for halal food. Halal means the meat was prepared with the blessings of a Muslim butcher, and the slaughter was done in a ritualistic humane way to the animal with the intention of being eaten. For most of us, it is a good thing since we know that the meat is held to a "higher standard" and most likely costs more than regular meat. For an observant Muslim, it is a great thing making it permissible to eat it. There are copycat food carts that also offer halal food such as the "NY's Best Halal Food" who park very close with the same yellow and red umbrellas. So be careful and make sure you go to The Halal Guys. 
Third, people like trying food from other countries. In NYC, there are food trucks from every ethnicity such as, Greek souvlaki trucks, Jewish Kosher deli trucks, Italian pizza trucks, Sushi trucks, etc. Middle Eastern food is no exception. 
The Halal Guys offers homelike food, warm and delicious at a great price in NYC, in Los Angeles, and soon almost everywhere else. 
NEED TO KNOW:  
THE HALAL GUYS 
Koreatown Restaurant
3432 Wilshire Blvd. (near Mariposa Street)
Los Angeles, CA 90010 
Other So Cal locations in Cosa Mesa and Long Beach 
Original Street Corner Location in Manhattan
Corner of W. 53rd and 6th Avenue
New York, NY 10019
(Sue Helmy has plenty of tricks up her sleeve. She is currently providing superb administrative services at a financial management firm in Century City. She is active in countless church and civic organizations and spends every minute she can spare dancing to the Zumba beat.)
-cw