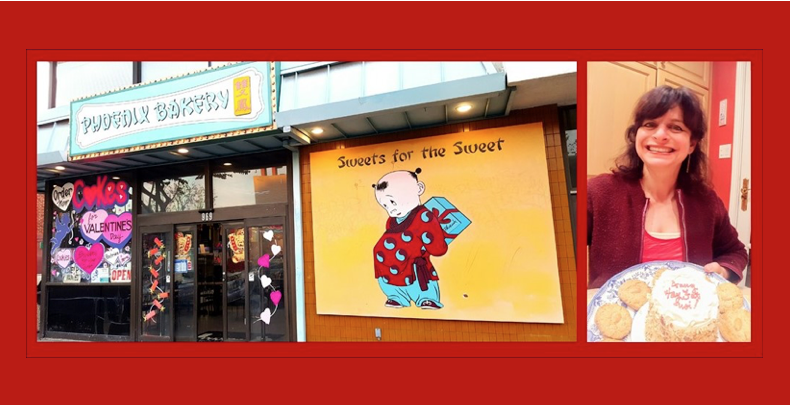 YEAR OF THE FIRE ROOSTER, GONG XI FA CAI!
The Chinese New Year 2017 is the year of the Fire Rooster celebrated on Saturday, January 28. If a person was born under this most auspicious sign, they could be characterized as charismatic, but also attention seeking, boastful about personal accomplishments and seeking the attention and approval of others. I wonder if this is an omen of the upcoming year in US politics. You can draw a connection if you want, but for now, let's stay on the "sweet" topic of Chinese parades and bakeries. 
GOLDEN DRAGON NEW YEAR'S PARADE
The New Year's festivities continue into this weekend with the Golden Dragon Parade at the Central Plaza in Chinatown on Saturday, February 4 along Broadway Street. It is the 118th annual Chinatown tradition bringing many activities to the stage including marching bands, traditional music, kung fu demos, ping pong action, face-painting, story-telling, paper-folding, with the main attraction, a giant golden dragon float. An Angeleno must-do, despite the large crowds. A recommendation is to take the Metro train to the Chinatown station as parking will be challenging. 
PHOENIX BAKERY, "SWEETS FOR THE SWEET"
While in Chinatown and on the parade route, check out the Phoenix Bakery. It has been a staple on Broadway and Bamboo Streets for the past 8o years founded in 1938 by Fung Chow Chan and his wife Wai Hing. They bake many traditional Chinese pastries, but known for their extremely popular strawberry shortcake. The recipe is very simple using fresh ingredients like red ripe strawberries, fluffy whipped cream, yellow sponge cake with toasted almond shavings sprinkled on the sides. An "East meets West" thing, that appeals to everyone, not too sweet and very delicious. 
The cake only comes double-layered, in 16 different sizes. Here is an idea of their round cakes sizes, prices and portions:
4" round for $9.99 (serving 2-4)
6" round for $16.95 (serving 4-6)
7" round for $22.95 (serving 6-9)
8" round for $29.95 (serving 8-10)
9" round for $35.95 (serving 10-15)
10" round for $41.95 (serving 18-20) 
When ordered in advance, the classic can be made with variations in the whipped cream layer by adding peaches, pineapples, bananas, vanilla custard, and chocolate. The cakes can be ordered in other sizes, as a 12" square, and sheet cakes: 1/8, 1/6, 1/4, 1/2, 3/4 and as a full sheet (18" x 24"). The full sheet sells for $172 and serves 100 people. It is even possible to get as a multi-tiered wedding cake on columns and decorated with sugar flowers. 
Since the early years, the strawberry shortcake has become the Phoenix's signature product. There was a time in the seventies when they would sell over 1,000 cakes on a given Saturday with long lines of people winding around the block. Today they continue to sell several hundred cakes on any weekend. 
In addition to the strawberry shortcake, the Phoenix also has tasty almond cookies, baked daily, flakey, light and yummy, selling a dozen for $3.25. I very much recommend trying them. There are other sweet delights such as sugar butterflies, which are fried wontons dipped in honey, sesame balls, moon pies stuffed with winter melon, red bean and Chinese lotus, selling for $1.75 each, and fruit blossoms in pineapple, apple, guava cheese, blueberry and cherry selling for $1.50. 
There are a few savory items on the menu, in case you need to grab lunch or a snack. The bbq pork buns and hot dog buns are a great deal for $1.35 each, served warm, soft, doughy, and delicious. 
The service is great too. The extremely patient lady who helped me was accustomed to having first-time visitors asking a million questions which I did. 
Hopefully, you make it to the parade this Saturday, celebrating the New Year with the excitement of the spectacular golden dragon float and tasting the specialties at the Phoenix Bakery. You will save yourself some "dough" and make your tummy very happy.
Confucius says: Be careful of fiery roosters wanting the spotlight. They may be very charming, but not to be trusted. 
---
WHAT TO KNOW 
Golden Dragon New Year's Parade
Chinatown, February 4, 2017, 1-3 pm
Starting at Hill and Ord Streets – Ending at Broadway and Cesar Chavez Streets
Phoenix Bakery
969N. Broadway Street
Los Angeles, CA   90012
(213) 628-4642
Hours: 9 am - 8:00 pm, 7 days
www.phoenix bakeryinc.com