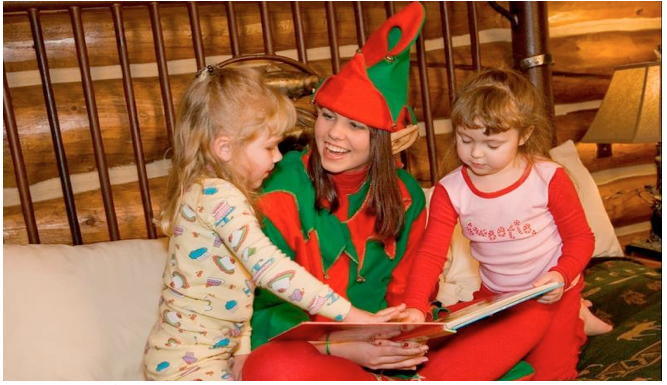 SUCH A DEAL--Are you looking for ways to make the holidays special this year? How about a visit from Santa's favorite elf. You can have one of Santa's elves visit your hotel room at the Mission Inn in Riverside to tuck them in at bedtime. 
As a hotel guest from Friday, November 26 after Thanksgiving until December 26, "Buddy" himself can come to your hotel room for a bedtime tuck-in between 7:00-10 pm. Bearing the picture book of "Twas the Night Before Christmas", the elf will read the poem, wish your youngster sweet dreams and leave behind great memories and the sweetest of all, a cupcake from the infamous Casey's bakery. 
The tuck-in costs $50. Plan in advance: the hotel fills up for the holidays & the tuck-in service has been sold-out. Think of the great "elfie" "selfie" you can post on Facebook for years to come. 
In addition to the tuck-in service, the Mission Inn has other holiday services to feel merry. There is a beautifully decorated 20 foot tall Christmas noble fir and loads of lights lit up everywhere for the eyes to behold. You can sing along to your favorite Christmas tunes and plenty of opportunities to hang out with Santa such as the Saturday breakfast, Sunday champagne brunch, and at the afternoon tea. There is also a Santa letter drop box delivering your child's note directly to the North Pole. These hotel activities are certain to have you feeling the holiday magic. 
In addition to the historic Mission Inn, the downtown district of Riverside is as magical as can be with the fantastic and ever-so-popular holiday celebration, The Festival Lights. At the opening ceremonies, it drew 70,000 people to see the decorations and firework display. Over the next 6 weeks, staring on the Friday after Thanksgiving, over 1 million people come out drawing a close on January 7. 
Warning to all, the weekends of the festival get really crowded with difficulty parking, long lines to see the displays, buying food, playing amusement park games and rides, especially as it become dusk and the holiday lights switch on at around 5 pm. 
If you plan in advance, get there early and be patient. It is a great way to enjoy the holidays, especially if you are lucky enough to stay at the Mission Inn and have Santa's elf bedtime tuck-in. It is sure to make your little one's spirits bright and leave your family with a lasting memory. 
---
NEED TO KNOW 
THE MISSION INN, Hotel and Spa 
Festival of Lights, November 25, 2016-January 7, 2017
3649 Mission Inn Avenue
Riverside, CA 92501
(951) 784-0300
(Sue Helmy has plenty of tricks up her sleeve. She is currently providing superb administrative services at a financial management firm in Century City. She is active in countless church and civic organizations and spends every minute she can spare dancing to the Zumba beat.)
-CW