420 FILE--Though a key argument for legalizing marijuana in the United States is that it would put a tremendous and necessary dent in the domestic and global failure known as "the War on Drugs," a new analysis out Wednesday reveals that federal legalization could also raise more than $130 billion in tax revenue by 2025 while also creating more than 1.1 million new jobs.
The new study was published by New Frontier Data—a research and marketing firm whose stated mission is to "inform cannabis-related policy and business decisions through rigorous, issue-neutral and comprehensive analysis of the legal cannabis industry."
As the Drug Policy Alliance has shown, the criminalization regime and enforcement of keeping marijuana and others drugs illegal costs the U.S. government more than $50 billion annually—that includes the outrageous costs of imprisoning tens of thousands of people for nonviolent drug offenses.
Meanwhile, according to New Frontier CEO Giadha Aguirre De Carcer,  the government would stand to do very well if marijuana, as has been shown in Washington state and Colorado, was taxed as a legal commodity. "The three most common business taxes that any standard business pays to the federal government are federal business taxes, payroll taxes and sales taxes," De Carcer explained. "If cannabis businesses were legalized tomorrow and taxed as normal businesses with a standard 35% tax rate, cannabis businesses would infuse the U.S. economy with an additional $12.6 billion this year."
As opposed to the current patchwork of states that have legalized either medical marijuana, its recreational use, or both, the analysis looked at what could happen if the U.S. government made it legal to sell marijuana nationwide and included these major findings:
If full legalization occurred in all 50 states today, there would be an excess of 782,000 jobs, and would increase to 1.1 million jobs by 2025. 
Full legalization would result in more legal businesses participating in the market, more consumers participating in the legal market, and more employees on official payrolls, resulting in $4 billion in payroll taxes. By 2025, payroll deductions would increase to $5.9 billion.
Assuming a sales tax at the federal level was implemented at 15%, the total tax revenues from 2017–2025 would theoretically be $51.7 billion. This amount of revenue would be entirely new revenue to the U.S. Treasury, as there are currently no federal sales or excise taxes.
By combining the business tax revenues, the payroll withholdings based on the theoretical employment required to support the industry, and the 15% retail sales tax, one can calculate the total federal tax revenue potential of legalization: The combined total is estimated to be $131.8 billion.
The difference between the current structure and the theoretical model is a $76.8 billion increase in federal tax revenues.
The new data comes in the wake of polling that shows historic levels of support for marijuana legalization nationwide. In October of 2017, a Gallup survey found that 64 percent of Americans now favor legal marijuana—the highest level ever recorded. It's also an issue that receives backing from people across the political spectrum. According to the Gallup poll, a majority of Republicans (51%) are in favor while Independents (67%) and Democrats (72%) support legalization at even higher levels.
(Jon Queally writes for Common Dreams … where this piece originated.)
-cw
420 FILE--On the heels of a California law legalizing recreational marijuana use, which took effect Monday, Attorney General Jeff Sessions is planning to rescind the federal policy that has enabled Americans to grow, sell, and use cannabis in places where it has been legalized, without federal intervention, the Associated Press reported Thursday.
"The move will leave it to U.S. attorneys where pot is legal to decide whether to aggressively enforce federal marijuana law," the AP noted, a move that will likely "add to confusion about whether it's OK to grow, buy, or use marijuana in states where it's legal, since long-standing federal law prohibits it." The report cited anonymous sources with knowledge of the decision.
"RED ALERT!" the Drug Policy Alliance tweeted in response to the report. "This is not a drill. Attorney General Jeff Sessions is going after legalized marijuana."
In California—which was the first state to legalize medical marijuana—state officials have, according to the Los Angeles Times, "issued dozens of permits for retailers to begin recreational sales this week, expanding a market that is expected to grow to $7 billion annually by 2020."  
California is the sixth state to introduce the sale of recreational cannabis, following Alaska, Colorado, Nevada, Oregon, and Washington. In response to ballot measures from the 2016 election, Maine and Massachusetts are expected to start sales later this year—despite protest from state leaders like Maine Republican Gov. Paul LePage, who in November vetoed a law that would have regulated the state's marijuana sales. 
Several states have passed legislation or ballot measures to relax statewide policies of marijuana use for medicinal and, increasingly, recreational purposes. The Marijuana Policy Project, which lobbies in favor of cannabis-friendly laws, tracks the state-by-state rules on its website: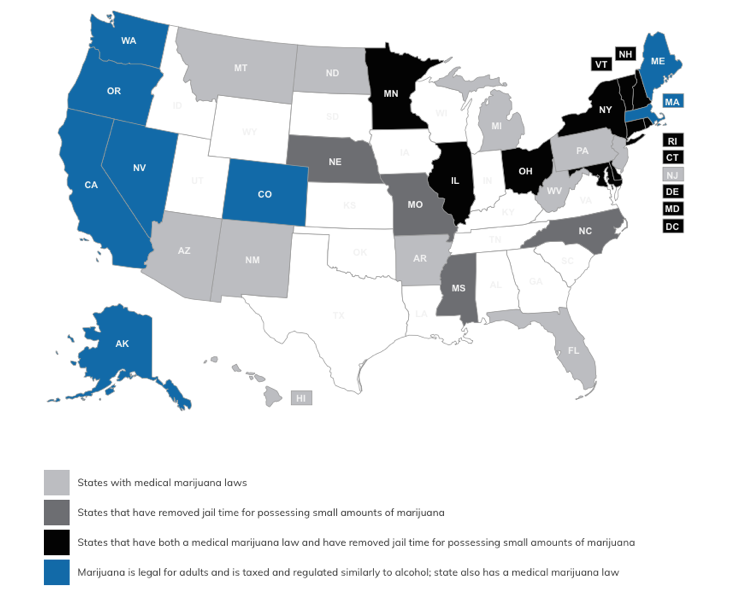 Sessions is a long-time opponent of the nationwide push to legalize recreational and medicinal use of marijuana. Journalist and former lawyer Glenn Greenwald used the news to tweet the analysis that "Conservatives' self-professed belief in federalism was always a huge fraud."
(Jessica Corbett writes for Common Dreams  … where this report was first posted.)
-cw
BCK FILE--This week, Attorney Jeff Sessions fired yet another shot at California, delivered courtesy of the Trump Administration. For the party that espouses states rights, Sessions threw a punch just days after California rolled out legalized recreational cannabis. 
420 FILE--With the legal sale of recreational marijuana a week away, local governments across California have adopted policies on where and when permitted legal sellers can operate, following the ground rules set up by Proposition 64 – the November 2016 state ballot measure legalizing pot for recreational use beginning Jan. 1, 2018. 
420 FILE--Recreational marijuana sales will be legal in California come Monday morning, but Angelenos will have to wait a day — and will have limited options — if they want to buy cannabis without taking a road trip.
420 FILE—I receive this question in my email recently looking for some hope for her mother's health crisis. This is what she wrote: 
420 FILE--California is days away from launching a legal marketplace for adults to buy and sell recreational marijuana. On Jan. 1, the state will carry through on a vision voters endorsed by passing Proposition 64 last year. 
420 FILE--California's 2018 transition to legal marijuana contains a mind-bending paradox: Ending prohibitions on marijuana is going to require an awful lot of aggressive law enforcement.
420 FILE--The Los Angeles City Council approved regulations for the recreational marijuana industry on Wednesday, setting the stage for LA to become the largest city in the U.S. with legal cannabis when California's adult-use marijuana laws go into effect on Jan. 1, 2018.
MARIJUANA JUSTICE--Eddy, a burly 65-year-old professional musician, walked into a free legal clinic in Los Angeles County one July morning hoping to clear his record. More than three decades ago, he served two years probation for attempting to sell a few gram bags of marijuana, a felony that put the immigrant, a legal United States resident with a green card, at greater risk of deportation.
POT BUSINESS--The state's working group on marijuana and banking has finally issued its report on the litany of banking challenges facing California's legal marijuana industry. And while it does recommend a number of measures to alleviate the industry's difficulties, it ultimately concludes that real improvement will require some change at the federal level. 
NEIGHBORHOOD POLITICS--The County of Los Angeles has made public input a priority as it grapples with the complicated and historic work of developing regulations for newly legalized cannabis in the unincorporated areas of the county.
POLICING THE POLICE-News reports last week suggest the city of Oakland may be ready to settle a civil lawsuit filed by the teenage woman at the heart of a sex-abuse scandal that rocked Oakland's and other nearby police departments since 2015. 
All things considered, the city is fortunate. The reported settlement is just under $1 million, far below the $66 million she had originally sought. 
CONNECTING CALIFORNIA--Dig deep enough into any of California's biggest problems, and you'll eventually hit upon a common villain: our court system.
California's housing shortage, its poverty, its poor business climate, and its failing infrastructure all are explained in no small part by the failure of our underfunded, delay-prone courts to provide anything resembling timely justice. But in public narratives of what's wrong with the state, we have mostly let the courts dodge responsibility for their many crimes against California's future.
This is, in part, because, our courts have been broken for so long that we've stopped expecting them ever to work. In the meantime, we have become lazily addicted to blaming our favorite perpetrators—our regulators, our politicians, our media, our unions, our businesses, and, more recently, President Trump—for our collective failure to build a state that meets its population's needs.
But the biggest reason why we've allowed the courts to skate responsibility involves a public lack of understanding of the courts, and a resulting underestimation of their importance. State government has been treating the courts, which account for less than 3 percent of state spending, as a small problem, distinct from the state's other maladies. But the courts' impact is far larger than their budget imprint, making them a dangerously faulty foundation for our state's economy and government.
If you want to block a project in California, your best bet is to get it into the courts, where you can delay for years until the project's supporters can no longer afford to go forward. This happens regularly in California's housing battles. But rather than blaming the courts, real estate types routinely blame a law—CEQA, the abbreviation for the California Environmental Quality Act—for the state's struggles to build sufficient housing and infrastructure.
At a recent conference at Chapman University in Orange County, Emile Haddad, the chairman and CEO of FivePoint, the largest developer of mixed-use communities in coastal California (from the Great Park Neighborhoods in Irvine to Candlestick Point in San Francisco), pointed to the courts instead.
"I'm one of those probably odd developers who say they love CEQA," he said, praising environmental laws that protect communities and add to quality of life and the value of housing.
The real problem, he said, is "the entire legal system." He recounted a project that got local government approval in 2003, but still hasn't happened, as his company is now litigating the project's 30th lawsuit.
With each challenge or problem with permits, he loses even more years, Haddad said, because "I have to go through the same courts that have approved me already … because I cannot go directly back to the Supreme Court or the appellate court and tell them that I've done what they needed me to do."
Such legal delays bear a heavy responsibility for our historic housing shortage and add to housing costs that are more than twice the national average. In turn, costlier housing is a huge factor in California's highest-in-the-nation poverty rate and its high incidence of homelessness.
Poverty is now highest in coastal areas with the most development restrictions, which produce more litigation and costlier housing. And the clogged courts make it harder for poor people to challenge evictions from housing, or mistreatment by people and financial institutions that prey on the poor.
Such legal delays bear a heavy responsibility for our historic housing shortage and add to housing costs that are more than twice the national average. In turn, costlier housing is a huge factor in California's highest-in-the-nation poverty rate and its high rate of homelessness.
The same court-related delays and resulting costs also plague any number of transportation and water projects, and of countless attempts to launch new businesses. The most high-profile example is the state high-speed rail project. While the state authority in charge of the project has drawn withering coverage for its mistakes—construction remains at an early stage, nearly nine years after voters approved the bonds for it—most of the delays involve the courts.
The state itself has a long history of using the courts to delay meeting even its meager funding obligations to schools and health programs. The state courts so utterly failed to resolve California's prison overcrowding problems that federal receivers and the U.S. Supreme Court had to step in.
Meanwhile, the courts are being asked to do more with less. Newer reforms on criminal justice resources (Governor Brown's realignment), sentencing (Propositions 47 and 57), and recreational marijuana (Proposition 64) have created new questions and petitions that boost court workloads.
At the same time, the Great Recession and budget crises were particularly tough on the courts. Thousands of court staffers have lost their jobs in the last decade, and more than 50 courthouses and 200 courtrooms have been shuttered. Delays have more than doubled; it now can take more than five years to have your civil complaint heard by a judge or jury. (One prominent lawsuit, by California local governments against lead paint manufacturers, is now 17 years old.)
Flat pay and a heavy workload have led to walkouts by court workers, and sparked bitter infighting among state judges. Court officers in 49 of 58 counties warned in a February letter to Gov. Brown that without more money in this year's budget, they'll need to cut existing levels of service.
The pressure on the courts would be even worse if the total number of court filings hadn't declined by 25 percent over the last decade. But that may be bad news. Almost all the decline has been in small claims, challenges to infractions, and minor civil cases. Regular Californians have simply given up on seeking justice in our courts.
"Inadequate funding and chronic underfunding of the courts is just one way a justice system can become unjust," warned California Supreme Court Chief Justice Tani Cantil-Sakauye in a recent speech, noting that since 2011 the state has added 6,408 laws while the judiciary budget lags.
I recently walked three blocks from my office to the Stanley Mosk Courthouse, the state civil courthouse in downtown Los Angeles. Like other central courthouses in California's increasingly glittery city centers, the court building stands out as an eyesore, its exterior scars clashing with the new park and federal courthouse next to it.
Inside, nothing—from bathrooms to Wi-Fi—works particularly well. Lawyers receive trial dates that are usually more than two years in the future, court reporters are scarce, and overworked clerks scramble to keep things from breaking down. A lawyer acquaintance who took me around quoted Charles Dickens' Bleak House, a 19th-century novel about the delays and injustice of England's Court of Chancery.
Broken courts, Dickens wrote, promote a crippling fatalism through a society, "a loose belief that if the world go wrong, it was, in some off-hand manner, never meant to go right."
It's way past time for California to pull itself out of this Dickensian muck. Yes, fixing our court system—making it the fastest and most efficient in the country—would be challenging politically. But it also would be relatively cheap, just a couple billion more dollars a year in a state with a $150 billion budget and a $2.5 trillion economy.
Justice delayed is justice denied. This budget season, let's return timely justice to the courts, and stop this crime against California's future.
(Joe Mathews is Connecting California Columnist and Editor at Zócalo Public Square … where this column first appeared. Mathews is a Fellow at the Center for Social Cohesion at Arizona State University and co-author of California Crackup: How Reform Broke the Golden State and How We Can Fix It (UC Press, 2010)
-cw
THE POLITICS OF RACISM-I wanted to believe that Jeff Sessions is not a racist. I wanted to believe that even if he was a racist as a young man that he has since converted to a higher plane of thinking. I wanted to believe that he is a changed man because I believe that anyone is capable of redemption. After-all, St. Paul hunted down early Christians. Tolstoy was a slave owner. And Nelson Mandela almost blew up a school bus as a terrorist. We are all capable of undergoing unfathomable transformation if divine grace and luck have their way. 
We are also capable of remaining the same for our entire lives. Like the calcium that never gets discovered, we can remain locked in sediment forever. As much as I wanted to believe Attorney General Jeff Sessions is no longer an old fashioned bigot from another time in our nation's history, his public words once again reveal a belief system that blatantly denigrates minorities and belittles the "other." 
Most recently, he said that he was "amazed" a judge in Hawaii could halt President Trump's order blocking people from six predominately Muslim countries from entering the U.S. 
As first reported on CNN, Trump's top lawman said on The Mark Levin Show: "I really am amazed that a judge sitting on an island in the Pacific can issue an order that stops the President of the United States from what appears to be clearly his statutory and constitutional power." 
The judge he is referring to is U.S. District Judge Derrick Watson, a Hawaii native, who issued an order March 15 that put a stop to Trump's second attempt at an unconstitutional and immoral travel ban. Sessions' Department of Justice is challenging this before the U.S. 9th Circuit Court of Appeals, based in San Francisco.
There are several aspects to Session's flub that I find disconcerting as an American citizen. First, what is Sessions doing on "The Mark Levin Show?" How is this a sign of good sense, common decency, and legal impartiality? As the nation's most influential broker of crime and punishment, and as the supreme arbiter of social justice, Jeff Sessions should know that Mark Levin is a media personality who makes a living inciting impassioned feelings that verge on hate speech. The very act of showing up on his program is a violation of his ethical duties. 
Second, Sessions is "amazed" that a judge in Hawaii could halt the president because he has never held genuine respect for people of color. He has done everything that is required of him to not ruin his political career -- and he has been careful to strategically amend his views with the passage of time -- but Jeff Sessions has always held a derogatory opinion of minorities in this country. He has been especially brutish to African-Americans. 
In 1986, a Senate committee denied Sessions, then a 39-year-old U.S. attorney in Alabama, a federal judgeship. His former colleagues testified Sessions used the n-word and joked about the Ku Klux Klan, saying he thought they were "okay, until he learned that they smoked marijuana." 
That should have ended his rise to power. That is to say, if we lived in a non-racist society, those words would have stopped him cold in his tracks. We obviously live in a thoroughly racist society because the author of those words not only survived, he kept going all the way to the U.S. Capital. 
Third, what difference does it make that it was a judge from an island? What if we replaced the word "island" with "judge from the ghetto?" What if we replaced the word "island" with "judge from Islam," or "judge from the LGBTQ community?" What if the word "island" was replaced with "judge from the opposite sex?" We would think that he was out of touch, demeaning, uncouth, and politically stupid. We would say that he is not equipped for the role of United States Senator. He certainly is not capable of leading the nation's law enforcement apparatus in the 21st century. His ideas are outmoded. His worldview is archaic. His way of using power is both obsolete and ineffective. 
The ideas that Sessions represents are dinosaurs that should have gone extinct as a result of the meteorite that was the Civil Rights Movement. Like a bridge between two eras, the Attorney General represents the reason we need to cross over into the promised land of a dream no longer deterred.
(George Cassidy Payne is a writer, photo journalist, SUNY Adjunct Professor of Humanities and a CityWatch guest contributor.) Prepped for CityWatch by Linda Abrams.
GOLDEN STATE'S NEW INDUSTRY--If you've got more than a few questions about California's new recreational cannabis policy, you're certainly not the only one. Millions somewhat naively expected to wake up January 1 with a booming recreational cannabis industry blossoming all around them. In reality, things aren't nearly as simple.
Quite to the contrary, Proposition 64 is a 62-page-long document that goes into immense detail as to how, when and by whom the new commercial cannabis industry will be controlled. It's a pretty complex document to say the least, but for the most part, it doesn't have a great deal of relevance to the average citizen. Or cannabis tourist, for that matter.
While things are never quite as black and white as they seem, it's nonetheless possible to condense the most important elements of Proposition 64 to a much smaller, more digestible guide. Which will undoubtedly emerge at some point in an official form at, but in the meantime we figured we'd lend a helping hand. Whether you live in California or are planning to pay The Golden State a visit in the near future, there are certain things you really need to know about the new cannabis policy.
All of which counts double if you have any intention of selling the stuff, which for the time being at least simply isn't going to happen. At least, not if you plan to do so legally, anyway.
The new law only applies to adults aged 21 and over
First up, not to mention most obviously of all, the newly implemented cannabis legislation in California applies exclusively to adults. Specifically, the possession and use of cannabis is only legal for those aged 21 and over. If you meet the minimum age requirements, you are now legally permitted to buy and carry on your person up to 28.5g of cannabis for recreational purposes. If you are caught carrying more, you could be hit with an on-the-spot fine of up to $100. Anyone under the age of 21 is not permitted to purchase or carry any amount of cannabis for any reason, including transportation purposes.
Home growing is semi-legal
For the first time, those preferring not to hand over their hard-earned cash for recreational cannabis now have the freedom to grow their own. Specifically, anyone residing within California is legally permitted to grow up to six cannabis plants, for their own personal consumption. . So there's never been a better time to head over to Seed Supreme and stock up. While it is only legal to carry 28.5g of cannabis on your person when leaving your property, you can nonetheless hold onto your entire harvest at home, regardless of how much your six plants produce.That said, landlords still have every right to prohibit cannabis cultivation – thousands of whom are already doing exactly that.
You can't legally smoke cannabis everywhere
For the most part, the rules with regard to smoking cannabis in public places are now exactly the same as those involving tobacco. Which generally means as a rule of thumb that you cannot smoke cannabis in the vast majority of public places, shy of a specific public ordinance and clear permission to do so. It is also illegal for cannabis to be smoked within 1,000 feet of any school, youth centre, day care centre or similar establishment.
Vehicular rules still apply
Of course, getting baked before driving or smoking cannabis behind the wheel remains 100% illegal and is being clamped down on state-wide. However, it's important to note that even if you yourself aren't touching the stuff, it is still illegal to allow anyone else in your car to light up. Which also applies to vehicles that are stationary, along with boats, aircraft, motorcycles and so on.
If you break the rules, you'll get a fine
Generally speaking, anyone found to be flouting the rules when it comes to prohibition of cannabis consumption in public places will be liable for a fine up to a maximum of $100. Should the offence take place anywhere tobacco is prohibited, the fine can go as high as $250. In both instances however, the incident will not be noted on the individual's criminal record. As a means by which to demonstrate that they are taking new cannabis legislation seriously, it is widely expected that lawmakers will be particularly heavy-handed when it comes to doling out punishments during the initial months following legalization.
Commercial cannabis will be kept away from kids
One of the most important focus points of Proposition 64 is that of outlining exactly how cannabis and cannabis products will be kept away from teenagers and children. Various measures have been outlined, which include the requirement for cannabis products to be packaged in a manner that does not appeal to children, all marijuana products being supplied in child-resistant packaging and the prohibition of supplying cannabis products of any kind to anyone under the age of 21 under any circumstances.
There won't be any TV commercials for weed
Falling largely under the same legislation as tobacco, there will not be any televised commercials of any kind for cannabis or cannabis products. In addition, any kind of marketing that is permitted for cannabis will be highly scrutinized and must be able to demonstrate that it will not appeal to anyone under the age of 21. Advertisers and marketers will also be unable to betray the use of marijuana as positive or a glamorous in front of influential audiences.
You can't just grow your own and sell it on
One of the key arguments behind Proposition 64 and the cannabis legalization movement in general is the way in which regulated distribution can drive drug dealers off the streets. As such, Proposition 64 clearly states that while growing, using and purchasing cannabis from licensed vendors is legal, selling the stuff yourself most certainly isn't. If you have any intention of selling cannabis at any level, you will first be required to obtain the required licensing, pay the necessary fees and ensure you are satisfying applicable taxation requirements. Which is, of course, where things become extremely complicated.
Gifting is legit
However, if you're feeling generous or simply have too much stockpiled away at home, actually giving cannabis away as gifts in reasonable quantities is legal.
If you don't get a license, you're in trouble
Choose to sell cannabis at any level without the required licensing and you could be in for a fine of around $500, or perhaps even six months behind bars. Proposition 64 states clearly that anyone involved in any kind of commercial cannabis activity at any level that is not fully authorized will find themselves in serious bother. Along with potential jail-time and steep financial penalties, those busted breaking sales and distribution laws will also have to watch their entire crop being destroyed and disposed of.
It's going to take some time
Last up, anyone with the intention of visiting California over the coming months to dive into dispensaries on every street corner might want to consider delaying their vacation. The reason being that while Proposition 64 passed and the new laws are now in effect, actually setting up the commercial licensing and distribution system is going to take some time. Probably January next year, at the earliest. Which is something that'll likely prove even more frustrating for those looking to get into business than members of the cannabis community out to indulge.
(Pausali Das is a writer whose work appears occasionally at Huff Post)  … where this analysis was first posted.)
-cw
ALPERN AT LARGE--Seriously?  No foolin'?  Is "California Dreamin'" really doomed to devolve into one big marijuana-hazed April Fools Day joke, with those still sober stuck with the choice of living in, or fleeing from, the California Twilight Zone? 
As exemplified by the many former and current patients I see who have fled, are fleeing, or will flee the once-Golden State, those who are tired of being overtaxed are running for their lives (their economic lives, at least) to the World of the Sane.   
The World of Math and Economics.  You know ... Texas. Or Arizona.  Or Someplace Other Than California. 
Remember when Jerry Brown was elected and re-elected to be the sane voice of fiscal reason? To be the voice of the "guy who grew up and was no longer Moonbeam Brown"? Who understood the need to keep crime low and the economy high? 
Gone. 
The temporary tax on the rich?   
Not temporary at all--and the money went off to the Never-Satiated Maw of the education unions and their lobbyists (with barely a dime going to the benefit of the students).  Oh yes, and the definition of "rich" is rather peculiar in a high-cost-of-living state such as ours.   
The pension crisis that's the "Inconvenient Truth" that we are happy to ignore while focusing on environmental issues to a state that's gotten overpopulated, with insufficient water and woeful infrastructure? 
To hell with that! Pension, shmension.  Nerd talk, and just don't bother me.
Well, along comes the gas/transportation tax that probably would have been fine if we hadn't already spent that money, and would be fine if we knew it would be spent well. 
But it appears that "the rich" (whoever they are, considering they're bailing from the state and/or doing anything they can to hire foreign workers to reduce Californians' wages) won't tolerate any more taxes. 
So now Governor Brown, and the Democratic majority leaders who run Sacramento, want to throw a gas tax so that EVERYONE will pay for the mess in our state capitol, and for the fact that we now pay former state workers as much or greater a percentage of our state budget than our current, tax-supported state public sector workforce. 
What do they think we ARE, stupid? 
Oh yeah, that's right.  We are, because we elected them.  And said yes to tax after misspent tax.  Or fee. Or bond measure. 
LA County did tax itself with a couple of carefully-designed transportation measures (Measure R in 2008, and Measure M in 2016) to make sure transportation money went to...transportation! That was good policy, and transparent taxation, in action, and I'm proud to have played a very small part in promoting those measures. 
But any new "transportation money" to Sacramento will just be made moot by taking that same amount for something else.  And something else is anything but building new universities, fixing our infrastructure, etc. 
So if you want the gas tax, then fine.  At least you're putting your money where your mouth is.
Yet there is a GOP alternative to the Democratic transportation plan, and its backers claim it involves no taxes, allows for transportation-related revenue to fund only transportation, and allows more road repair projects Caltrans can bid out to private contractors to get more out of each dollar, and even provides more money for transportation than the Governor's proposal. 
But hey, it's proposed by the GOP, and we all know that to become a Republican you have to swear fealty to Satan, Hitler, Bashar Assad, and ISIS, right?  So it's gotta be bad. 
Yet either way, the concept of responsible taxation in Sacramento, with THIS governor and with THIS group of legislative leaders, has devolved into a big joke. 
And therefore we can all choose whether or not we should laugh our way to higher gas prices than any other state in the nation ... and let out a big guffaw of laughter knowing that at least those higher gas prices are going to a great cause! 
That cause being the favored and higher life forms in Sacramento.
(Kenneth S. Alpern, M.D. is a dermatologist who has served in clinics in Los Angeles, Orange, and Riverside Counties. He is also a Westside Village Zone Director and Board member of the Mar Vista Community Council (MVCC), previously co-chaired its Planning and Outreach Committees, and currently is Co-Chair of its MVCC Transportation/Infrastructure Committee. He is co-chair of the CD11 Transportation Advisory Committee and chairs the nonprofit Transit Coalition, and can be reached at alpern@marvista.org. He also co-chairs the grassroots Friends of the Green Line at www.fogl.us. The views expressed in this article are solely those of Dr. Alpern.)
-cw
FIRST PERSON--Attorney General Jeff Sessions recently called marijuana use a "life-wrecking dependency" that is "only slightly less awful" than heroin.
Really?
If that were true, maybe my little brother would be alive.
I don't know the full story of my brother's drug use. He kept it a careful secret from our family. I can only piece together the details from his autopsy and what his friends told me after his death.
My brother had a severe anxiety disorder, with daily panic attacks. If you've never had one, all you need to know is that people often respond to their first panic attack by calling 911 because it feels like they're dying.
He went through that every day.
In a better world, he would've gone to therapy and sought appropriate medical help. But he didn't. Deep down, he thought he was so awful that all a therapist would do was confirm that he was a repulsive freak who deserved no love. He couldn't face that.
As a teenager, he found a Band-Aid for his anxiety: marijuana.
It wasn't healthy. It didn't address the root of his problems. But it provided some comfort and it got him through the day.
He smoked pot for years. He preferred it to alcohol, although he drank too. His friends told me he dabbled in other drugs as well. But mostly he liked marijuana.
In his first year of college, he was arrested for marijuana possession. He was given two years of probation and kicked out of school. That probably didn't improve his prospects any.
At age 23, my brother did heroin for the third time in his life. His friends knew, but our family did not. He didn't answer his phone for five days after that. Then his landlord found his body.
I've known people who use marijuana recreationally and medicinally for years. I've known cancer patients who rely on it to quell their nausea over the months I've watched their bodies waste away.
I had a friend who smoked it daily while double majoring at an elite university and then reduced his habit while pursuing a PhD at Stanford.
I know people who smoke it casually and rarely, just for fun, but with no interruption to their lives.
And I've known people who don't smoke at all, but suffer from alcoholism, slowly killing themselves legally.
The people I've observed who had pot habits that harmed their lives all had underlying problems, like my brother's anxiety. Their drug use was a symptom. They needed treatment, not punishment.
Many others used pot either medicinally, to relieve nausea, anxiety, or pain, or they used it recreationally without much interruption to their daily lives.
One could smoke an entire field of marijuana, as my brother probably did, without dying from an overdose.
The same could not be said of heroin, which killed 13,000 Americans in 2015.
My baby brother, my best friend in the world, a kid who was hurting so bad on the inside he was looking to anything he could find to relieve his pain, died alone in his favorite chair, just the third time he ever tried heroin.
My brother would've had a hard road ahead if he'd lived. He needed years of therapy, and recovery would've been painful and difficult.
But the same isn't necessarily true of others. Each person who relieves pain with marijuana instead of opiates takes a path that won't lead to a debilitating addiction and potentially a deadly overdose.
The attorney general is wrong. Pot is a relatively mild and harmless drug compared to deadly, addictive heroin. Treating users like criminals is a threat to their safety — and so is perpetuating the lie that some drugs are no less harmful than others.
(Jill Richardson is an OtherWords columnist and is the author of Recipe for America: Why Our Food System Is Broken and What We Can Do to Fix It. Distributed by OtherWords.org.)
-cw