EXPOsing the Other Ex Officio Expo Line Boardmember: YOU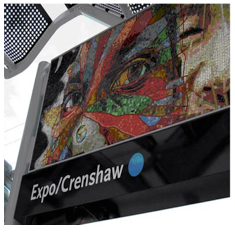 GETTING THERE FROM HERE - Ultimately, the Expo Line—as with all passenger rail and other transportation projects—must be planned, constructed and operated by government experts, engineers and contractors.  The establishment of the Expo Line Construction Authority to wrench this project from Metro also wrenched it from Metro's allies at Friends4Expo Transit and other grassroots organizations as well…and the results leave room for both concerns and improvement.
To be honest and fair, the Expo Line has had a pretty nice start and those who've ridden it like it; the main complaints to date are that it doesn't yet access the Westside, and that the stations provide insufficient shelter and rider amenities.  Furthermore, the daytime meetings prevent us working folks from attending and providing feedback and suggestions.

But to be even more honest and fair, the Metro-run Crenshaw/LAX, Downtown Light Rail Connector and Wilshire Subway projects have also drawn criticism by their cost- based and legal limit-setting to some constituents who "want it all", and these projects have similarly drawn complaints by the public of being shut out of the planning process.  For all projects, hard but unpopular decisions MUST be made.

Clouding the Expo Authority's efforts in Phase 1 was an extraordinary learning curve of the Expo Authority Board and staff that resulted from contractor malfeasance and incompetence, and which resulted in a two-year delay and hundreds of millions of dollars in overspending for the first phase of the line (which was supposed to have been at least $200 million cheaper and was supposed to open in 2010).

And even then, as reported in the Times and as addressed in my piece last week in CityWatch, it appears that the Expo/Blue Line junction was improperly built/adapted for the joint operations of the two lines, and needs adjustments and ongoing extra inspections to avoid excess wear-and-tear to both the rails and the railcars.

Now there are concerns that continue to be raised from USC Professor Najmedin Meshkati of USC's Viterbi School of Engineering that certain Expo Line intersections (in particular, near Foshay Learning Center and at the X-shaped intersection of Exposition and Rodeo) have insufficient gates, signage and special crosswalks to protect pedestrians.

Of course, considering the way that Professor Meshkati has been so exploited by the Expo Line opponents (such as by Neighbors For Smart Rail and FixExpo, who appear to oppose most or all surface or elevated level light rail more than they want to make it "smart" or "fixed"), it's hard at times to not dismiss Professor Meshkati as a person consumed by a desire to be in the spotlight.

However, Professor Meshkati has his supporters and credibility by many at Metro, Metrolink and the media, and there are no shortage of prominent  pro-Expo advocates who also favor better gates and signage to enhance both the safety and speed of the Expo Line at Rodeo and at Foshay Learning Center.  

The big question that should be on all of our minds—and especially should be on the minds of the past and present Boardmembers of the Exposition Line Construction Authority—is whether these technical problems would have occurred had Metro been the Authority to build the Expo Line, and had not acceded to former Expo Line opponent Zev Yaroslavsky's desire to create a separate Expo Authority and then hand off the project for Metro to inherit.  

More specifically, for Metro to inherit … and to fix.

Which isn't to blame Zev Yaroslavsky, Expo Authority CEO Rick Thorpe or the Authority in general, who were rather blindsided by the unanticipated lawsuits and racial obfuscation of the facts surrounding the first and second phases of the Expo Line (an obfuscation worsened even by some Boardmembers) and who were also blindsided by the aforementioned greedy and/or incompetent contractors to make this project much more complicated than anyone could have expected.

Furthermore, in our politically correct society the accusations of racist double standards in creating Phase 1 of this line, which were always entirely unfair and untrue, slow this line's construction and community acceptance even to this day.

Still, those on the Expo Authority Board (which was both geographically and racially diverse) were appointed to make this first phase HAPPEN, on time and on budget—and both successes and failures on their part MUST fall directly on their shoulders.  

This is particularly true when Friends4Expo Transit, Neighborhood Councils and other grassroots organizations (who were responsible for making this project happen in the first place) were pretty much shut out of the politically-appointed and daytime-only meeting schedules of the Authority and the committees who purported to design the stations to meet the needs of future Expo Line riders.

So now that the problems in Phase 1 of the Expo Line have been exposed, and the design/planning stage of Phase 2 is commencing in earnest, the Expo Authority must reinvent itself to be more inclusive—and less dismissive—of criticisms when they are constructive in nature (tragically, Neighbors For Smart Rail and FixExpo have probably destroyed their credibility to provide both helpful critiques and demand helpful mitigations for the communities impacted by the line).

The Expo Line is the ultimate "next generation" MetroRail Line for the 21st Century because of its grassroots origins and partnerships with Metro, its widespread support throughout the county, and because of its ability to make a huge impact in the renaissance of development and beautification that is occurring in a Downtown which increasingly is becoming a place to go to, and not through.

Most important to the equation that ties the Expo Line to the taxpayers and commuters is the need to demonstrate that this MetroRail line, decades in the making, was a good and prudent use of taxpayer dollars in a society that is increasingly becoming disillusioned by tax proposals—even for that which Governor Brown purports to resolve the state's ongoing budgetary nightmare.

If Metro and the City/County of LA want to extend Measure R this fall (when Governor Brown's proposal is also to be decided) in order to expedite the Wilshire Subway, a San Fernando Valley/Westside rail project, and connect MetroRail to LAX and Ontario Airports, a new Ex Officio role of "Boardmember" must be created for the ordinary individual who is responsible for paying for any construction and operation of these passenger rail lines.

That Ex Officio Boardmember is me, it is YOU, and it is anyone who wants "in" to the decision-making and planning for the Expo or any other MetroRail Line or other transportation project necessary to enhance the economy, environment and quality of life in 21st Century Los Angeles City and County.

(Ken Alpern is a former Boardmember of the Mar Vista Community Council (MVCC), previously co-chaired its Planning and Outreach Committees, and currently is Vice Chair of its MVCC Transportation/Infrastructure Committee. He is co-chair of the CD11 Transportation Advisory Committee and chairs the nonprofit Transit Coalition, and can be reached at Alpern@MarVista.org. He also co-chairs the grassroots Friends of the Green Line at www.fogl.us.   The views expressed in this article are solely those of Mr. Alpern.)
-cw

Tags: Ken Alpern, transportation, Metro, Expo Line, Crenshaw/LAX Light Rail, Construction Authority







CityWatch
Vol 10 Issue 44
Pub: June 1, 2012