Archive-Hidden
Feuer, Trutanich Mix It Up on Way to March City Election-Video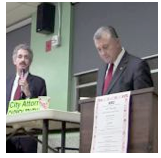 CHATSWORTH.PATCH - City Attorney Carmen Trutanich and Assemblyman Mike Feuer participated in a lively debate at the Sherman Oaks Homeowners Association meeting at Notre Dame High School Wednesday evening.
The two are both running for City Attorney; the LA Times reported in October that the race will be "intense" and "rancorous." Greg Smith, a lawyer, is also running, but did not attend the SOHA meeting.
The debate was divided by the moderator into three sections: opening statements from the candidates were followed by the two asking each other questions, and this was followed by moderator-read questions from the audience.
They talked about their positions on a variety of issues, from recent changes in parolee supervision law (AB 109), the salary for the position of City Attorney and the problem of school truancy to how they voted on election propositions like the abolition of the death penalty, labeling genetically modified food and Measure J.  
-cw
CityWatch
Vol 10 Issue 92
Pub: Nov 16, 2012