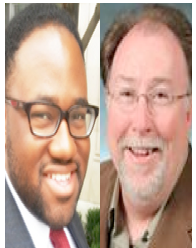 LA WATCHDOG-The special election on Tuesday, December 3, for State Assembly District 54 pits former Culver City Mayor Chris Armenta, 49, an accountant with 25 years of state and local governmental experience, against Sebastian Ridley-Thomas, 26, an inexperienced City Council staffer who expects to raise $1 million in cash from special interests trying to curry favor with his powerful father, LA County Supervisor Mark Ridley-Thomas.  
His father, 59, a career politician who served on the Los Angeles City Council and in the State Assembly and Senate, represents almost 2 million residents and has a big say over the County's $25 billion budget and its 103,000 employees.   
This diverse district of 466,000 citizens extends from Westwood south to Ladera Heights and Windsor Hills and from Mar Vista east through Culver City to Leimert Park and Mid City.  Of the 278,000 voters, 63% are Democrats, 90% live in the City of Los Angeles, and almost all reside in the County's Second District that is ruled by Supervisor Mark Ridley-Thomas. 
Young Ridley-Thomas, his high priced team of political advisors, and the political establishment are trying to buy the election.  His million dollar war chest (including independent expenditures) is about 10 times greater than the grass roots campaign of his opponent, allowing him to flood the district with mailers.  Armenta, on the other hand, is relying on individual contributions and has refused to take campaign donations from public unions, the oil companies, and other fat cats looking for preferential treatment in the County Hall of Administration and Sacramento. 
Ridley-Thomas campaign contributors include litigious billboard companies; oil companies opposed to limitations on "fracking" in the City, County, and State; Native Americans who own Las Vegas style casinos; density loving real estate developers and their lawyers; lobbyists; public unions representing City, County, and State workers; and numerous slush funds controlled by other elected officials such as City Council Member Curren Price and Darrell Steinberg, the leader of the State Senate. 
Joining this illustrious self-servicing crowd is campaign funding Union Bo$$ Brian d'Arcy, the business manager of IBEW Local 18, the union that represents over 90% of the employees of our Department of Water and Power. His goal in Sacramento is to pass legislation that would limit the ability of the DWP, the City, and its voters to reform DWP's Cadillac health care plan and its very generous pension plan. 
Union Bo$$ d'Arcy is also anticipating that young Ridley-Thomas will run for the Los Angeles City Council, possibly in 2015, as the State Legislature has served as a farm team for LA's Elected Elite.  Today, seven Council Members and former Mayor Villaraigosa are veterans of the dysfunctional and ethically challenged Sacramento environment.    
DWP Ratepayers are already being ripped off by City Hall and its cronies for over $1 billion a year.  This includes the $250 million IBEW Labor Premium, but this does not take into account the costly impact of DWP's overly restrictive work rules. 
This is also the same arrogant Union Bo$$ d'Arcy that is stonewalling the DWP Board of Commissioners and Controller Ron Galperin over the use of more than $40 million of Ratepayer money for the Joint Safety and Joint Training Institutes.  
This David versus Goliath election involves the grass roots campaign of an honest, experienced but underfunded candidate fighting against the machine and its self-serving contributors who want to perpetuate a culture that is not in the best interests of its citizens and Ratepayers. 
It is time for the voters of State Assembly District 54 to say NO to Union Bo$$ d'Arcy, NO to special interests, and NO to the inexperienced Sebastian Ridley-Thomas. 
(Jack Humphreville writes LA Watchdog for CityWatch. He is the President of the DWP Advocacy Committee,  The Ratepayer Advocate for the Greater Wilshire Neighborhood Council, and a Neighborhood Council Budget Advocate. Humphreville is the publisher of the Recycler Classifieds -- www.recycler.com. He can be reached at:  This email address is being protected from spambots. You need JavaScript enabled to view it. . Hear Jack every Tuesday morning at 6:20 on McIntyre in the Morning, KABC Radio 790.) 
-cw
CityWatch
Vol 11 Issue 95
Pub: Nov 26, 2013