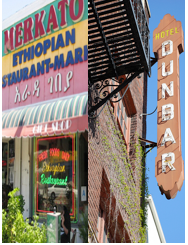 CULTURE LA - On a block of Fairfax, between Olympic and Whitworth, the colors red, yellow and green appear frequently –on flags and t-shirts and in window displays.  As you make your way down the street, you may see some unusual script and happen upon people who are speaking in this foreign tongue.  If you are brave, you may wander into one of the restaurants to sample unique dishes often eaten communally.  On Sunday, October 21, this neighborhood, Little Ethiopia, will be featured as part of the second annual Found LA: Festival of Neighborhoods.
Nikki Legesse, President of the Little Ethiopia Chamber of Commerce, will lead tour-goers on a FREE tasting tour through the area.  She is excited to share her culture and to show off everything that this special destination has to offer.

In fact, all the Found LA tours are FREE opportunities to explore Los Angeles with a guide and access to spaces not necessarily open for visitors on a regular basis.  This year's Found LA Festival follows last year's very successful inaugural event.  Over the course of the day, tour goers see the city through the eyes of some of the most knowledgeable guides around – the people who live in, or are closely tied to, those neighborhoods.  Artists, residents and public figures participate, including Councilman Eric Garcetti last year in Atwater Village, and Councilwoman Jan Perry this year on South Central Avenue.

Our goal at LA Commons, which created the Found LA program, is to connect people to and within Los Angeles—not in the superficial way that only scratches the surface of the city's story with a focus on Hollywood or the Beach.  Instead, the experiences are based on the local stories, venues, and most importantly, the people that make this city great.

Several of the tours are focused specifically on sampling food.  Many people have never heard of Byzantine Latino Quarter, the part of town where Greek (Byzantine) and Latino cultures come together.  Near Pico and Normandie, at the heart of this neighborhood, there is the magnificent Saint Sophia's Greek Orthodox Church as well as the inimitable Papa Cristo's (Greek) Restaurant, Saint Thomas the Apostle Catholic Church and Las 7 Regiones (Mexican) Restaurant.

Both tour leaders and participants are exhilarated by the chance to share and connect. Describing her experience, Liane, last year's Tour Guide for Little Tehran said, "(It) was really fun! I made new friends in the community, and was especially thrilled to share my 'take' on the culture, my questions, observations, etc. as well as the merchants I've been getting to know over the years with a 'new audience'."

Mike who attended last year's tour of Koreatown talked about his tour as a "…unique and refreshing experience because of all the things LA offers, walking and getting to know strangers is not especially common. It was great having that sense of community by connecting with a group of people who wouldn't normally get together on a Saturday morning and share the experience of discovering Koreatown while eating delicious food along the way."

This year's tours will surely be as enriching, from the food focused options to those that focus on other aspects of the neighborhood such as a singular venue like the South LA gem entitled, the Southern California Library for Social Research which has been a hub for local history for more than 50 years; or, the Kwanumsa Buddhist Temple, a low key community which will open its doors for those on the tour to experience traditional Korean drum dancing, peaceful meditation, and a puppet show as guests at the temple.

A highlight of the day is sure to be Councilwoman Jan Perry's tour of Central Avenue, which launches the day.  She has worked hard to support the development of the rich and historic corridor with so many cultural gems stemming from its days as the Harlem of the West Coast with an international reputation for the Jazz music being played there.  

Additional neighborhoods hosting tours include Venice, Eagle Rock, Highland Park, North Hollywood, Frogtown and Silverlake.  It's going to be a great day filled with enlightenment, surprises and fun; and meeting new and engaging people from across the city.

To find out more and sign up for a free tour, please visit LA Commons Festival of Neighborhoods.

(Karen Mack is the founder of LA Commons and serves on the Board of Neighborhood Commissioners.)
-cw



CityWatch
Vol 10 Issue 82
Pub: Oct 12, 2012