Organizers, Not Occupiers: The Young People Working in the Shadows of a National Movement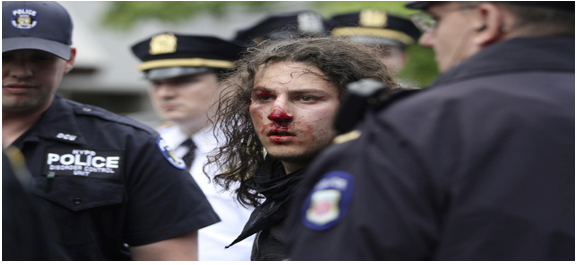 POLITICS - By chance, the revelation of how Apple evades millions of dollars in taxes broke three days before May Day, when workers of the world traditionally protest such injustice.

Although the Apple practices aren't illegal, the dodging of taxes on revenue generated, to a large extent, by low-wage Chinese workers, was a perfect introduction to this year's May 1 observance, highlighted by the Occupy movement's call for strikes and demonstrations around the country. The goal: Protest corporate domination of an economy being pulled downward by growing income inequality and intractable unemployment.

The New York Times reported that the technology company has used loopholes to reduce its tax bills in 21 states and overseas by billions of dollars annually by creating subsidiaries in places with low-tax or no-tax policies. In January, the paper told how Apple's Chinese workers "often labor in harsh conditions" with "onerous work environments and serious—sometimes deadly—safety problems ... excessive overtime, in some cases seven days a week, and live in crowded dorms."

The latest Apple story broke at an opportune moment. Occupy and other campaigners for social justice are hoping this exposé of the evil side of globalization will enrage American workers and persuade them to join protests.  

Thousands of Angelenos demonstrating against income inequality and immigration policy marched Tuesday into the financial heart of Downtown Los Angeles. Last week, not far from there, I spent a day with more than 400 activists, most of them young community organizers not working with Occupy. They discussed turning protests into political action that will lead to economic reform.

It was the "From the Ashes" conference at the University of Southern California, centered on the 1992 Los Angeles riots. What are the lessons, the participants wondered, of the riots and what does that event tell us about the future?

The activists were members of local groups without the national reputation of Occupy. Some of them, sadly, hardly get noticed by Los Angeles print and broadcast outlets, much less the national media.

Among them were organizations such as the Koreatown Immigrant Workers Alliance, InnerCity Struggle, Los Angeles Alliance for a New Economy, Clergy & Laity United for Economic Justice, the National Day Laborer Organizing Network, Coalition for Humane Immigrant Rights of Los Angeles and the National Domestic Workers Alliance.

The people they represent are at the bottom of the 99 percent. They work in car washes for tips, clean houses and offices, tend children as nannies, provide home care for the sick and dying, and toil in nonunion factories.

Although Occupy was not part of the meeting, it was a presence. Harold Meyerson, now editor-at-large for The American Prospect and a Washington Post columnist and during the 1992 riots the executive editor of the LA Weekly, told a panel discussion that Occupy was "a tremendous success." It had turned the political dialogue toward income inequality.

The differences between Occupy and the organizers at the USC conference illustrated how progressives vary on attaining their goals.

Occupy takes pride in being lightly organized—or unorganized. That's not enough for many of those at the conference. Their groups are more structured, with staffs and specific strategies to force elected officials to pay attention to their message and compel businesses to pay a living wage and recognize unions for the working poor.

I was struck by the intensity and youth of some of the people I met and the hard road they and their constituents had traveled. "My mother came here," said one woman, daughter of an emigrant from Mexico, "not in a train, not in a plane but in the trunk of a car."

Another woman, Nancy Meza, was brought to the United States by her immigrant mother at the age of 2. Meza is now an intern at the UCLA Labor Center, which assists community organizers. In high school, she helped organize students and parents to demand construction of a new campus to relieve overcrowding in East Los Angeles in the heart of the Latino community. Following a traditional path for the Eastside's upward strivers, she attended East Los Angeles College and then moved on to UCLA. Each day, she left her familiar working-class neighborhood and took the 720 bus to distant, upscale and overwhelmingly Caucasian Westwood, site of the UCLA campus.

Her interest is in communication. "Young people are creating their own organizations, their own networks," she said. "We're taking advantage of being young. We know social media." She and her colleagues worry about "How are you going to communicate your message to NPR? How are you going to communicate your message to the person at the bus stop?"

These groups are much like Occupy except they are more organized and less confrontational. I was at a meeting of progressive Democrats a few weeks ago, attended mostly by older lefties. The four or five Occupy people invited there ended up arguing with an elected official on the program, treating him with disdain. Some of the older people, offended, left the room. If the Eastside's Nancy Meza had been speaking, she would have understood the importance of diplomacy. The crowd would have embraced her.

Although their styles and techniques differ, all the young activists have the same basic goal. They carry on the legacy of the labor organizers who staged the first May Day demonstration in 1886 to demand an eight-hour workday.

Sadly, decent working conditions remain a dream for too many people laboring in circumstances comparable to those in an iPhone plant in China. There's plenty of work ahead for everyone fighting for social justice.

(Bill Boyarsky is a journalist and blogs at truthdig.com where this column first appeared.) Photo credit: AP/Mary Altaffer
–cw

Tags: Bill Boyarsky, Occupy Movement, organizers, May Day, Occupy LA






CityWatch
Vol 10 Issue 36
Pub: May 4, 2012