Inglewood, Does the (City of) Bell Toll for Thee?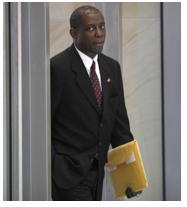 INSIDE INGLEWOOD - The City of Inglewood has had its share of scandals. A revolving door at city hall has seen a carousel of characters ejected after questionable corruption such as home-loan scandals, redevelopment schemes and "lost" FAA funds for home insulation projects. 
Among such characters have been retired judges, sitting mayors and former east coast state officials under investigation even as they are appointed to executive seats in Inglewood's government.
Tim Wanamaker was convicted in 2011 for acts committed as an executive to the City of Buffalo in New York. As chief of the Office of Strategic Planning he was alleged to have used up to $30,000 for personal travel expenses during his tenure, which spanned four years from June 2003 until March 2008. That same month, he accepted a position as the city manager of Inglewood. The mayor at the time was Roosevelt Dorn, whose own tenure ended when he was thought to be embezzling home loan funds. In March 2010 Wanamaker abruptly resigned from his Inglewood position.
According to the July 9, 2008 edition of the Buffalo-based weekly
ArtVoice,
Wanamaker's fiscal behavior was under pointed investigation by Buffalo's Common Council as soon as April 2008. By November of 2011, he had resigned from Inglewood, accepted a position in the local government in Alexandria, VA, and, according to a
Washington Post article
, was charged and convicted of felony theft involving tens of thousands of dollars.
During Wanamaker's term as Inglewood's city manager, from April 2008 until March 2010, a Strategic Five-year Plan was introduced. Presented by Ms. Mawusi K. Watson, Chief of Staff to the CAO, the plan promised a number of improvements to Inglewood's commerce, development, redevelopment and "Learning, the Arts, Culture, and Recreation." Ms. Watson was also the person to whom any proposals were to be sent. At the bottom of each page of the six-page Plan was the direction that proposals "should be sent electronically to: Mawusi K. Watson at mwatson@cityofinglewood.org." 
Wanamaker abruptly resigned from his managerial position in March 2010, one year after the Plan was presented. He took a position as the deputy director of general services in Alexandria, VA. On November 29, 2011 he was convicted of "a violation of Title 18, United States Code , Section 666(a) (1) (A) [theft and conversion concerning programs  receiving Federal funds]" for what amounted to theft of $30,000 while he was an executive for the City of Buffalo, immediately prior to his position as an executive for the City of Inglewood. 
Although he is in prison,
Wanamaker's Linked-In profile
appears to remain active on Linked-In, where he is listed as a "consultant" for "Economic & Community Development Consulting" in Washington DC for the last year or more.
While it may seem ancient history in the world of corruption, politics and the no-longer-new 24 news cycle, it should remain a concern that Wanamaker's former assistant is "former" only in respect to Wanamaker: Watson remains a significant part of the current city administration under former LAX Deputy Executive of Security, James T. Butts.
Watson's name appears in public and on paper far less now than it did during Wanamaker's employment. Her salary as his assistant is unknown, but she presently makes nearly as much as the current mayor of Inglewood and nearly twice as much as the council members of the city. 
Like most city employees, her work week is four days, which amounts to 20 days per month. She occasionally appears to read a report at the weekly city council meeting. It is not uncommon for her to appear nervously, read haltingly, and shift uneasily as she all but refuses to answer questions that someone with her status and salary holds.
Watson's monthly salary is nearly $9,000. Inglewood Mayor James T. Butts' monthly salary is $9,275. Perusing the nine-page document from Inglewood's report on Fiscal Year 2012-2013, wherein is detailed city staff, employees, executives and city council salaries, one will notice that most of Inglewood's engineers and other professional staff have a considerably lower salary. Most prominent is the fact that Inglewood's four city council members each make $5,157 a month.
One wonders for whom the bell will again toll, when next there is a round of scandals exposed, firings made and convictions handed down and if it will be yet another city in LA County that is hit hard with a wave of top-level corruption charges.
(Randall Fleming is a veteran journalist and magazine publisher. He has worked at and for the New York Post, the Brooklyn Spectator and the Los Feliz Ledger. He is currently editor-in-chief at the Morningside Park Chronicle, a monthly newspaper based in Inglewood, CA and on-line at www.MorningsideParkChronicle.com)
-cw
CityWatch
Vol 10 Issue 100
Pub: Dec 14, 2012