First Person Testimony: McMansion Heartbreak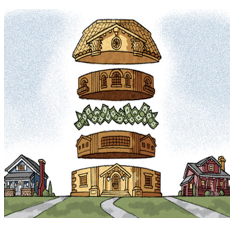 NEIGHBORHOODS LA - In three previous CityWatch columns I explained how a deceptive Los Angeles ordinance, the Baseline Mansionization Ordinance (2008), actually permits the very McMansions it purports to stop.
In reality, this ordinance, whose purpose was to stop McMansions throughout Los Angeles, green lights them through a laundry list of exceptions and bonuses.  As a result, the ordinance has not had the slightest impact on the investors and contractors who build and flip McMansions.  The McMansions they are now constructing and selling are exactly the same as the ones they built before this ordinance was adopted.
In those prior CityWatch columns I also described and debunked the most appalling bonus of all, contractors who claim their McMansions are "green" and then get an automatic 20 percent bonus in the size of the house.  
Furthermore, once the Departments of Building and Safety and City Planning certify McMansions as Green, the mansionizers are allowed to quickly demolish beautiful older homes and replace them with garish structures totally out of character and scale with the surrounding neighborhood. This process is conducted in entire secrecy, without a pretense of transparency or accountability.
In this discussion, I also explained exactly why McMansions are one of the least green residential options available.  This is because their huge SUV's, pools, spas, air conditioning, multiple bathrooms, and restaurant-sized appliances use far more gasoline, natural gas, and electricity than is offset by their double-paned windows, plugs for future electric cars, and empty spots on their roofs for potential solar arrays. 
What I did not go into, however, is the devastating impact that McMansions have on individuals and the immediate neighborhood.  These impacts often go straight through to the soul, and are far more insidious than the McMansions' environmental consequences described above and in the previous columns. 
The following email, sent to Council District 5 (Paul Koretz) by a constituent, painfully reveals the visual and emotional pain that McMansions inflict on individuals and entire neighborhoods.  
Furthermore, for those who don't know, Councilperson Koretz is the sponsor of a Residential Floor Area (RFA) overlay motion for Beverly Grove, where this house is located.  If implemented, the RFA would prevent travesties like the one described in the following letter.  But this motion has been gathering dust at the Department of City Planning for over a year, during which time over 20 additional McMansions broke ground, including the one described in this letter: 
To:  Council District 5
From:  Cris Savoy
Subject:  House on W. 5th Street, Los Angeles, CA
It has come to my attention that the home that my family recently sold is subject to be torn down on December 5, 2012.  To say that I am appalled, let alone heartbroken to hear this, doesn't come near to how I truly feel.  
I am angry that the city that I was born and raised in, is allowing businesses for Big profit to destroy these lovely neighborhoods who still have folks living in their homes after many, many years, only to rebuild eye-sores masked as homes.    
My Grandparents bought their home at 6130 W. 5th Street in 1926.  I was blessed to be raised by them and raised in this charming English Brick Tudor Cottage type home.  After their passing in the early 70's, our home remained in our family until the death of my Mother in June of 2011, at which time, begrudgingly, my siblings and myself made the decision to sell.
We never dreamed this house would be torn down only to be re-built for not only profit, but changing the esthetics of this darling neighborhood forever.  
I am pleading with you and those of you with the ability and authority to stop this and other homes being destroyed in our wonderful neighborhoods.  
If you do nothing, where in GODS name will this end?  Had any of us had the financial ability to maintain this home, we would have, however life did not give us that choice.  
Thanking you in advance for your consideration,  
-Cris Savoy
As a brief follow-up, Chris Savoy's letter is typical of the heartache caused by mansionization.   Other issues are related to the disrespect of the realtors and contractors using hard sell tactics on grieving families, as well as the rudeness of the contractors and their crews once construction begins.  
Furthermore, there are serious health and safety violations that accompany the mansionization process.  For example, the contractor who bought Cris Savoy's family home appears to have made a bogus claim to the Department of Building and Safety about the abatement of asbestos, a toxic pollutant found in nearly all older homes.   More details as they become available.
(Dick Platkin writes on city planning issues for CityWatch.  He lives in the Beverly Grove neighborhood and is on the Steering Committee of the Beverly Wilshire Homes Association.  He can be reached at rhplatkin@yahoo.com.) 
-cw
CityWatch
Vol 10 Issue 99
Pub: Dec 11, 2012