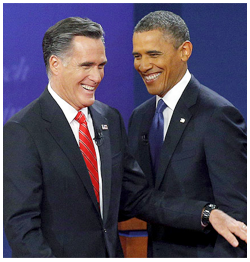 POLITICS - So if this election is really about the stupid economy, to mangle the old James Carville slogan, I've been wondering which of the two candidates for president would be best for our nation's economy, and more specifically the stock market.

I've been asked this question by many people who think I know something about politics, and who want to cast an informed vote.

Quite honestly, I have no earthly idea.
So you can imagine my excitement when I picked up my latest issue of Fortune and found that the magazine's senior editor-at-large was addressing the stock market question.

His conclusion was, "I have no earthly idea."

He pointed out that presidents don't have as much influence as many people think over the gyrations of the US and world economies.

To support his point he noted that during the George W. Bush administration, when you would think that marketplace investors would be enjoying big profits, the stock market actually lost over 25% of its value.

And, again unknown to most, the first-term president under whom the market has done the best has been Barack Obama.  Stocks have risen 96% since he took the oath of office.

Even more strange is that it was during the administration of Bill Clinton that the stock market had its best run since Ronald Reagan, desire the tax increases that he pushed through in his first term.  Sloan cited research from Wilshire Associates.

Changing the US economy takes time.  It's like trying to turn around a battleship.  Presidents inherit the good times or the messes created by those who preceded them.

In Obama's case, he started off with a stock market that had crashed under Bush and couldn't go anywhere but up.

Sloan credited Obama with stabilizing the economy and avoiding panic.  Maybe, some have speculated, even avoided a depression.

I'm sure you remember those days when the stock market would go up and down by hundreds of points every day.  Now it's a big deal now to see swings of a few percentage points.

The bottom line, Sloan said, is to vote for your favorite candidate, but don't fool yourself into thinking that the one who wins is going to make a difference in what happens to the stock market.

(Greg Nelson is a former general manager of the Department of Neighborhood Empowerment, was instrumental in the creation of the LA Neighborhood Council System, served as chief of staff for former LA City Councilman Joel Wachs …  and occasionally writes for CityWatch. He can be reached at This email address is being protected from spambots. You need JavaScript enabled to view it. )
-cw




CityWatch
Vol 10 Issue 81
Pub: Oct 9, 2012